PELAGIC REFIT AND UPCOMING SEASON


REFIT

On October 19th, only 4 days behind schedule Pelagic and a crew of four left Cape Town after her ten year refit. Inspite of bi-annual out of the water refits and inspection, it has not been since 1992 that such an extensive work program has been undertaken.

The main job list included shot blasting the decks and stern scoop and hot zinc spray, full exterior paint job, top end overhaul on the engine, new keel bearings and compression jacks, new rudder bearings, complete rig overhaul including a full service on the furling gear, new overhead below, re-plumbing of the bilge and fresh water system including new pumps throughout, recoating the bilge with epoxy tar and many more technical and cosmetic items. We then had a full hull survey including NDT (radiography) testing of the thickness of the plating and were given a clean bill of health.

Skipper Richard Haworth along with Dion Poncet, Catrin Ellis-Jones and 'Aleck the Aussie' are currently delivering Pelagic up around the top of the St Helena High and will go directly to Ushuaia with a possible stop in Stanley. This voyage should take about 35 days.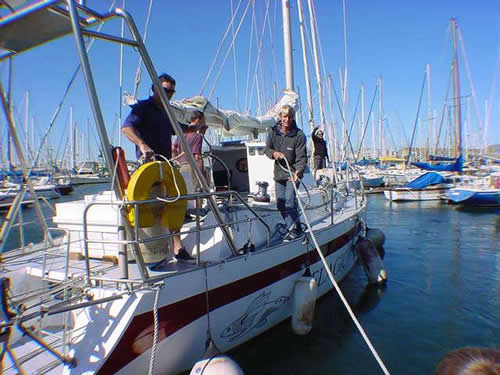 Dion casts off a refitted Pelagic from Cape Town for the voyage to Ushuaia

THIS SEASON

Pelagic has two major expedition charters for this season. On December 15th a group of six Italian ski mountaineers and paragliders from Bergamo will be leaving Ushuaia for a 35 day excursion on the Antarctic Peninsula. Their target area is the Gerlache Straits environs with a possible ascent of Mt. Francais on Anvers Island which is the highest peak on the Peninsula.

On February 23rd Scotsman Chris Tiso is leading a combined sailing and climbing expedition that will start in Ushuaia and end in Stanley some seven to eight weeks later. With a team of six, they will first sail to Deception Island and on to Elephant Island where they will attempt to land at Cape Valentine and Point Wild where Shackleton's men came ashore.

From there they will sail direct to South Georgia where four of the team hope to climb and ski at the southern tip of the island, before the team tours the remainder of the north coast. They will end their trip mid to late April in the Falkland Islands.

TWO WEEK BEAGLE CHANNEL CRUISE ON OFFER

Due to a cancellation we are offering a discounted price for a two week trip to Cape Horn and the Beagle Channel as per our information on this web site. Dates would be February 1 to the 15th and these can be flexible by a day or two either way depending on who commits first. This cruise is being sold either for a group of four to six people for a price of $20,000 or individually for $3500 per person. We would need a minimum of three people to run this cruise on the individual basis.
LOOKING AHEAD TO 2003/2004
Finally we are marketing both Pelagic Australis' first Austral season beginning in November of 2003 and our first northern summer beginning in May 2004 most likely beginning in the UK and bound for the coast of Norway. Soon to follow is our projected itinerary for the Arctic which will include Norway, Spitzbergen, Faroes, Iceland, Greenland, Labrador and New Foundland.

Note that we will continue to operate the present Pelagic in the south as before.

Call John Pearson on ++44 (0)1962 862361 or call Skip Novak on ++27 21 438 9907, email him on skipnovak@compuserve.com for more details.