PELAGIC EXPEDITIONS UPDATE NO: 4 NOV 12th 2003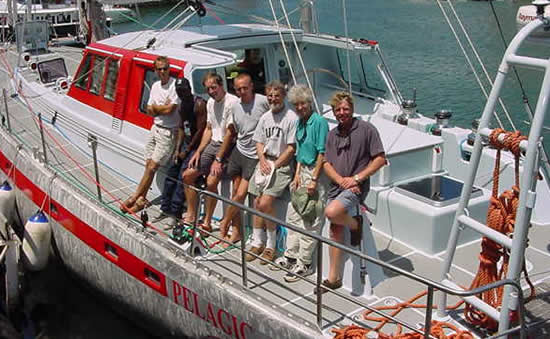 Delivery crew on departure L to R: Nico Pichelin, Quincy Mhlambiso, Rich Haworth, Alec Hazell,
Antony & Rosemary Keen, Steven Wilkins.
---
1. PELAGIC AUSTRALIS AT SEA ON HER WAY TO THE FALKLAND ISLANDS
On Saturday November 8th Pelagic Australis left the Cape Town docks on her way to Stanley in the Falkland Islands with Pelagic skippers Richard Haworth and Stephen Wilkins onboard.

Since the launch on September 26th in Durban she has undergone an extensive sea trial on her maiden passage from there to Cape Town. Once in Cape Town it was 'all go' tying up the loose ends, making the last modifications and provisioning for the bulk of the coming charter season (including embarking 400 liters of South African wine!) Her ETA in Stanley is December 1.

So far Pelagic Australis has more than met her design requirements. She motors at 10.5 knots under full power and cruises at 9 knots comfortably at 1400 RPM. Very stable, she is a powerful boat and sails easily at 8 to 11 knots. The cockpit is a dream; very workable and comfortable – and safe for the heavy weather to come. On the delivery down from Durban we had 12 people aboard and no traffic jams in the interior with the triple access from the pilothouse. It was a real pleasure to sail!
Pelagic Australis is fully equipped for diving expeditions with a bank of 8 10.5 liter bottles and 100 kg of weights supplied by the vessel in addition to her Bauer Utilus Compressor.

2. BREAKING THE ICE -
Both Pelagics to support this unique mission of peace where a team of 4 Palestinians and 4 Israelis will join forces to take on the challenges of Antarctica to promote understanding. The team has just completed a weeks training session in Chamonix and will meet the Pelagic fleet in Chile end of December. See www.breaking-the-ice.de for more details.

3. TIERRA DEL FUEGO AND BEAGLE CHANNEL MARCH-APRIL 2004
To conclude Pelagic Australis' first southern hemisphere season we are offering a 14 day cruise in Tierra del Fuego taking in the Beagle Channel and Cape Horn. This cruise is suitable for a group of 8-10 people or on an individual basis. Cost will be $400 USD per person per day or $5600 USD in total. The cruise departing Puerto Williams Chile on March 15 will visit Cape Horn and then transit the entire Beagle Channel ending on the Straits of Magellan at Punta Arenas on March 28. The itinerary can be adjusted to suit a group's objectives if climbing or trekking is a priority. Please e-mail skipnovak@compuserve.com to register your interest.

4. WILDLIFE AND WAR
Two places remain on this two week cruise around the Falklands on a voyage guided by Ewen Southby-Tailyour, author of the definitive guide to Falklands waters and adviser to the Commander of the Marine Commando Brigade during the Falklands War. Cost is 2500 GBP per person. Click here for more details or e-mail us at skipnovak@compuserve.com to book the remaining two places.

5. ANTARCTIC EXPEDITIONS
Both Pelagics are now fully booked for February 2004. Pelagic Australis will be supporting Magnus Olsson's (Assa Abloy in the last Volvo Race) cruise to the Peninsula to visit the sites of the 1901-1903 Nordenskjold Expedition. Go www.sailantarctica.com/index.aspx for more details. The old Pelagic will be supporting a group of divers from the Czech Republic at that same time.

6. SIX THOUSAND MILES AND AN EQUATOR CROSSING - DELIVERY TRIP FROM PUERTO WILLIAMS TO THE UK
Departure is now set for April 21st from Puerto Williams for this long haul delivery back to the UK. Pelagic Australis will sail from the Beagle Channel in Tierra del Fuego to the UK via Brazil, Cape Verdes and the Azores. This six week ocean passage is ideal for gaining sea time for RYA qualifications. Cost is 3500 GBP.

7. PELAGIC IN THE ARCTIC
In the summer of 2004 Pelagic Expeditions will be offering charters in the Northern Hemisphere on the new Pelagic Australis. Planned itinerary includes Scotland, Norway, Spitzbergen, Greenland and Labrador. More details of itineraries to follow, but we are ready to book trips on a one off basis. e-mail skipnovak@compuserve.com to register your interest prior to that anytime.

8. PLANS FOR 2004 / 2005 SEASON
Berths available on delivery trips to South America in September of 2004. Ideal start for a Gap Year adventure or building significant ocean miles and claiming an equator crossing under sail. In October/November 2004 we are planning two 21 day expeditions to South Georgia starting from and returning to Stanley in the Falkland Islands. The theme of one of these two voyages will be 'Expedition Art in the Field' and the other 'Expedition Photography.' Both of these will be lead by well known experts in their discipline. Wait for the news coming next month! Dates are October 9-30 and November 6-27. Cost will be 12,000 EUR per person or by negotiation for group charters. Please register your interest and e-mail skipnovak@compuserve.com .
Due to the success of the Falklands Cruise we will be repeating Wildlife and War from December 4 to December 18th. Cost will be 3500 GBP per person.
In January and February of 2005 we have two 21 day expeditions planned to the Antarctic Peninsula. These are suitable for visitors, whale watchers (humpbacks guaranteed every day) or for climbing or diving expeditions. Both expeditions will leave from Puerto Williams Chile on the Beagle Channel. Cost will be 12,000 EUR per person or by negotiation for group charters. Please register your interest and e-mail skipnovak@compuserve.com .
To stay abreast of what is happening at Pelagic Expeditions please register for our quarterly updates of news and opportunities to sail with us either as a group or individual. See our contact section