PELAGIC EXPEDITIONS NEWS LETTER NO 12 - APRIL 15 2005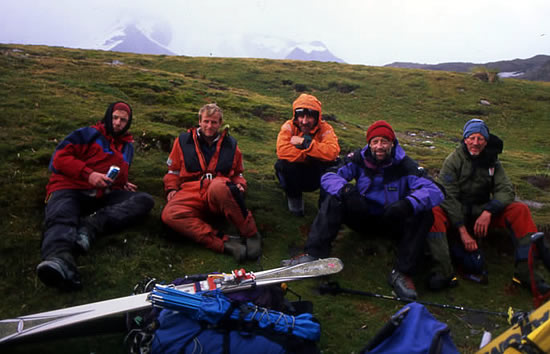 The Team at the pick up at Royal Bay: (l to r) Crag Jones, Dion Poncet, Skip, Richard Haworth, Julian Freeman-Attwood
During 16 days in January Skip Novak, Julian Freeman Attwood, Crag Jones and Richard Haworth completed a ski traverse along the length of the seldom visited Salvesen Range at the southern end of South Georgia. Sailing from Stanley in the Falklands, Pelagic, skippered by Dion Poncet with support crew Jeromine Pasteur and Laurent Bir arrived at the southern tip of the island on January 10th after four days at sea. The four man team was deposited with provisions and fuel for 18 days at the snout of the Philipi Galcier in Larsen Harbour and after two carries they were established at Camp 1 on January 13th. Six days and five camps later they were established on a col at the head of the Spenceley Glacier below Mt.Baume, the expeditions principle climbing objective. After failing on Baume, two days later they climbed the unclimbed, unnamed summit just north of Baume provisionally named Mt. Pelagic. This was the last day of good weather before retreating into a snow cave for four days of storm. The descent of the Spenceley and Ross Glaciers was made in one long day down to the beach at Royal Bay. Pelagic picked them up in very windy conditions the next day. This was an elegant, textbook sailing to climb expedition from Base Camp Pelagic.
| | | |
| --- | --- | --- |
| | | |
| Drop off Larsen Harbour | Crag and Richard Larsen Beach | Ascent from Larsen Harbour |
| | | |
| Camp 1 | Richard Camp 1 | Crag digging out Camp 1 |
| | | |
| Skip digging out | Graae Glacier | Crag at Camp 5 |
| | | |
| Mt Baume | Camp 5 | Attempt on Mt Baume |
| | | |
| Mt Pelagic centre background | Ascent Mt Pelagic looking N along SW coast | Summit Mt Pelagic |
| | | |
| Summit Mt Pelagic | Mt Pelagic centre right background | Four days in the snow cave |
| | | |
| Digging out the entrance | Crag on cooking duty | The descent of the Spenceley |
| | | |
| Spenceley Glacier | Spenceley Glacier | Pick up Royal Bay |
| | | |
| Pick up Royal Bay | Back on board Pelagic | Pelagic crew Laurent, Dion and Jeromine |
| | | |
| Attempt Mt Baume | Ascent Mt Pelagic | Digging out Camp 1 |
We are now sold out for our first Greenland cruise, but still have places available for the second cruise concentrating on the Disko Bay area and points north. This is an exploratory cruise for Pelagic Australis so come and share the adventure! For full details click here or contact Skip.
Current trips on offer:

1. Greenland July 4th for two weeks.

2. Delivery south from the Arctic to Chile, during September/October.

3. Antarctic Peninsula December 30th for three weeks

4. Antarctic Peninsula February 4th for three weeks

5. Tierra del Fuego and Cape Horn March 7th 2006

6. Tierra del Fuego and Cape Horn April 17th 2006

7. RYA Delivery training run from Chile to Cape Town via the Beagle Channel, Falklands and Tristan da Cunha May 2006

8. South Georgia Two three week cruises in October/November 2006

Pelagic Australis is arriving in Maine in mid May and will be near Boothbay refitting and preparing for her Arctic season and the attempt on the Northwest Passage. This is an ideal time for prospective clients to visit the boat and meet Skip and the crew. Contact Skip on skipnovak@pelagic.co.uk to make arrangements.