PELAGIC EXPEDITIONS NEWS LETTER NO 13 - NOV 24 2005
Pelagic Australis in Antarctica during 04/05 season

ã

George Duffield
Skipper Steve Wilkins and crew aboard Pelagic Australis are now on South Georgia supporting Peter Bray and his UK team in their kayak expedition to circumnavigate the island. You can watch their progress on www.operationsouthgeorgia.co.uk

The original Pelagic now skippered by Alec Hazell saw them off in Stanley on November 12th and is now gearing up for their first charter to Cape Horn on December 15th followed by a 42 day climbing expedition with British doctors to the Antarctic Peninsula.
"The Cadillac of the cold water charter business"

ãGeorge Duffield
See Rob Buchanan's article in the November edition of Conde Naste Traveler featuring Pelagic Australis's 2004 cruise to Spitsbergen. Our vessel is described as "arguably the world's finest high latitude charter yacht," and in the side bar (page 330) on high latitude voyaging, Pelagic Australis is referred to as "the Cadillac of the cold water charter business." Thanks Rob!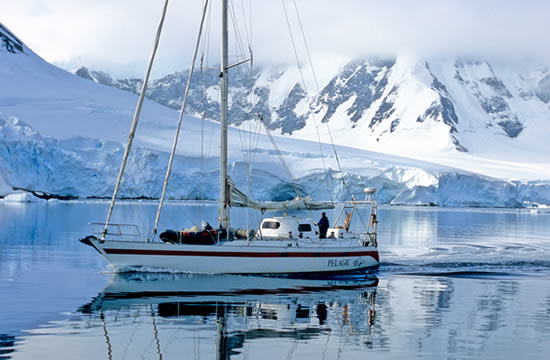 "The Jeep"
Well it is great to have the Caddy, but let's not forget about the Jeep – the original Pelagic is available at cost effective prices from end of February 2006 and for Tierra del Fuego and October through December for Falklands, South Georgia or TDF! Sign up now!

CURRENT TRIPS AND PLACES ON OFFER FOR PELAGIC AUSTRALIS:

1. Tierra del Fuego and Cape Horn March 7th 2006 for two weeks. 1 place left!

2. RYA training delivery Punta Arenas to Cape Town via the Beagle Channel, Cape Horn, Stanley and Tristan da Cunha, leaving Punta May 5th 2006 - 3 places left.

3. South Georgia October 2006 21 or 28 day expedition to see the bull elephant seals battling for the harems! Open availability

4. Antarctic Peninsula February 2007 Individuals or groups, fully open.

5. Tierra del Fuego March/April/May 2007 Individuals or groups, fully open

email skipnovak@pelagic.co.uk for your trip of a lifetime!

Ciao, Skip
Diving to paint leopard seals with Olly and Suzi 04/05

ãGeorge Duffield