NEWSLETTER NO. 23 - 12 SEPTEMBER 2008 - REFIT NEWS AND 2008/09 SEASON

New Quantum main is hoisted
for the first time

>> Welcome to new Gear Test partner



>>Skip Appointed Raymarine Ambassador

After her annual refit and service, Pelagic Australis under the command of skipper Stewart Richardson and mate Jessica Hay will be departing Cape Town on September 15th, bound for Stanley to begin her sixth season South. Falkland Islander Chris Harris who has been working on the refit has also signed on for another season as engineer. Pelagic Australis has been inspected by Det Norske Veritas for a five year renewal of her MCA (Marine Coastguard Agency in the UK) passenger certificate.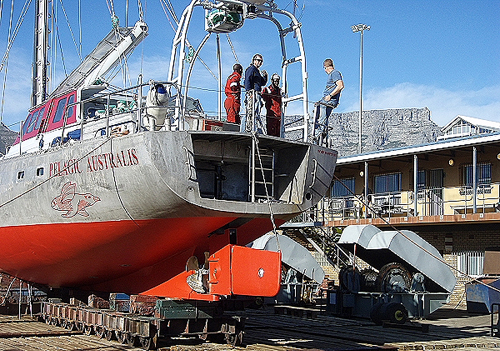 Break in work on the syncro lift Cape Town
FOLLOWING SHACKLETON AGAIN

Go www.beyondendurance.co.uk for the web site that will track the British expedition in an attempt to retrace the Shackleton Traverse during October and November. Led by Brigadier Stephen Tetlow, along with local guiding knowledge laid on by British mountaineer and author Stephen Venables ( http://www.stephenvenables.com ) and Skip, this has become one of our most popular early spring outings and it has become an annual feature. 2009 is already booked so October 2010 is the one to go for!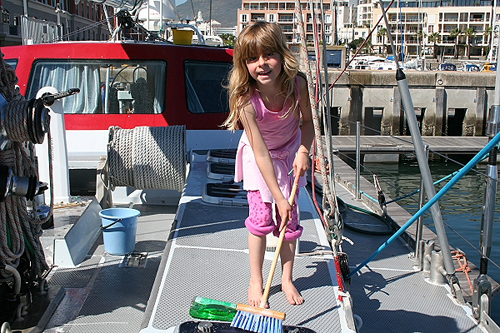 Miss Lara Novak helps with the refit
SAIL RACING in Sweden sign on with Skip and Pelagic Expeditions. After over 20 years of involvement with Musto in the UK, Skip and Pelagic Expeditions have signed a new partnership with Sail Racing from Sweden. A big thanks to Keith and Nigel Musto for keeping us warm and dry for all those years! Skip has now joined this entrepreneurial high tech clothing company to advise and develop a new line of winter sailing gear. Sail Racing will be supplying Pelagic Expeditions with Goretex foul weather gear for our crew and clients for the foreseeable future and we expect an evolution in design year by year from our intensive sailing campaign in the South. In addition, Pelagic clients will be able to order other items of technical clothing and leisure wear from Sail Racing at a substantial discount. By March 2009, our clients will be able to do this on line with a direct link from our Equipment List pages on the Pelagic web site. See www.sailracing.com for their press announcement and peruse their catalogue.

OTHER PELAGIC TEST TEAM PARTNER NEWS

Finally, we have had to commission a new Dacron mainsail from Quantum Sails – our original sail begin to have material failure after 110,000 miles of UV. We can't complain! Also, in an effort to test Quantum's latest Fusion membrane technology in cold and possibly sub zero conditions, they are supplying us with a staysail made from a laminate of carbon and Vectran fibers with a layer of taffeta on either side. We are the guinea pig for a generation of larger superyachts wishing to sail in high latitudes!

Raymarine has formalized a long standing relationship (almost 20 years) with Skip and Pelagic by appointing him as a Raymarine Ambassador. Raymarine: "Skip Novak is proud to be a product ambassador for Raymarine, the leading manufacturer of marine electronics. As a long distance and prolific sailor, Raymarine is proud to have its navigation, communication and safety products used by Skip on his boats, often facing extreme and prolonged use in some of the most hostile conditions in the world. As a Raymarine ambassador, Skip works with Raymarine helping to promote its products and services worldwide through association, endorsement and publicity events."

· We continue to work closely with Harken on their furlers, mast track systems and deck hardware and receive superb support when we need it.

TRIPS ON OFFER

The forthcoming season is getting booked up, but these places are still available.

January 2009 Antarctic Peninsula 21 days - due to a cancellation there are two places available within a group organized from America. Diving will be part of the trip, for experienced cold water divers only - but not obligatory! Contact Skip and he will put you in touch with the client group.

February 2009 Antarctic Peninsula "Ice With Everything" – 21 days 4 places available

March 2009 Diving with Leopard seals in Antarctica – organized by Amos Nachoum from Big Animals. 21 days, for experienced cold water divers only. Contact Amos on amos@biganimals.com www.biganimals.com where the trip is fully described and priced.

April 22 2009 Tierra del Fuego and Cape Horn 2 weeks 1 place available

RYA Delivery from Chile to Cape Town 42 days 4 places available
PICTURES FROM THE REFIT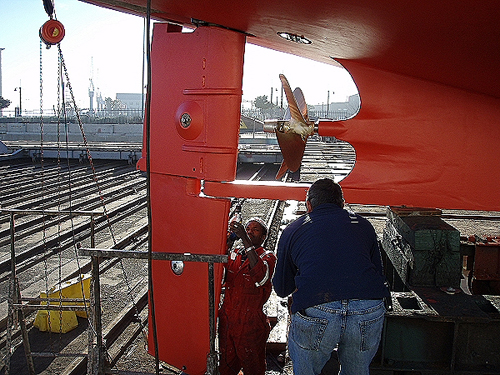 Chris and Tobane working on the rudder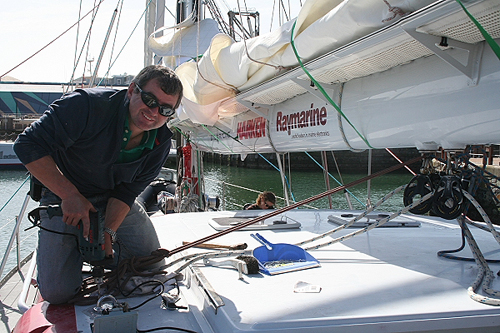 Chris Harris installs new mainsheet padeyes
| | |
| --- | --- |
| Maria on her last winch | Luca Novak sea trialling the Zodiac |
LASTLY

When you are thinking that you haven't the time to go this year – think of the TR factor.

TR = Time Remaining

Cheerio, Skip