NEWSLETTER NO. 24 - 22 DECEMBER 2008 CHRISTMAS NEWS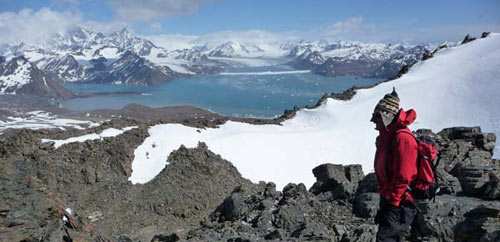 Skip looks over Cumberland Bay S. Georgia
While skipper Stew Richardson and crew Jess Hay and Chris Harris are on their first of four Antarctic Cruises, the original Pelagic is back in action. Skip is currently crewing for Sir Robin Knox Johnston on a rounding of Cape Horn for a BBC film project. Robin, Sir Ranulph Fiennes (polar explorer) and John Simpson, world affairs editor for the BBC, are the Three Old Dogs - and this second instalment of the trilogy of one hour films is being led by Robin. Afghanistan was led by John last month and Ran Fiennes will be leading them on an ice walk in the Arctic this northern spring. Pelagic will be accompanied by Skip's old partner Hamish Laird on Seal who will be in support and filming off the boat. Further details of the airing of these programs will follow.
Other News

Due to the financial crisis Pelagic Expeditions will not be dropping their prices for 2009/10, but we will entertain a softer payment schedule than published on the web site as an incentive - contact Skip for details.

The Pelagic fleet is being enhanced this season with addition of three 17 foot Aire Sea Tiger inflatable kayaks, in keeping with our spirit of of active adventuring. Clients need only bring their own proper kayak cold weather drysuits and PDF's to enjoy this activity.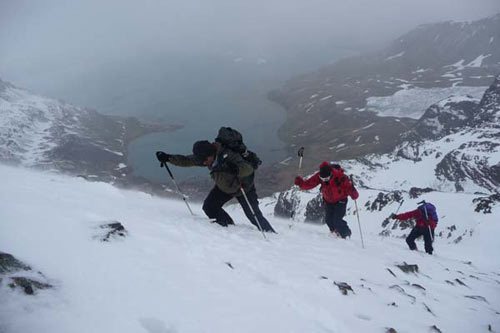 After three in a row successful Shackleton Traverses on South Georgia based from the Pelagic Australis, (skipper Stew and I have this down to a fine art), in October 2009 we will be chartering to a group who will inaugurate a new optional itinerary called the "Shackleton Soft Touch Adventure." Rather than camping along the traverse, we will be making selective ski tours by the day of parts of the route taken by Shackleton, plus other day ski trips around the island. This will emphasize 'going light' and enjoying the downhill as much as the uphill!
Full info for this itinerary will be up on the web site in January and a trip will be available in October 2010.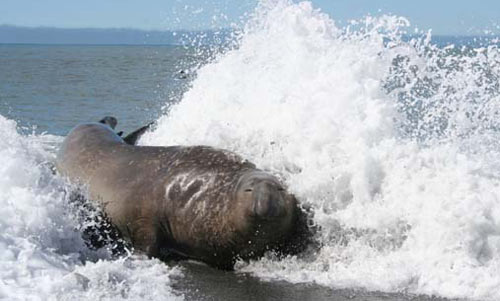 Opportunities On Offer

February 2009 - due to a cancellation there is one place available - 21 days in the Antarctic

March 2009 - still two places open for experienced cold water scuba divers only - contact Amos Nachoum amos@biganimals.com or Skip

April 22nd Tierra del Fuego and Cape Horn - 14 days - one place available

RYA Delivery to to Cape Town, May/June 2009 42 days, 5000 miles plus the RYA Yachtmaster Offshore Shore Based Course - three places available

Suarte,

Skip in the Beagle Channel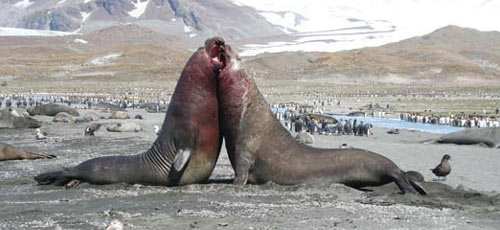 Slide Shows from our latest and previous South Georgia Expeditions
| | |
| --- | --- |
| | Click image to view a slide show of the Shackleton traverse in Nov 2008 showing our third successful. out of three, ski randonne trips across S. Georgia terrain in the footsteps of Shackleton with Stephen Venables and others. Flash file of 2.6MB |
| | Click image to view general slide show of South Georgia expedition Nov 2008. Flash file of .6MB |
| | Click image to view a slide show of the Shackleton traverse in Nov 2006 showing ski randonne across S. Georgia terrain |
| | Click image to view a slide show of the wildlife expedition in Oct 2006 |
| | Click picture to view slide show of Insubrica Expedition on Shackleton Traverse. |