PELAGIC NEWS LETTER NO31 - 17 Dec 2010
This is a wrap up before the holidays kick in. Both Pelagic and Pelagic Australis arrived within 12 hours of each other back in Stanley after two very successful South Georgia expeditions. The kayakers and the mountaineers certainly can party together by all accounts!
Expedition Links and Photos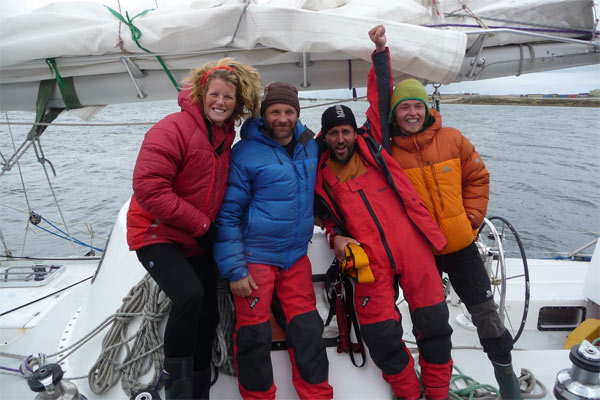 Norwegian Kayak Team
Go www.southgeorgia2010.blogspot.com for the full photo gallery and blog on the first unsupported kayak circumnavigation of the island by this strong Norwegian team, with Pelagic as safety cover. On board, skipper Chris Harris also blogged from the Pelagic perspective. go www.sailblogs.com/member/ice .
Stephen Venables has now fleshed out his web site and blog on www.stephenvenables.com/blog2.asp Marvellous pictures of their traverse from Royal Bay to Larsen Harbour.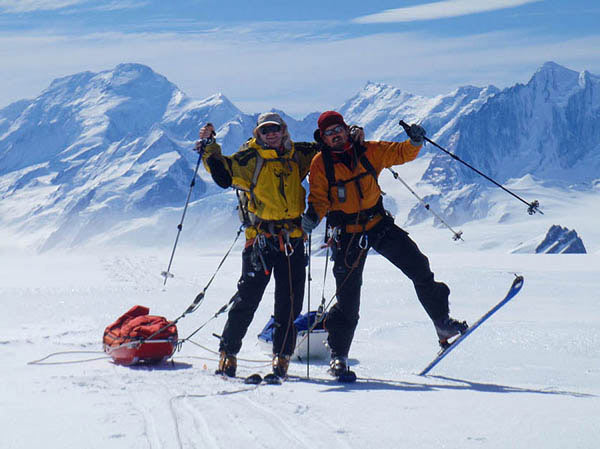 Ian Calder and Alan Scowcroft nearing the highpoint of the Traverse at
Spenceley Col. Mt Paget, Mt Roots and Mt Nordenskjöld behind.
Makes me want to go back! Pelagic Australis was the mother ship - the five star mobile base camp.
Pelagic Expeditions Sponsors a Hectare of S. Georgia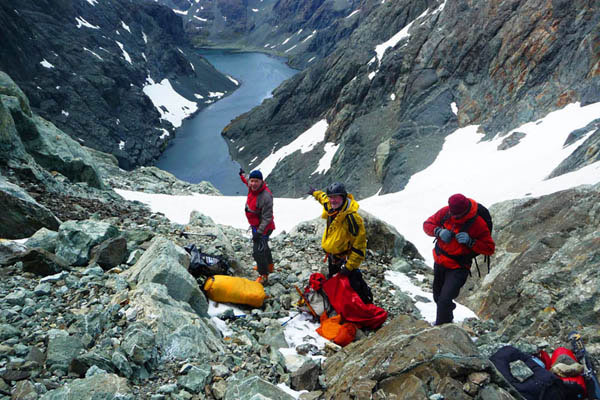 Sponsor a hectare of this landscape! Stephen Venables and Team descend to Larsen Harbour and the beer. See Stephen's Blog
Pelagic Expeditions has just sponsored a hectare of South Georgia for 90 GBP. This will enable the South Georgia Heritage Trust to clear this hectare of rats in what is a multi-year rodent eradication programme beginning in February 2011. This programme is partly funded, but they need many more donations in order to accomplish the objective of making the island rodent free by 2015. I urge you to go www.sght.org/projects.htm or for US donations www.sght.org/usdonations.htm to sign on. For the many clients of Pelagic Expeditions who have visited the island I expect a big turnout!

Trips on Offer

Not much left this season (gulp!)

TDF April 18th to May 2nd open boat!

Delivery with the RYA course, Chile to Cape Town 2 places left.

And 2011/2012 is filling fast. Check out the programme page for details


"Time on the Ocean – A Voyage From Cape Horn to Cape Town"

Meanwhile, the Irish poet and writer Theo Dorgan has just published his new book "Time on the Ocean – A Voyage From Cape Horn to Cape Town" about his time on Pelagic Australis on her annual delivery and training run from Chile to Cape Town in 2006. This appears to be an excellent read and pulls no punches about life on board. See word doc for details.

FYI, I read Theo Dorgan's book in one on the plane back from the UK end of November. I leave you with this out take when they stopped at the island of Tristan da Cunha in the South Atlantic.
"They take Falkland Islands money here, and we buy some first day covers, some tiny unlikely looking hand-knitted penguins with small woolen hats of banded green and white. I imagine some enterprising child, settled in for the winter, tongue sticking out of the corner of her mouth, working the awkward needles, and I am uncomfortably moved. We were like that once, I think, content with immediate horizons, dreaming of the wider world, preparing ourselves for it at our own pace, but not yet made anxious by its nagging virtual presence in the daily moment. There was time in the world then, I think, and now there seems to be no time at all. Too many worlds colliding in the daily run of things."

See you south of 60, where we take everything at least one day and sometimes one hour at a time . . .

Cheers, Skip