PELAGIC NEWS LETTER NO28 - 27 May 2010

We are once again, nearing the end of our season. Pelagic Australis is soon to depart Chile on her RYA Delivery up to the Rio de la Plata via the Falkland Islands. The students are on board and raring to go! We have enjoyed a full ship throughout the season and things are looking good for 2010/2011, so if you are keen for the coming year, better stick your hand up now as there are few places left.

Read Skip's story of his February 'Ice With Everything' charter with his Swiss Italian friends. This was another classic 'sailing to climb' expedition and proved a viable option for competent climbers to our normal 21 day Antarctic cruise.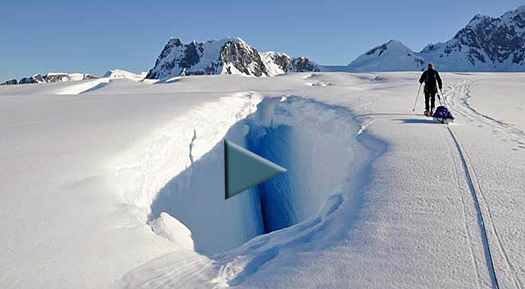 Zig zagging up the Wiggins Glacier
Click on the image for a Flash gallery of 60 photos from this expedition>>
Skipper Stew Richardson and mate Jess Hay are on holiday in the UK, while Miles Wise and Laura Parish are finishing the season on Pelagic Australis in view of taking her over full time in October, along with engineer 'Swiss' Chris Schutz.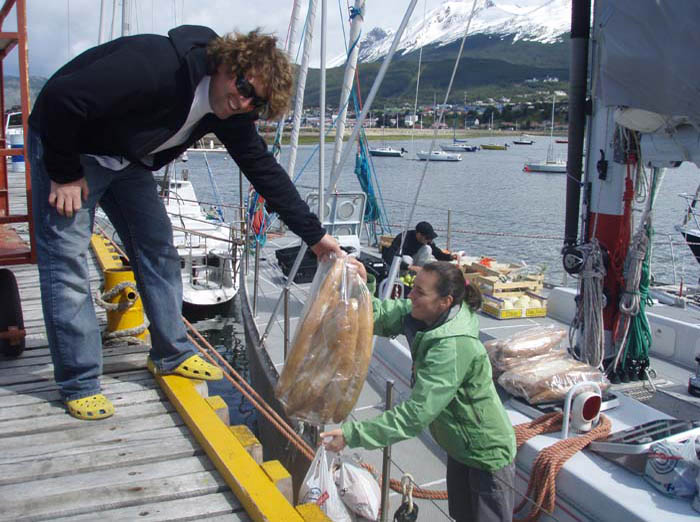 Skipper Stewart Richardson and mate Jess loading the rest of the stores in Ushuaia
Meanwhile, engineer Chris Harris of the Falklands has taken over Pelagic and will be spending the winter in the Beagle Channel. Anyone interested in a few weeks of ski mountaineering based from the boat? If so contact me!

The Swiss Italians will be back in mid July with myself, Stew, Jess and Swiss for a deep winter climbing project – more on that to follow.

Pelagic Expeditions will be making a donation to the Chilean earthquake relief effort through the Foundation Vertical in Santiago. I feel very privileged in having enjoyed over 20 years of adventure in Chile and in doing so have made many friends. In 2008 I struck up a strong relationship with Rodrigo Jordan on the 2008 Nat Geo/Ocean Eight kayak expedition (). Rodrigo, director of his adventure business Vertical, immediately after the earthquake formed a wing of his foundation of the same name called Programa Acompanar . . . .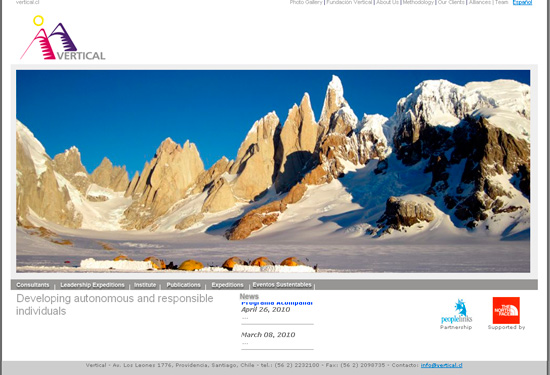 Rodrigo, "Through Fundación Vertical www.fundacionvertical.cl we have launched Programa Acompañar to support the reconstruction effort. The work of this program will focus on both short and long term recovery activities. It will draw on all of Vertical's strengths from those in the outdoors to improve living conditions in makeshift camps, building local leadership and management capacities, to our work with micro-enterprises to reestablish local businesses. Given our fifteen years of work in the Fundación, we believe that it is essential to look towards long-term support through capacity development to avoid creating dependence. It will go beyond meeting primary needs of food and housing. Our goal is to help these individuals and communities to regain their autonomy, self-sufficiency and economic independence."

For those of you who have experienced Chile with us over the years, please read what it is all about and how to make a contribution. Foundation Vertical is currently attempting to set up a 5013C Corporation in America for American donors. For Information on Vertical and Rodrigo Jordan see http://www.vertical.cl . For information on Programa Acompanar in English see http://www.fundacionvertical.cl/acompanar.en

Trips on offer for 2010/2011
November South Georgia 1 place left

February Antarctica 4 places left

Tierra del Fuego April 1st 2 places left

Tierra del Fuego April 22nd open

RYA Delivery to Cape Town open
Please see our web site www.pelagic.co.uk for full details of these trips, found in the Programmes Menu

Cheers, Skip