Delivery Trips and Pelagic Syllabus Training Courses

Annually, Pelagic Australis sails from The Falklands circa mid April and makes a 42 day delivery to Cape Town South Africa. Before departure there is an opportunity to circumnavigate the Falklands Archipelago as part of the Pelagic Syllabus training package.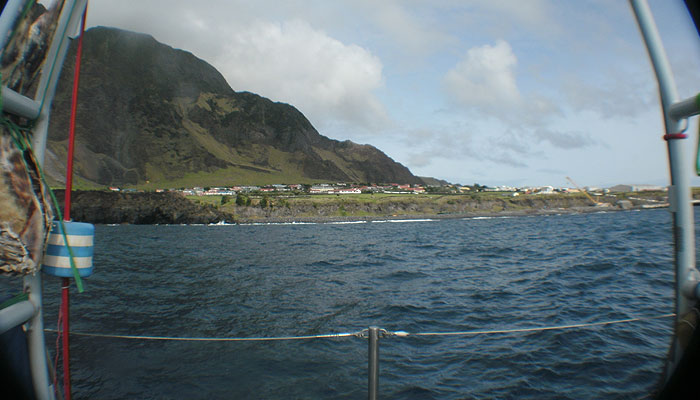 Tristan da Cunha from Pelagic Australis
Following the Falklands ccruise she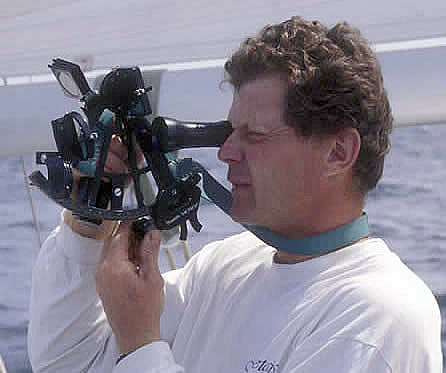 continues offshore across the South Atlantic with a hoped for landing on the remote British island of Tristan da Cunha, before making a landfall on Table Mountain above Cape Town. This is a true sailor's classic voyage.
The 5000 mile delivery caters specifically to people of all ages who are relatively experienced offshore sailors and who wish to complete the Pelagic Syllabus course which combines Shore Based Course Syllabus conducted by a dedicated RYA instructor.
The new Pelagic Syllabus including an option to complete the RYA Yachtmaster Ocean Theory certificate will run during the first five days of the programme in Stanley.
This programme is relevant for students wishing to eventually get their RYA Yachtmaster Offshore License, as in one sweep it provides double the ocean miles required for that ticket. The new syllabus including the RYA Yachtmaster Ocean option, which emphasises celestial navigation and ocean weather, will be run by a qualified RYA instructor flown down from the UK, who will then stay on board for the Falklands cruise to help reinforce the course work, along with the professional crew.
See below for various accounts of previous trips: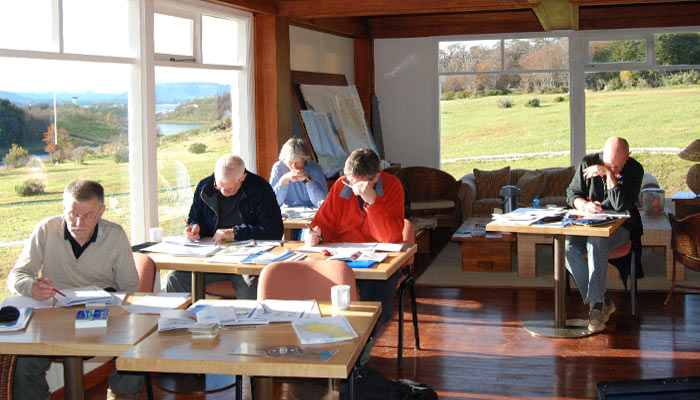 STUDENT COMMENTS ON THE 2019 FORTY DAY TRINING AND DELIVERY TRIP
"For some time now I have read Skip Novak's opinion pieces in Yachting World, always appreciating his insightful and balanced commentary. So when I saw this training and delivery trip advertised under his brand I was quick to register my interest.
My primary purpose was to complete the Ocean Yachtmaster ticket. The prospect of a cruise around the Falklands and a visit to Tristan da Cunha as part of the 4,000NM ocean crossing to Cape Town was a significant bonus. Our RYA instructor did a great job both in the classroom and putting it all into practice as we circumnavigated the Falklands.
Pelagic Australis proved to be a well built and maintained vessel suited to short handed, high latitude voyaging. A very comfortable home for our six weeks aboard.
Apart from being excellent sailors and good hosts,the skipper, mate and crew, were enthusiastic Astro navigators. So an unexpected opportunity of the expedition was to navigate the ship to Cape Town without the GPS. This meant I was thoroughly prepared for the Yachtmaster oral exam - my ultimate objective.
For me the expedition delivered on its promise in every respect."
Campbell Mackie
"The delivery trip from the Falklands to Cape Town onboard Pelagic Australis at the end of the 2018/19 southern hemisphere season was, in a word, awesome. The structure of the 6 week trip provides a fantastic opportunity for sailors, who may already have some experience, to broaden their knowledge and develop new skills onboard a fit-for-purpose boat in unique and isolated waters which otherwise none of us would likely visit. The combination of celestial navigation theory and practice, navigation of the Falklands Archipelago and an Atlantic crossing develops sailing abilities and confidence immensely."
"A lot is down to the seaworthiness of Pelagic Australis for high latitudes. The trip provides a different type of sailing and in different conditions to those I, or indeed most sailors regularly experience. Pelagic is exceptionally well designed and the application of Skip's vast experience in high latitudes is evident. This imparts great confidence, even on the foredeck in F9, yet at the same time I thought her a joy to helm."
"The skipper, Edd Hewett and permanent crew were outstanding and quickly established a great atmosphere, allowing everyone to take on as much responsibility for the running of the boat as they wanted while never compromising the safety of crew and vessel. Edd, mate Charly and crew Simon always made time to train, explain and pass-on their experience and knowledge. Hospitality, victualling and camaraderie onboard meant everyone left with a great experience. The first week was classroom based in Stanley and covered the theory of celestial navigation led by Alan, an RYA Instructor. The following 2 weeks were then spent cruising the Falklands Archipelago with Alan onboard to put theory into practice and try taking some sun sights at sea. The Falklands are a remote, unspoiled group of islands and exploring them while still relatively unknown was a real gem. The geography is just spectacular with abundant and unique wildlife."
Before setting off on the Atlantic passage we all decided to raise the stakes and aim to complete the voyage navigating solely by celestial means. After the week's training onshore we wanted to see if we could do it so we taped over the GPS and set-off. Our first landfall after 12 days was arriving at the remote volcanic island of Tristan da Cunha right where we expected it to be in a pitch-black F9 gale at 2am. One of the benefits of the trip is that we could all take sightings and aggregate the output for better quality plots and we found this a great way to build our skills. We all came to appreciate first hand how tricky it is to get a reliable sight from the sun when it's hazy of overcast and on a rolling deck. Arriving in Tristan we were all ecstatic! Likewise, seeing Table Mountain appear through the spreaders was another navigational success. The GPS had stayed taped over and we had done what we set out to do. A great team accomplishment which we'll all keep the memory of for a long time.
Overall, everything about the trip was outstanding and I thoroughly recommend it to anyone who wants to extend the boundaries of their sailing experience in a unique, challenging and rewarding way, or who simply wants to become a better navigator and seaman sailing in waters they otherwise wouldn't visit."
Phil Driver
A STUDENTS VIEW ON THE 2012 TRIP TO CAPE TOWN
Download a description of the 2012 Chile to Cape Town trip by by Matt Whitehead, 19 year old gap year student and Hobie champion from Cape Town in pdf form here.

AN INSTRUCTORS PERSPECTIVE ON THE 2009 TRIP
Read an account in RYA magazine on the trip from Tierra del Fuego to Cape Town. See 2009 Delivery and RYA training trip Chile to Cape Town .