Pelagic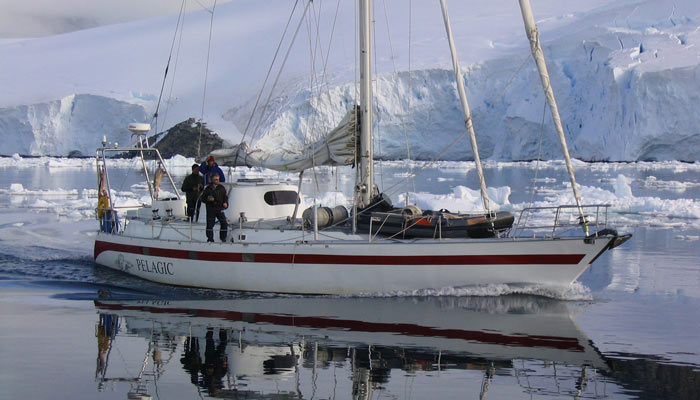 The original tried and tested Pelagic constantly updated over the last 20 or so years.



LOA
16.5ms
Beam
4.5ms
Draft min
1.2ms
Draft max
3.0ms
Sail Area
Upwind
145sqms
Disp
25,000kgs
Days Run:
180 nautical miles
Range 7knts motoring
2,000

nautical miles

Fuel:
3,000liters
Water:
500 liters

A concept rather than simply a sailing vessel, the original Pelagic was designed and built specifically to operate in remote areas on long term projects. Built in Southampton England in 1987, She sailed south for her first year and provided a mobile base camp for a mountaineering/filming expedition on the Antarctic Peninsular and South Georgia. During this maiden voyage, Pelagic proved she was eminently suitable to operate efficiently and comfortably in one of the most hostile environments for a small sailing yacht. Built of steel she is tough, able to cope with ice abrasion and beaching, and unlike wood, glass fibre or aluminium which require specialist equipment or a controlled environment, she can be repaired almost anywhere.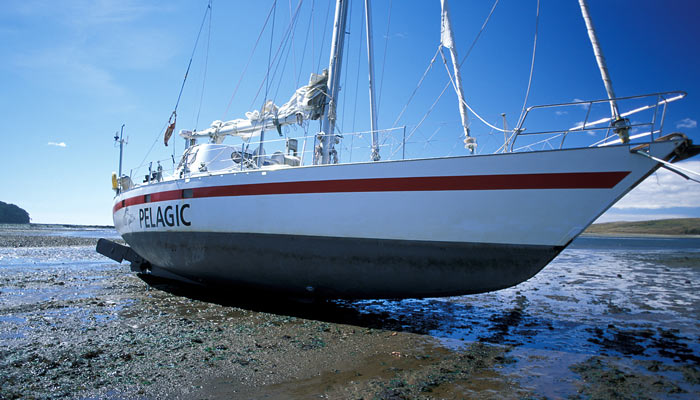 Pelagic's greatest assets are her retractable keel and rudder. When raised she can moor in natural harbours that are unnavigable by deeper drafted vessels; interesting for convenience, but ultimately important for safety. In polar regions, Pelagic's ability to get behind barrier rocks and moor to the shoreline in shallow water, makes her safe from drift ice and secure against high winds and sea.
In the tropics as a dive platform, her ability to enter shallow lagoons and atolls speaks for itself. With keel and rudder "up", the hull is still manoeuvrable under power. With the tide out, she can be safely careened on the beach or rest on the bottom for cleaning or repairs.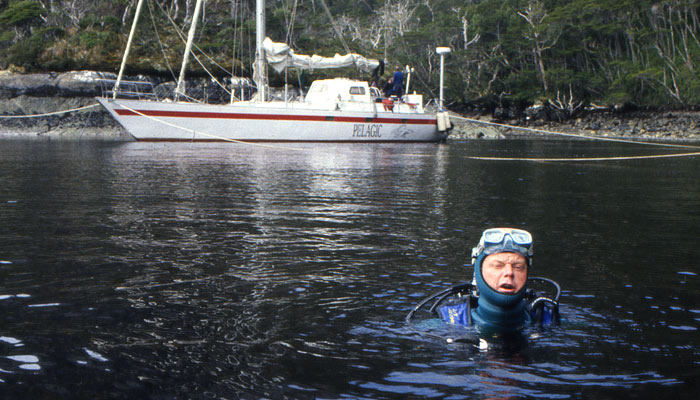 Operating in cold climates Pelagic can accommodate up to eight team members including a professional skipper and one or possibly two crew depending on the ability of the party. In the tropics six is the optimum team size. For more information on Pelagic's interior see photo tour of the yacht.

Equipment for use by the client:2 x 4.0 meter inflatable boats with 25 and 15 HP outboards
Diving compressor - Bauer Junior Utilus 10 225 Bar
Navigation and Communication Equipment
GPS, Radar, Depth sounder, Sailing instruments, Autopilot, Weatherfax, SSB HF radio/VHF, SATCOM C. Iridium phone with data for email
Water
30 days for 6 crew at 3 litres per person per day.
Food and Equipment Storage
Three months for 6-8 crew.
Construction Specifications
Built to American Bureau of Shipping scantlings of 43A mild steel, welded with hydrogen controlled electrodes.
Insulation
75mm polyurethane foam above waterline.
Keel
Fully retractable swing keel. Operation time 5 minutes.
Rudder
Fully retractable swing rudder. Operation time 10 seconds.
Engine and Propeller
Cummins 6B 5.9 M 115HP with 3 bladed fixed prop.
Electrical system
500 amp hours battery capacity at 24 volts. 24v to 12v, 24v to 220v and 24v to 110v inverters.
Heating System
Gravity fed diesel stove. Hot water off heat exchanger on engine.
Cooking
42 kilos of propane/butane gas and diesel heater hot plate.