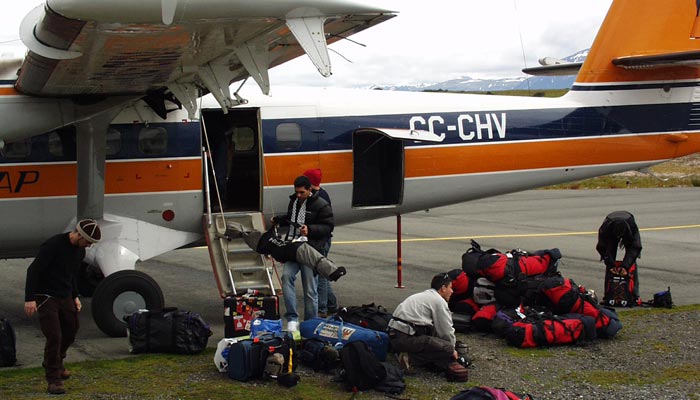 Unloading a Dash 7 aircraft at Puerto Williams airport after a flight from Punta Arenas
Terms & Conditions, Booking and Logistics
Before making a booking please make sure you have familiarised yourself with our style of voyaging section.

Prices and Terms
The payment of any deposit or full payment for a cruise shall constitute consent to all the provisions contained herein. . This is stated in a formal contract that is available if required. In absence of a contract all the points below still apply and are binding.

Guideline Prices Custom Charters
Pelagic Australis Daily Group Rate 4200 GBP per day

Pelagic Daily Group Rate 1800 GBP per day

For long charters exceeding 30 days, prices are negotiable.

This fee is per diem for the use of the vessel and will not be adjusted per person. The cost is all inclusive of food, fuel and sundry port costs. It does NOT include airfares, transfers, hotels and meals ashore, nor satellite or radio communications costs on board. Both PELAGICS sail with a permanent crew of two, but this may be increased to three depending upon the charter party's level of sailing experience.


Guideline Prices on an Individual Basis
Pelagic Australis 525 GBP per day

Pelagic 300 GBP per day

The cost is all inclusive of food, fuel and sundry port costs. It does NOT include airfares, transfers, hotels and meals ashore, nor satellite or radio communications costs on board. Both PELAGICS sail with a permanent crew of two, but this may be increased to three depending upon the charter party's level of sailing experience.


Running Expenses - What is and is not provided

Pelagic Expeditions LTD agrees to cover all vessel running costs once the Charter Party is on board.

What is included:

Accommodation on board in a heated cabin

Provisions (food and beverages including wine and beer)

All port fees and local taxes

Sail Racing Goretex Foul Weather Gear (Pelagic Australis only )

Use of life jackets (PFD's) and harness

Use of Inmarsat communication equipment, as per the Communications Agreement

Dive Compressor, bottles and weights for dive charters

Use of Iridium antenna connection in pilot house

Use of Aire Sea Tiger double kayaks

Not included:
The cost for any guiding expertise for special activities, e.g., mountaineering, scuba diving, kayaking

Airport transfers
Hard alcohol

Specialized mountain food for climbing expeditions

Communications transmission costs, as per the Communications Agreement. This will be assessed by the skipper and must be paid in cash upon completion of the charter.

Other items of personal clothing which are detailed on the web site under Equipment List (note: this includes sleeping bag and sea boots)

Kayaking drysuits
Personal diving equipment for dive charter


Insurance

Pelagic Expeditions LTD keeps both vessels fully insured against total loss, fire and collision damage and third party liability. Pelagic Expeditions will also have accident cover for the Charterer's party for the term of the Charter.

The Charterer will be required to sign a Release of Claims and Waiver of Liability to ensure that they understand the nature of the charter.

In case of a medical problem arising during the voyage, either onboard or on shore, which results in medical expense including but not limited to costs for evacuation with use of aircraft and repatriation, the responsibility for payment of these costs belongs solely to the Charterer. Pelagic Expeditions LTD requires that the Charterer ensure that such eventualities are covered by travel insurance for every member of the Charterer's party. If for any reason an incident is not covered by travel insurance the responsibility still remains with the Charterer and Pelagic Expeditions LTD specifically decline any responsibility whatsoever.

Beware that your normal travel insurance company might not cover for you for certain geographical areas. We recommend IHI/BUPA as they do cover ship borne travellers to the Antarctic, with no exclusions for age and nationality. The application can be done on line and we find this is the easiest and most cost effective solution to achieve reliable cover including Med-Evac.

International Health Insurance Denmark a/s (IHI) (now Bupa IHI)
8 Palaegade Copenhagen K,
DK-1261 Denmark
Tel: +45 (33) 15 30 99
Fax: +45 (33) 32 25 60
E-mail: ihi@ihi.dk
Web Page: http://www.ihi.com


Documentation Required

Prior to all voyages you will be required to:

> Sign the Waiver
> Fill out a medical questionnaire for on onboard records (Medical Information Form Parts 1 and 2)
> Produce a doctors certificate of good health (Medical Information Form Part 3)
> Fill out and signing the Communications Agreement
> Fill out the Personal Information Form
> Proof of travel insurance including medical evacuation
> Provide a scan of your passports pages

Booking

To secure a charter, 1/3rd of the total fee should be paid on booking, the second 1/3rd four months prior to departure and the balance six weeks before departure.

Cancellation

All payments are in efffect non refundable. If the client cancels earlier than four months before departure they forfeit the first 1/3 of the total charter fee. After four months and up to six weeks they forfeit 2/3rds of the charter fee. After six weeks the total charter fee is forfeited.

NOTE: These voyages are to remote parts of the world and Pelagic Expeditions and the master of the vessel reserve the right to alter itineraries without notice due to catastrophic weather, unfavorable political conditions and for any other reason beyond our control.

These trips also require long term planning by the client and it therefore recommended (but not required by Pelagic Expeditions) that you take out suitable Trip Cancellation Insurance in the event of cancellation by yourself.

We also accept no responsibility for missed flights nor their consequences and strongly recommend that international return flights are fully flexible to allow for missed connections due to bad weather, mechanical breakdown and for any other reason whatsoever.
Equipment List 1 - For expedition cruises to Antarctica, South Georgia, Tierra del Fuego and all Arctic destinations

Equipment List 2 - For the Atlantic Deliveries (which include the RYA course with the Beagle Channel cruise) and short cruises in the Falkland Islands in high summer.


Travel

Travel arrangements will vary depending on points of embarkation and disembarking. See individual expedition options at the Charter Options section.
Alchohol Consumption Policy Onboard
Pelagic Australis is run as a 'dry ship' when at sea and possibly at some anchorages when there is a real possibility of having to 'up anchor' and move off. This is at the Skippers discretion. In port reasonable amounts of alcohol can be consumed but excessive alcohol consumption that leads to situations putting people at risk, or where the harmony of life on board is disturbed to an extent that other guests are made uncomfortable will not be tolerated. If this situation arises, the Skipper reserves the right to return to port and to disembark any Charterer at an intermediary port, or disembark the entire group in a group charter if necessary.


For additional information or to discuss your requirements