Base Camp Pelagic - Mountaineering Support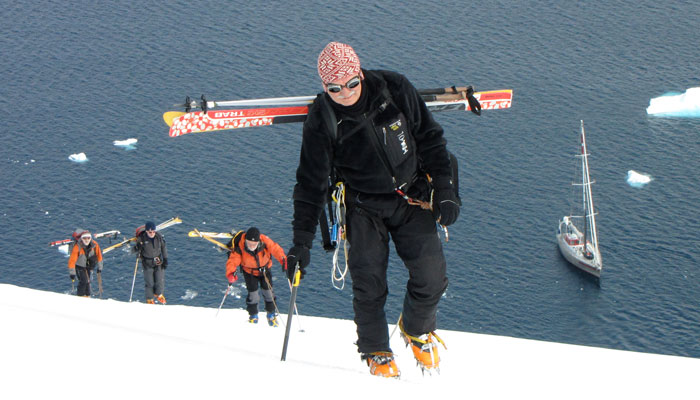 Since our debut in southern waters in 1988 Pelagic Expeditions' forte and primary interest has been 'sailing to climb.' Click here for a photo review of past Pelagic supported climbs.
The Antarctic Peninsula, the island of South Georgia, the west coast of Chile and Tierra del Fuego all have one thing in common: If you want to climb there you have to arrive by boat. Exploratory mountaineering remains the focus of the adventure sailing we offer. We have supported 17 such climbing expeditions, with and without film making, and have over the years built up not only an extensive knowledge of objectives but also efficient methods to cater for the needs of mountaineers and ski touring groups.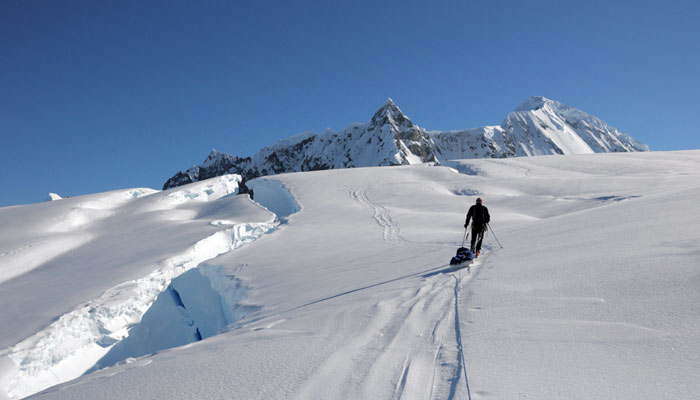 Solitude amongst the crevasses in Antarctica
Rather than just yachts, Vinson of Antarctica and Pelagic are working vessels. Both vessels have a large carrying capacity for equipment. We are not 'house proud,' that is, we are well used to a bit of rough treatment that is part and parcel with climbing expeditions. However, no crampons below please! 18 years ago, we had the region virtually to ourselves, but that has now changed and interests in Southern Ocean climbing are in the stages of a mild explosion.
Never fear, the area is so wild, so extensive with enough bad weather and of course, in the case of South Georgia and the Peninsula plenty of open ocean sailing as the natural barrier and great equalizer, that there will remain untold virgin summits and new routes to do on the bigger mountains for many years to come. This is not package adventure tourism, but real expeditioning. For me, the essence of quality in mountaineering is remote areas with new objectives. But this implies a different level of understanding in way of safety and back-ups, much more so than on the popular Himalayan peaks where other parties are usually present and can support each other.
In the South, parties must be fit, self sufficient and prepared for self rescue back to the vessel in the event of injury. There are no mountain rescue services in Pelagic's world. We insist on a minimum party of four, well equipped and experienced climbers for this reason. We are geared for all levels of ability in that we know many places suited for easy ski touring, either by day trips or traverses. We know the landing places and shelters to support more serious expeditions wishing to penetrate the hinterland and climb the bigger mountains. And we also know where the really choice, harder, technical routes are located for ice and rock specialists. We can even recommend and help you contract for a qualified mountain guide with Antarctic experience.
As time is usually short on any of these voyages (no matter how much time you have in reality), the advantage of using our services is that the least amount of time establishing yourselves will be realized, not to mention the best chance of a pick-up!
Patagonia and Tierra del Fuego
Climbing in the Darwin Range of Tierra del Fuego is best between October and April. Winter ski mountaineering trips during July and August can also be organized.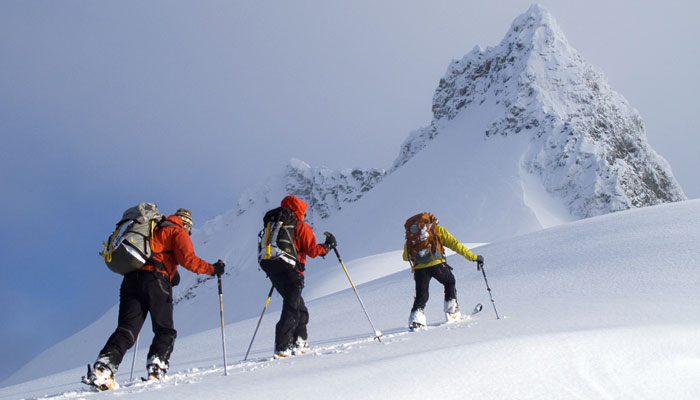 Winter Ski Randonnee approach to Mt Sarmiento in the Darwin Range Tierra del Fuego
| | | | | |
| --- | --- | --- | --- | --- |
| | | Copyright 2012 Pelagic Yachts | | |
The minimum time we recommend for climbing expeditions to Tierra del Fuego is 21 days for both Vinson of Antarctica and Pelagic, 25 even better. Point of departure is Puerto Williams in Chile.
Antarctic Peninsula
Due to limitations imposed by navigation with respect to ice conditions, the 'open' period is mid December to mid March. February is optimum for venturing further south into more remote locations like Crystal Sound and Marguerite Bay. The minimum time we recommend for climbing expeditions to the Antarctic Peninsula is 25 days on Vinson of Antarctica (30 on Pelagic). Point of departure is Puerto Williams in Chile.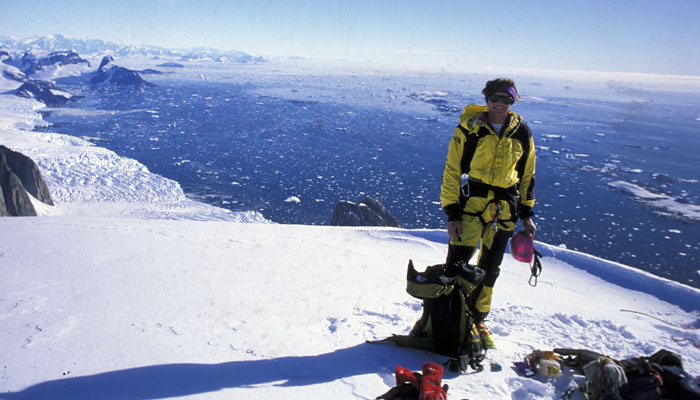 The late Alex Lowe on Mt Scott in Antarctica
Due to requirements within the Antarctic Protocol, every expedition must apply for permission from its national Antarctic program and this is now a legal requirement within national legislations of member countries. In the case of an American expedition application is made with the National Science Foundation's Antarctic program; with a British expedition with the Antarctic section of the UK Foreign Office.
Full details of the team members, their expedition experience, their equipment and communications, safety and contingency plans must be documented. An environmental assessment must also be made with regards their understanding of restrictions and rules regarding the flora and fauna and also their systems for waste disposal. Pelagic Expeditions can brief the team and assist with this application process.
Pelagic Expeditions must also apply for its own vessel permit with the British Foreign Office.
South Georgia
There are no restrictions of difficulties with ice for navigating to and around the island. October to March is the optimum period for mountaineering. Earlier in the season will be obviously colder, but this is compensated by better snow conditions and the chance of being able to pull pulks earlier on near the shoreline.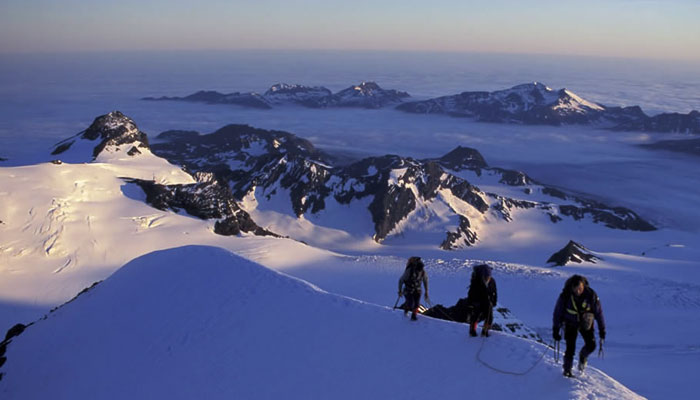 South Georgia morning at altitude
The minimum time we recommend for climbing expeditions to South Georgia is 35 days on Vinson of Antarctica (42 days for Pelagic). Point of departure is Stanley in the Falkland Islands. Trips must be in multiples of seven days due to the once weekly flight into the Falklands from Chile (Saturdays).
Every adventure expedition (climbing, kayaking, trekking) that goes to South Georgia is required to be self sufficient in mode of transport to and from the island and have a support vessel dedicated to its activities during its time on the island. If the team plans on camping ashore, the expedition must also apply to the government for permission. This application process is vetted by a panel of South Georgia experts who will look at their experience, overall planning and contingencies and of course their awareness of environmental protocols that are particular to the island. They then make a recommendation to government to approve or deny the permission. A fee of 500 GBP is paid on application and a further 500 GBP paid if the application is successful, the first installment being non refundable if the application is denied.
Pelagic Expeditions can assist in the application process. Again, Pelagic Expeditions must apply to the government of South Georgia for her vessel permit.
The Vessels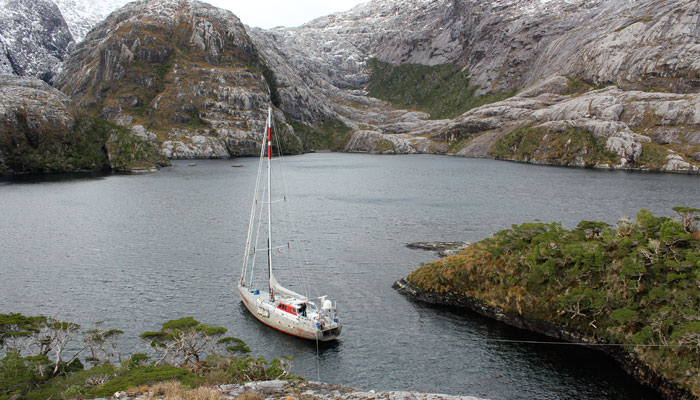 Pelagic Australis acts as base camp in Tierra del Fuego
Vinson of Antarctica can embark up to ten climbers or skiers. While on location she would be a powerful support vessel in the event of emergency recovery in high wind and sea conditions. With her in-house Inmarsat satellite equipment, she would also be the ultimate media platform for filming and picture transmission in the case of sponsored expeditions.
Pelagic, by contrast is a cost effective alternative, with some limitations. It is in the old style – close and cozy living. Pelagic does not have the transmission capability of Vinson of Antarctica. In effect she is more suited for private, low profile expeditions, but is more than capable of getting the job done once on location. It is the climber's favorite!
What Pelagic Expeditions Require of The Expedition
Full expedition CV's of team members.
To be kept fully informed of the application process with any government authority for permissions with copies made available on demand. Any expedition applications fees will be borne by the expedition and not by Pelagic Expeditions.
A minimum of four climbers/skiers. We will not embark teams of only two or three due to safety reasons with respect to ability to self rescue.
Iridium phone and VHF radio carried by the team, supplied by the expedition.
The right to impose a guide(s) on any expedition at the expedition's expense if we feel the experience is not up to the demands of the region.