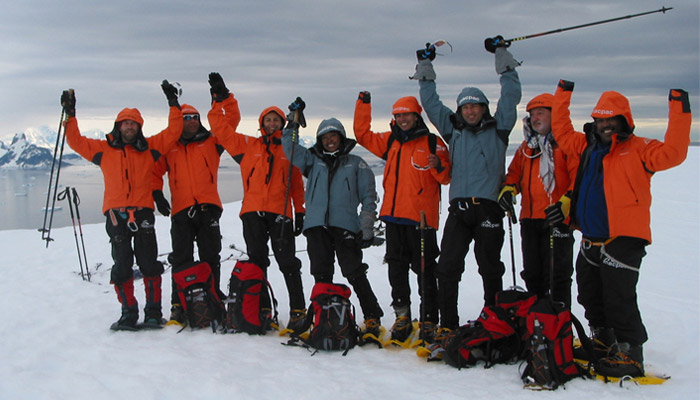 Breaking The Ice Joint Israeli and Palestinian expedition to Antarctica
Past Clients
Statement of Capability
Since her first sailing/climbing expedition to the Antarctic Peninsula and South Georgia in 1988, Pelagic Expeditions with Pelagic and lately Pelagic Australis has been back South every year using Ushuaia or Puerto Williams along the Beagle Channel and also Stanley in the Falkland Islands as logistical bases.

Specializing in providing support for mountaineers, film makers, divers, kayakers and scientific teams both vessels have proven their capabilities as dependable, well equipped platforms for operations of this type in the testing conditions of the Southern Ocean.

Past, Present and Future confirmed Clients include:
2023
November/December 2023 British Antarctic Survey (BAS) supporting science on Zavodovsky Island.
January/February 2023 Wildspace Productions for Netflix filming wildlife on Zavodovsky Island, South Sandwich Islands.

2022
December 2022 Plimsoll Productions for Nat Geo Disney filming Wandering Albatross on South Georgia.
February 2022 Plimsoll Productions for Nat Geo Disney filming orcas on the Antarctic Peninsula.
2021
December 2021 The Field Museum in Chicago, Cornell University and Bath University, supporting researchers on South Georgia and the Antarctica Peninsula.
July/August 2021 German Environmental Ministry supporting geologists taking samples and measurements in Svalbard.
January/February 2021 Royal Society for the Protection of Birds (RSPB) transporting staff and equipment to Gough Island for their mice eradication project.
2019
March 2019 - BBC film support from Pelagic Australis on the Antarctic Peninsula – filming humpbacks and finn whales.
January 2019 - BBC film support from Pelagic on Bird Island South Georgia
2018
September/October 2018 - Traverse on South Georgia with Venables and Skip. See report>>
February 2018 - Drone filming expedition with film maker Roger Fishman based from Pelagic Australis, Antarctic Peninsula.
January/February 2018 - BBC film support by Pelagic on the Antarctic Peninsula
2017
October 2017 - University of Maine ice coring on South Georgia based from Pelagic Australis. See report>>
January 2017 – University of Oxford Penguin Lifelines, penguin census on the Antarctic Peninsula on Pelagic.
2016
October 2016 - Shackleton Traverse with Tom Crean's descendents supported by Pelagic
September/October 2016 - South Georgia ski traverse bagging two unclimbed summits with Stephen Venables and Skip. More details >>
Sailing to Climb Expedition to Antarctica - Jan 2016 - Ski mountaineering expedition to Graham land peaks led by Stephen Venables.
2015
University of Maine Climate Change Institute - October 2015 - Ice coring expedition to South Georgia with Professor Paul Mayewski and team.
2014
August - Winter Expeditions to South Georgia led by Stephen Venables and Skip
Andrew Graham-Brown Productions for the BBC Bristol's Penguin Post Project on Pelagic 2013/2014. Download project prospectus pdf here>>

2013
Yachting World film project for the Skip Novak's Storm Sailing Techniques January 2013

Stephen Venables and Novak Mountaineering Expedition to the Antarctic February 2013

2012
S. Georgia Ice Core Sampling October 2012 – University of Maine team taking ice core samples on the Briggs Glacier, South Georgia. More details>>
Ice Sphinx Expedition (Swiss) - February 2012 - to the Antarctic Peninsula with targeted new routes.
3D Film Project with John Bowermaster in Antarctica - January 2012 – John Bowermaster and Giant Screen Inc 3D production of a global warming film in the Antarctic. www.jonbowermaster.com
2011
Penguin Count Antarctic Peninsula - December 2011– Pelagic supports the US foundation Oceanites.org counting chinstrap penguins on Deception Island. See this link for the results
British Shackleton Traverse - October 2011 – led by Stephen Venables and Skip
BBC Scotland's film project to the South Orkney Islands - January 2011 - for an historical documentary on William Speirs Bruce, presented by Neil Oliver.
2010

Norwegian Kayak Circumnavigation of South Georgia expedition.
Stephen Venables South Georgia Traverse of the Salvesen range.
Insubrica Expedition from Lugano to climb Mt. Scott and Shackleton. See logbook section.
Ice Sphinx Expedition to climb Mt Sarmiento in Tierra del Fuego, See logbook section.
2009

Dive Charter for Amos Nachum's Big Animals programme. www.biganimals.com
South Georgia Association cruise to South Georgia and the British/American/Welsh Expedition to climb Nordenskjold and Ashley. See logbook report

2008

National Geographic kayak expedition to the Weddell Sea. www.jonbowermaster.com and see news report.
Support vessel services to the South Georgia Government for the construction of an environmental boardwalk on Prion Island.
Pelagic features in the BBC Three Dogs film production of rounding Cape Horn with Sir Robin Knox Johnston, Sir Ranulph Fiennes and John Simpson.
Logistics and support for the British Beyond Endurance Expedition to South Georgia.


2007

Norwegian Television filming expedition to South Georgia and the Antarctic Peninsula
British Grahamland Expedition 2007 – climbing in the Antarctic, partially funded by the Mount Everest Foundation link to www.britishgrahamlandexpedition2007.co.uk
British Schools Exploration Society expedition to South Georgia – support vessel services. More>>
Insubrica Expedition (Swiss Italian) to South Georgia for the Shackleton Traverse – see news report.


2006
Metolius Expedition to South Georgia Shackleton Crossing and filming for CNN Mainsail Programme see report on trip


2005
British South Georgia Expedition 16 day ski traverse from Larsen Harbour to Royal Bay with first ascent of Peak 5680 (now officially Mt. Pelagic) see report on trip
Ollysuzi Avant garde art project painting leopard seals underwater www.ollysuzi.com
British Kayak Expedition Supporting Peter Bray's circumnavigation of South Georgia for Templar Films.


2004
Breaking The Ice Joint Israeli and Palestinian expedition to Antarctic. www.breaking-the-ice.de
Atlant Swedish expedition to Antarctic to visit Nordenskjold historic sites


2003
2002/03 Volomania Expedition Italian climbers and paragliders. See www.volomania.it
Adventure Network Expedition to the Jones Ice Shelf Antarctica
Graham Tiso LTD Climbing expedition to South Georgia. www.tiso.co.uk

2002
S4C Wales Adventure/wildlife filming for Welsh speaking TV in South Georgia
NCRV Filming for Dutch television on Antarctic Peninsula


2001
Transglobe Films Wildlife filming for Spanish Television in South Georgia

2000
Team Adventure Pilot project for schools.

1999
Onestep Mission Antarctica Recce of the Russian Bellinghausen Station in the South Shetlands Antarctica for clean-up project.


1998
Onestep Mission Antarctica Support vessel for Robert Swan's environmental audit of Antarctic Bases.


1997
South Aris Expedition Support vessel to an Irish re-enactment of Shackleton's epic 800 mile open boat voyage from Elephant island to South Georgia. See Logbook 1997 for daily reports filed during the expedition..

1996
ESPN TV America Two one hour documentaries on Antarctica with Gary Jobson.


1995
German Climbing Team Ascent of Mount Paget South Georgia.
Doug Scott's Tierra del Fuego Expedition Ascent of unclimbed summit in the Darwin Range.


1994
Channel 2 Israel Two hour documentary on Antarctica for Israeli TV.
Zanzibar Film Productions UK Climbing film in Antarctica.


1993
Greenpeace International South Shetland inspection.
ESPN TV America Film for ESPN and Eurosport made in the area of Cape Horn.
Swiss Italian Team crossing of Patagonian Icecap Logistic support vessel.


1991
Channel 5 Milan Two Films for Italian TV. Sponsored by Sector watches.
TVS Southampton UK Six Video clips for TV.
Sailing Quarterly USA Clip for video magazine.
British Antarctic Survey Adelie Penguin count.
Globo TV Brazil Film for TV Cape Horn. Sponsor Feras Shoes Brazil.


1988
RTS1 Television Lugano Channel 5 Milan Two Films for Italian TV made in Antarctica and South Georgia. Sponsored by Colmar Sport clothing Italy.