Managing Director and Expedition Leader for Special Projects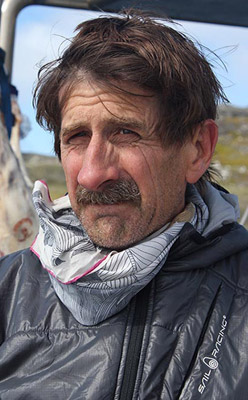 Skip Novak
Skip Novak was born in 1952. He is best known for his participation in four Whitbread Round the World Yacht Races since 1977. In that year at the age of 25 he navigated the British Cutter Kings Legend to 2nd place.

Skippering the Independent Endeavour in 1979, he won the Parmelia Race from Plymouth to Freemantle Australia.

He skippered Simon Le Bon's Drum in the 1985/86 Whitbread Race coming 3rd. He wrote a book entitled "One Watch at a Time" about this experience and it was published simultaneously in England (David and Charles) and in America (W. W. Norton).

In 1989 he was project manager and skipper of the Fazisi, the first Soviet entry in the Whitbread Race, and he chronicled this watershed event in his book "Fazisi - The Joint Venture" which was shortlisted for the William Hill Sports Book of the Year Award in Britain.

Wishing to combine his mountaineering skills (New Zealand and the Alps, expeditions to East Africa, Sikkim, Nepal, Patagonia, South Georgia and Antarctica) with sailing he built the expedition yacht Pelagic in Southampton in 1987 and has since spent every season since in Antarctic waters, many of which were leading combined climbing and filming projects based from his two vessels.

He is frequently asked to comment on high latitude adventuring and ocean sailing by radio, TV and print media and is a regular contributor to many sailing magazines worldwide, including several stints as a columnist for the Daily Telegraph in London. He currently has a monthly column for Yachting World magazine.

Briefly returning to grand prix ocean racing on large multi-hulls, in 1997 he navigated the French catamaran Explorer to a sailing record in the Transpac Race from Los Angeles to Honolulu. In 1998 he co-skippered Explorer with Bruno Peyron breaking the sailing record from Yokohama to San Francisco. In January to March 2001 he co-skippered the 33 meter French catamaran Innovation Explorer to a second place in the millennium non-stop, no limits circumnavigation The Race.

In 2002/2003 Skip project managed the construction of his new Pelagic Australis, a 23 meter purpose built expedition vessel for high latitude sailing in order to augment the charter operations of the original Pelagic. Launched in September of 2003 she is the flag ship for Pelagic Expeditions.
In March 2015 Skip was awarded the prestigious Blue Water Medal from the Cruising Club of America for his life time of voyaging to high latitudes and, in January of 2016, the Royal Cruising Club in the UK awarded Skip the prestigious Tilman Medal (Bill Tilman, famous mountaineer and exploratory yachtsman) for his lifetime of leading sailing to climb expeditions in high latitudes.
Skip sits on the Panel of Experts that vets expeditions to South Georgia on behalf of the South Georgia government. He is also on the Executive Committee of IAATO (International Association of Antarctic Tour Operators).
---
Skippers C.V.s
Alec and Giselle Hazell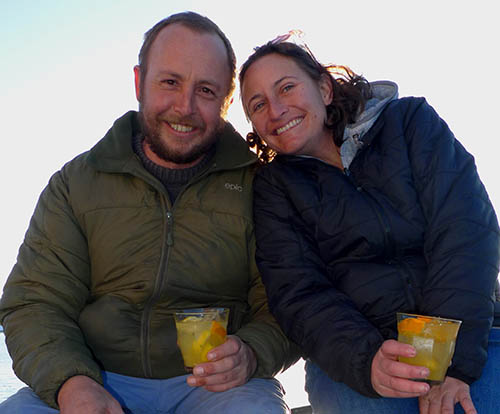 Alec Hazell, born in 1979, grew up in Falmouth England, sailing on a variety of local boats and diving the many wrecks in the area. Alec has travelled extensively through southern Africa where he qualified as a pilot for light aircraft. Returning to the UK he trained and worked as a commercial diver for a number of marine engineering and salvage companies. Returning to Mozambique in 2001 he ran a game fishing and diving camp for two years.
In 2003 he took his RYA Yachtmaster Offshore course in Durban and that same year sailed as first mate on the new Pelagic Australis on her delivery from Cape Town to the Falklands and for her first southern season with skipper Steve Wilkins. In the northern spring of 2004 he helped deliver Pelagic Australis to the UK and then was the first mate on Pelagic Australis' first northern summer in Norway and Spitsbergen with skipper Rich Haworth.
Sailing back south again in September 2004 from the UK to Stanley, he then crewed with Jerome Poncet's Golden Fleece to South Georgia and the Antarctic Peninsula followed by skippering the original Pelagic for charters in Tierra del Fuego during March and April. In 2005 he was again on board for Greenland during Pelagic Australis' second Arctic season. For three subsequent years he and his South African wife Giselle, a scuba dive instructor, have been working with Skip on Pelagic Australis for the Cape Town refits during the southern winter and skippering Pelagic during the summers based from Stanley.
In February and March 2008 they spent two months on Prion Island contracted to the South Georgia government as support vessel for a construction crew to build the Prion Island boardwalk through the Great Wandering albatross colony.
In 2014, after a five year hiatus farming in the Eastern Cape they have returned to the sea refitting a Van Der Stadt 35 footer for themselves and freelancing for Pelagic Expeditions on refits and special projects. In 2015 they completed a five month extensive refit on Pelagic in Cape Town.
After another southern season on Pelagic in 2016/17 they have now moved on to Pelagic Australis for a multi year commitment.
---
Magnus Day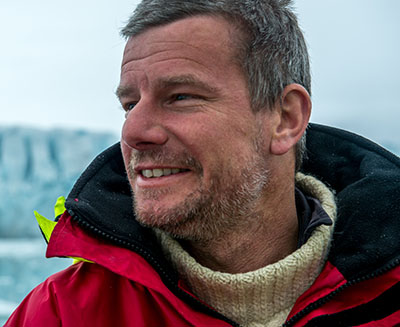 Magnus Day, born in Norfolk in 1975, has been involved with boats all his life, beginning at a just a couple of months old with his parents on the Norfolk Broads and racing dinghy's to national standard all over the UK as a boy.
Sailing professionally since 2002, Magnus's involvement with the Pelagics started with Pelagic Australis in 2005 as crew on the long delivery from Maine to Stanley and an expedition to South Georgia supporting a British/Israeli circumnavigation by kayak. Later that season he joined square rigger Bark Europa to sail to Antarctica, a trip that hardened his resolve to get to know this area better. The following year saw Magnus back in the south as mate and then skipper on a three month trip to the Antarctic Peninsula with ex BOC racing yacht Spirit of Sydney working with scientists photo logging Orcas (the first project of its kind in the area) and satellite tagging Humpback whales. Magnus has explored the Chilean channels all the way up to Puerto Montt in a little ferro-cement boat, camped on and explored Staten Island by foot and by kayak and sailed several yachts in Greenland and arctic Canada. He has sailed close to 100,000 nautical miles.
Most recently Magnus has worked with the International Fund For Wildlife (IFAW) yacht Song of the Whale recording cetacean numbers and behaviour around North Atlantic seamounts.
---
David Roberts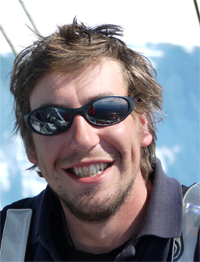 Born in South Devon in 1986, David is from a sailing background and has sailed as long as he can remember. Starting with competitively racing dinghies and occasionally on racing keelboats at regattas, David decided to take a gap year from university to do some yacht deliveries and after delivering a variety of yachts and gaining valuable offshore experience, a career in sailing has resulted. David is a commercially endorsed Ocean Yachtmaster with the RYA/MCA.
From October 2010 until June 2012, David was crewing on Pelagic Australis with Miles and Laura Wise. After these two amazing seasons including trips involving tourism, supporting ski touring expeditions and a film charter, he has caught the "Southern Ocean Bug" and can think of nowhere he would prefer to be. With Skip's encouragement David agreed to take over the reins of Pelagic in October 2012. In the 2013/14 season he skippered Pelagic for a four month charter with the BBC filming Gentoo penguins at Port Lockroy. In August/September 2014 he skippered Pelagic Australis for her winter trip to South Georgia. In 2015 he will be stepping up to the big boat for a three year commitment.

---

Miles and Laura Wise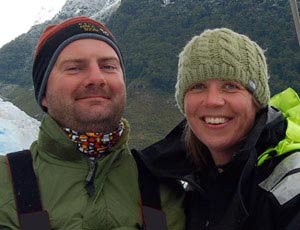 Miles and Laura Wise have been working for Pelagic since October 2008. The first two seasons on the original Pelagic, and then running Pelagic Australis since April 2010. Miles, born in 1979, was brought up on a farm in North Yorkshire, England. This has given him a love and understanding of wildlife and the countryside that has been enhanced by his experiences in the South Atlantic and Iceland. His sailing started in 1993 with racing on the East Coast of England in the North Sea, and he then went on to train as a professional skipper and qualified in 1998. He is now an Ocean Yachtmaster, MCA medically trained, and has engineering and dive qualifications.

Miles worked for Challenge Business between 2002 and 2005, when he fulfilled numerous roles: adventure sailing in Iceland, and on the west coast of Scotland for 2 summers, training race crews in the winter, and refit work in the yard. In 2005 he trained crew and raced in Tall ships with a youth team from Northumberland. From 2005-8 he skippered for Ondeck Sailing on Farr 65's in the Carribean, transatlantics, and the UK, as well as freelance work for other sailing companies such as Mike Golding Yacht racing and White Ocean Racing.
Laura, also a qualified yachtmaster, has been sailing since 1997. She completed the 2000-2001 BT Global Challenge as Watch Leader on the winning yacht LG Flatron. She has competed in several Fastnet races - one double handed - and the Round Britain and Ireland Race in an all female crew as 1st Mate. Since sailing round the world, Laura has been a leadership consultant working with a variety of different organisations to develop their leadership and team working skills and is also a qualified Maths teacher.

.
---
Richard Haworth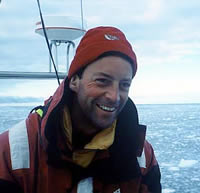 Richard Haworth, born 1968, grew up in Sheffield in the north of England. Here a passion for moors and mountains developed. From an early age he was climbing on the gritstone edges and served for many years in the Peak District Mountain Rescue team.

After graduating as a Mechanical Engineer, he specialized in engineering and project management of large petrochemical projects. This work enabled Richard to enjoy the cultural richness of cities and remote areas, living in Pakistan (2 years), Italy and the USA. Richard interspersed his professional activities with rock climbing and mountaineering expeditions in the UK, the European Alps, New Zealand, Patagonia, Bolivia, Jordan, Australia and Pakistan.

His enjoyment of the mountains, and desire to explore increasingly inaccessible zones, naturally led Richard to develop kayaking, skiing, and sailing skills.

He began sailing fifteen years ago in New Zealand and since completed several RORC seasons in UK waters. More recently he has made a living from sailing and his experience includes a number of single handed ocean passages. He has dedicated the last few years to sailing in the high latitudes of the southern oceans. In 1999 he took his own boat from the UK to Antarctica, and has subsequently sailed various boats between Patagonia, Antarctica and South Georgia. In 2002 he skippered Pelagic on her delivery to from Ushuaia to Cape Town and was responsible for a major refit to be ready for the 2002/2003 season.

In 2003 Richard delivered the new Pelagic Australis to Stanley along with skipper Steve Wilkins, and then skippered her for the 2004 and 2005 Arctic seasons in Spitsbergen and Greenland. In 2007 he set up his own consultancy for polar sailing called High Latitudes, and continues to be a collaborator with Pelagic Expeditions.

Richard speaks French and Spanish.
---
Chuck Gates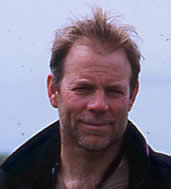 Chuck Gates, born 1953, was one of the original partners in the PELAGIC project to design, build, and operate a multipurpose expedition sailing vessel in the remote corners of the world. Chuck has participated in a number of Pelagic expeditions and skippered the Pelagic in a variety of settings.
Significant projects with Pelagic include a 13,000 mile exploration and diving journey through the remote southwest Pacific during 1989-90, a Tierra Del Fuego / Cape Horn / Beagle Channel expedition in 1994, and the ESPN sponsored expedition to Antarctica, which was the subject of a one hour documentary by the same network in 1996.
As a young man, Chuck was one of the most sought after bowmen in the international offshore racing circuit. He has participated in most of the major ocean races on a wide variety of boats, and was a key man in the successful campaign of "Aura", winning the World Ocean Racing Championship in 1972-4. He went on to parlay that experience into a professional sailing career as captain, navigator and project manager.
Chuck holds a USCG 100 ton unlimited passenger Master's license and has logged over 100,000 sea miles. Chuck also serves as President of RenewAire, LLC, a leading manufacturer of Energy Recovery Ventilators in the US, and is active in a variety of small boat endeavors. His favorite recreational activity is high-wind windsurfing.
---
Chris Harris - Technical Services
Born in 1965, Chris has had a life-long interest in the sea and sailing in particular. Being a 5th generation Falkland Islander gives him a deeply rooted history in the South Western Atlantic. His ancestors have worked and sailed the area for almost 200 years. He has been messing about in boats, when he could, for most of his life and sailing seriously since 2000 when he took his first course, the RYA Day-skipper practical, during a spare week while travelling in Europe. Since then he has qualified as a Yachtmaster Ocean with commercial endorsements. Chris has been working with Pelagic Expeditions since November 2007.
Prior to becoming a full-time sailor Chris trained as a carpenter on leaving school but left that profession to study electronics and telecommunications. He worked in the telecommunications industry until leaving to pursue sailing in 2007. Chris was also a volunteer fire-fighter and a soldier with the Falkland Islands Defence Force for many years. Chris has purchased his own yacht in 2012, but continues to manage the refits of Pelagic Australis in Cape Town.