Managing Director and Expedition Leader for Special Projects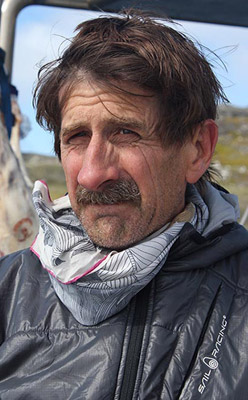 Skip Novak
Skip Novak was born in 1952. He is best known for his participation in four Whitbread Round the World Yacht Races since 1977. In that year at the age of 25 he navigated the British Cutter Kings Legend to 2nd place.

Skippering the Independent Endeavour in 1979, he won the Parmelia Race from Plymouth to Freemantle Australia.

He skippered Simon Le Bon's Drum in the 1985/86 Whitbread Race coming 3rd. He wrote a book entitled "One Watch at a Time" about this experience and it was published simultaneously in England (David and Charles) and in America (W. W. Norton).

In 1989 he was project manager and skipper of the Fazisi, the first Soviet entry in the Whitbread Race, and he chronicled this watershed event in his book "Fazisi - The Joint Venture" which was shortlisted for the William Hill Sports Book of the Year Award in Britain.

Wishing to combine his mountaineering skills (New Zealand and the Alps, expeditions to East Africa, Sikkim, Nepal, Patagonia, South Georgia and Antarctica) with sailing he built the expedition yacht Pelagic in Southampton in 1987 and has since spent every season since in Antarctic waters, many of which were leading combined climbing and filming projects based from his two vessels.

He is frequently asked to comment on high latitude adventuring and ocean sailing by radio, TV and print media and is a regular contributor to many sailing magazines worldwide, including several stints as a columnist for the Daily Telegraph in London. He currently has a monthly column for Yachting World magazine.

Briefly returning to grand prix ocean racing on large multi-hulls, in 1997 he navigated the French catamaran Explorer to a sailing record in the Transpac Race from Los Angeles to Honolulu. In 1998 he co-skippered Explorer with Bruno Peyron breaking the sailing record from Yokohama to San Francisco. In January to March 2001 he co-skippered the 33 meter French catamaran Innovation Explorer to a second place in the millennium non-stop, no limits circumnavigation The Race.

In 2002/2003 Skip project managed the construction of his new Pelagic Australis, a 23 meter purpose built expedition vessel for high latitude sailing in order to augment the charter operations of the original Pelagic. Launched in September of 2003, for 20 years she was flag ship for Pelagic Expeditions, before being taken over by Greenpeace. In 2021 Vinson of Antarctica the current flag ship of Pelagic Expeditions was launched. A concept and design collaboration by Tony Castro and Skip. A second vessel of this class is currently in build and will join the fleet in 2024.
In March 2015 Skip was awarded the prestigious Blue Water Medal from the Cruising Club of America for his life time of voyaging to high latitudes and, in January of 2016, the Royal Cruising Club in the UK awarded Skip the prestigious Tilman Medal (Bill Tilman, famous mountaineer and exploratory yachtsman) for his lifetime of leading sailing to climb expeditions in high latitudes.
Skip sits on the Panel of Experts that vets expeditions to South Georgia on behalf of the South Georgia government. He also served on the Executive Committee of IAATO (International Association of Antarctic Tour Operators) from 2012 to 2017.
---
Skippers C.V.s
Chris Kobusch and Sophie O'Neill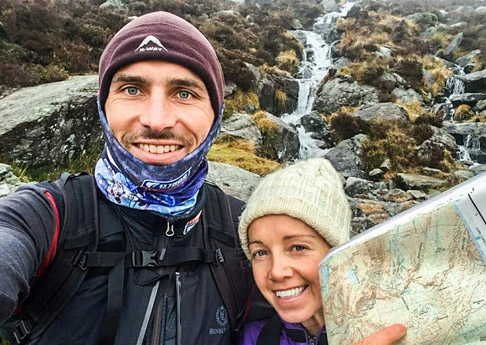 Chris Kobusch, 34, from Herford, Germany, started sailing in 2007 when he left school and moved to Cape Town, South Africa to work as a volunteer in a pre-school. Whilst living there he met many South Africans who worked in the sailing industry and decided to try it out. Being so close to the Atlantic there he developed a love for the sea. After completing his RYA Yachtmaster in 2009 in Cape Town, Chris has been living and working professionally on yachts ever since. Having logged more than 125,000 nautical miles in the past ten years on the water, Chris has worked and sailed all around the world.
At the beginning of his career he delivered a wide range of yachts from South Africa, China, and Europe and then started racing on a variety of yachts from small, modern J105s to big classic 50m schooners. Racing has taken him to the Caribbean, all around Europe and Australia, where he pariticpated in two Rolex-Sydney-Hobart Races, first as the navigator, then as the skipper. The latter, plus his background as a RYA Instructor lead to his involvement with the Clipper Round The World Yacht Race in 2014. He first started training the crews for the 2015-16 Race at the Clipper Training hubs in Gosport, UK and Sydney, Australia, before he Skippered the Chinese entry Qingdao in the 2017-18 Clipper Race coming 3rd overall and securing 4 podium positions in idividual races, including winning the North Pacific Leg and the final race into Liverpool. Until recently he was still involved in the training for the 2019-20 Race.
No stranger to all things outdoors, in addition to his sailing experience Chris enjoys hiking, running, and cycling, and in 2016 completed an epic 5600km, four month ride through Australia and New Zealand. His love for the sea extends beyond being on it but also in it as a professional Divemaster, with more than 120 dives to his name so far.
Sophie O'Neill, 36, based on the Isle of Wight started sailing and racing from the age of 12 in a Mirror dinghy and went on to teach beginners to performance dinghy sailing from the age of 18. At 17 years old she started building her qualifications and sea miles in Yachting, training on the River Medway. Since graduating from University with a sports degree Sophie has worked full time in the Yachting Industry for the last 11 years, working as a YMI as well as Skippering in Inshore and Offshore races in the UK and abroad including, Fastnets, Caribbean RORC 600's, Trans-Atlantics and many more, often with an all female team.
Sophie joined the 2017-18 Clipper Round the World Yacht Race as a Mate in Qingdao helping the boat race into podium positions. For the past year she has worked as both a Mate and Skipper on both their 68 & 70 ft boats training the new crew for the 2019-20 race.
Sophie has a great love for the mountains and started her mountain training by climbing Mnt Tryfan at the age of 19, since then building on her mountain portfolio steadily over the years. When the winter season arrives Sophie ensures she gets to the Alps to enjoy her other main sport, skiing.
Besides their love for the Ocean Sophie and Chris share the passion for the mountains and enjoy skiing and hiking together and recently completed their Mountain Leader Training in the Lake District. Before putting their racing careers on hold and joining Pelagic Australis in August they are each skippering a Sigma38 in the 2019 RORC Fastnet Race.
---
Ed Hewett and Charlotte Bainbridge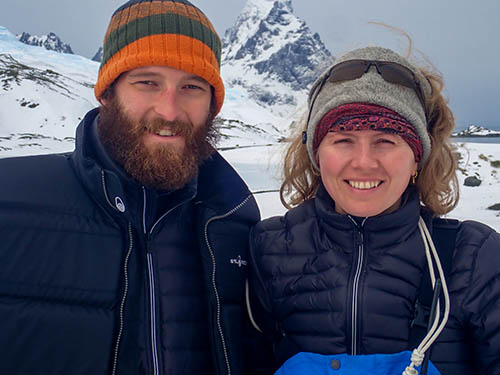 Edd Hewett, born in 1991, grew up in Buckinghamshire, England, far from the sea, but he achieved his Yachtmaster License by the age of 18. Most of Edds work has been aboard cetacean research and marine conservation vessels tracking and studying marine mammals with minimal disturbance all over the North and South Atlantic and adjoining seas. This work has taken him to both high and low latitudes and involved passages of up to five weeks on survey between landfalls. Along the way Edd has developed a passion for the oceans' wildlife and not an inconsiderable knowledge of its inhabitants but he has also learnt that he has a strong preference for high latitudes and cold weather.
A short break from the marine conservation work saw Edd join Pelagic Australis as Mate for an unforgettable season in 2012/2013 working on trips to South Georgia and Antarctica. After returning to his usual work Edd gradually rose through the ranks and gained extra qualifications before taking on the role of Skipper and Manager of an 18m Research Vessel in the challenging but breath-taking seas of the Hebrides with Charly as Mate in 2015. However, after 3 years of this Edd and Charly were ready to get back out into the deep ocean and set sail for the Falklands. Crossing 100 degrees of latitude to get there they have now re-joined Pelagic Australis as Skipper and Mate in 2018.
pelagic AustralisCharly also a qualified Yachtmaster and professional skipper, grew up in Oxfordshire. She spent her childhood as a Sea Cadet on the River Thames and went on to join the Royal Navy when she left college. She then joined the sail training brig, T.S Royalist. Her role was to teach the young people how to sail and to supervise them in the rigging as they handled the square sails. The ship was then decommissioned and a brand new T.S Royalist was built in Spain. Charly spent six months rigging the new vessel and was employed as a Watch Officer and relief Bosun during her first season.
Afterwards Charly went on to work with Edd as 1st mate on the whale and dolphin survey vessel 'Silurian'. Enjoying the freedom of being self employed, Charly was then also able to sail a large variety of other sailing vessels and gained a wide range of experience over the next few years. Her latest adventure was the sail from the UK to the Falklands. Her favourite hobby whilst sailing is Celestial Navigation and she particularly enjoys helping others 'learn the ropes'.
---
Alec and Giselle Hazell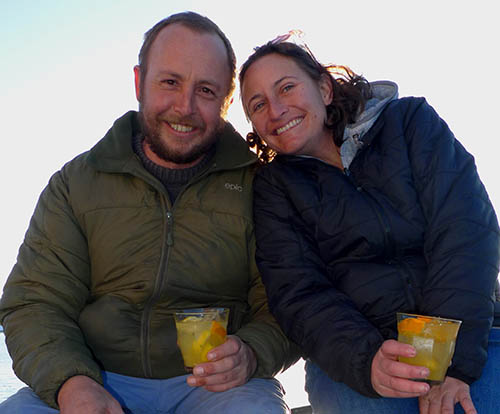 Alec Hazell, born in 1979, grew up in Falmouth England, sailing on a variety of local boats and diving the many wrecks in the area. Alec has travelled extensively through southern Africa where he qualified as a pilot for light aircraft. Returning to the UK he trained and worked as a commercial diver for a number of marine engineering and salvage companies. Returning to Mozambique in 2001 he ran a game fishing and diving camp for two years.
In 2003 he took his RYA Yachtmaster Offshore course in Durban and that same year sailed as first mate on the new Pelagic Australis on her delivery from Cape Town to the Falklands and for her first southern season with skipper Steve Wilkins. In the northern spring of 2004 he helped deliver Pelagic Australis to the UK and then was the first mate on Pelagic Australis' first northern summer in Norway and Spitsbergen with skipper Rich Haworth.
Sailing back south again in September 2004 from the UK to Stanley, he then crewed with Jerome Poncet's Golden Fleece to South Georgia and the Antarctic Peninsula followed by skippering the original Pelagic for charters in Tierra del Fuego during March and April. In 2005 he was again on board for Greenland during Pelagic Australis' second Arctic season. For three subsequent years he and his South African wife Giselle, a scuba dive instructor, have been working with Skip on Pelagic Australis for the Cape Town refits during the southern winter and skippering Pelagic during the summers based from Stanley.
In February and March 2008 they spent two months on Prion Island contracted to the South Georgia government as support vessel for a construction crew to build the Prion Island boardwalk through the Great Wandering albatross colony.
In 2014, after a five year hiatus farming in the Eastern Cape they have returned to the sea refitting a Van Der Stadt 35 footer for themselves and freelancing for Pelagic Expeditions on refits and special projects. In 2015 they completed a five month extensive refit on Pelagic in Cape Town.
After another southern season on Pelagic in 2016/17 they have now moved on to Pelagic Australis for a multi year commitment.
---
Tor Bovim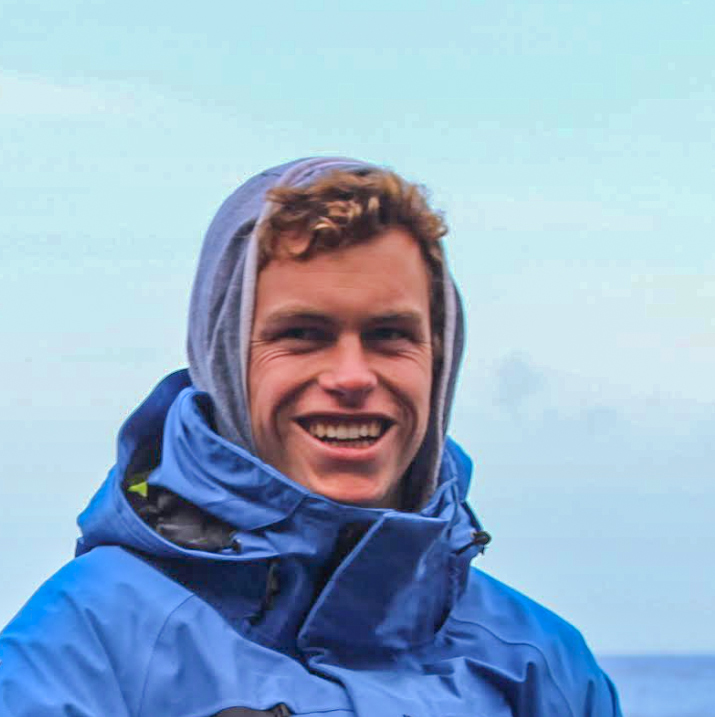 Tor Bovim was born in 1998 and raised south of Cape Town near the Cape of Good Hope. Sailing,and all things marine dominated life from the get go. His father built an Optimist to keep Tor entertained while he built the 30 ft steel yacht they run as a small scale charter business from
Simonstown. This early involvement with boat construction and xposure to cruising sailors sparked the imagination.
When finally released from school, Tor found himself sailing boats of all kinds in Cape Town and around South Africa's coast. Making friends with local sailing instructors, Tor found himself moving through the RYA Certification process, completing the Yachtmaster Ocean (with commercial endorsement) in 2022.

While employed by Southern Wind Shipyard, he met Skip on the dock in Cape Town in 2020. This fortuitous occasion saw him working as crew on Pelagic Australis for the voyages to Gough Island and Marion Island. He used this experience to sail twice more to Gough Island. Joining Pelagic in 2022 for a full summer of sailing to Greenland and Baffin Island. This momentum has continued, sailing Vinson of Antarctica for the expedition to the South Sandwich Islands in 2023 before returning north to skipper Pelagic on her most recent Arctic cruise. Looking ahead, he will be working as mate on Vinson before returning to Pelagic once more in 2024.
---
Kirsten Neuschafer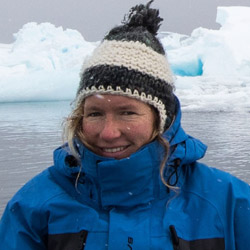 Kirsten Neuschafer was born in 1982 and raised in South Africa, Kirsten has always loved the outdoors and adventure, in particular water-sports. After finishing school, she spent a few nomadic years in the North doing various different jobs in between travels such as working in ski-resorts, wilderness guide on Spitsbergen, training sled-dogs in Scandinavia – and other jobs that allowed her to discover colder climates. She eventually returned from Europe overland to South Africa, on a bicycle.
Once back home, she decided to take to the seas, so in 2006 she got her Yachtmaster ticket and started to instruct sailing in East London, as well as doing deliveries along the South African coast. She went on to doing international deliveries of different types of sailing vessels to various international destinations, developing a particular liking for Southern Ocean crossings.
In 2014 she crewed on Pelagic for the first time, and has been returning every season in between working for the polar logistics division of a German geological institute on expeditions to Ellesmere Island, as well as Terra Nova Bay in the Ross Sea.
In the 2016/2017 season she was the mate on Pelagic Australis. In 2017/2018 season she has skippered Pelagic on a trip with National Geographic to South Georgia and a trip with the BBC Wildlife Unit Bristol to the Antarctic Peninsula.
---
Magnus Day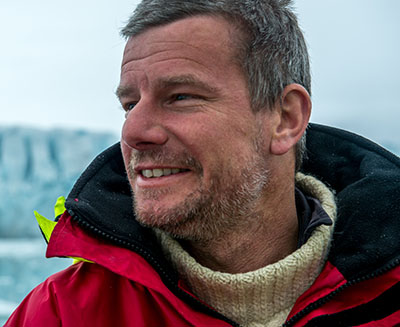 A life long sailor of dinghies and yachts of all sizes, Magnus has been travelling and working in the Arctic and Antarctic since 2005.
Sometime crew and long term captain of Pelagic and Pelagic Australis as well as other yachts working in Antarctic waters was the best possible training for leading boat based expeditions to remote destinations.
In 2015 Magnus was headhunted by EYOS Expeditions to run High Latitudes, a subsidiary specializing in small to mid size vessels, for consulting to yacht owners and Captains with ambitions to explore the icy wastes at either end of the globe.
High Latitudes works with the best in the industry to provide design and refit support, specialist crew, permit application and management and logistical solutions.
Magnus works as ice pilot to some of the world's best known sailing superyachts and has sailed extensively on the Antarctic Peninsula as far as 68S in Marguerite Bay. He also knows South Georgia and the Cape Horn archipelago well. In the North, project destinations include Alaska, the Northwest Passage, Baffin and Labrador, Greenland, Iceland and the Svalbard Archipelago up to 82N.
Outside of the polar world Magnus offers design, build, management and crewing solutions to private clients and explores with his own boat Baltazar. Contact: magnus@highlatitudes.com or magnusoffshore@gmail.com.
---
David Roberts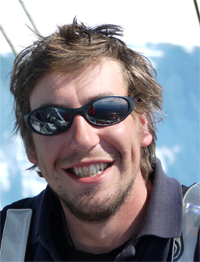 Born in South Devon in 1986, David is from a sailing background and has sailed as long as he can remember. Starting with competitively racing dinghies and occasionally on racing keelboats at regattas, David decided to take a gap year from university to do some yacht deliveries and after delivering a variety of yachts and gaining valuable offshore experience, a career in sailing has resulted. David is a commercially endorsed Ocean Yachtmaster with the RYA/MCA.
From October 2010 until June 2012, David was crewing on Pelagic Australis with Miles and Laura Wise. After these two amazing seasons including trips involving tourism, supporting ski touring expeditions and a film charter, he has caught the "Southern Ocean Bug" and can think of nowhere he would prefer to be. With Skip's encouragement David agreed to take over the reins of Pelagic in October 2012. In the 2013/14 season he skippered Pelagic for a four month charter with the BBC filming Gentoo penguins at Port Lockroy. In August/September 2014 he skippered Pelagic Australis for her winter trip to South Georgia. In 2015 he will be stepping up to the big boat for a three year commitment.

---