The Falkland Islands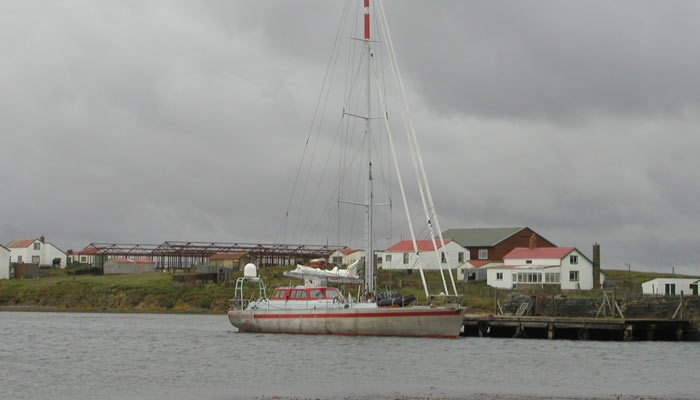 At first glance, The Falkland Island landscape is stark to say the least, but this complex archipelago is rich in rewards. In addition to some challenging navigation with the vagaries of strong winds and sometimes ferocious currents, we would concentrate on the wildlife areas. of which there are many, in addition to exploring some of the hundreds of anchorages in and around East and West Falkland.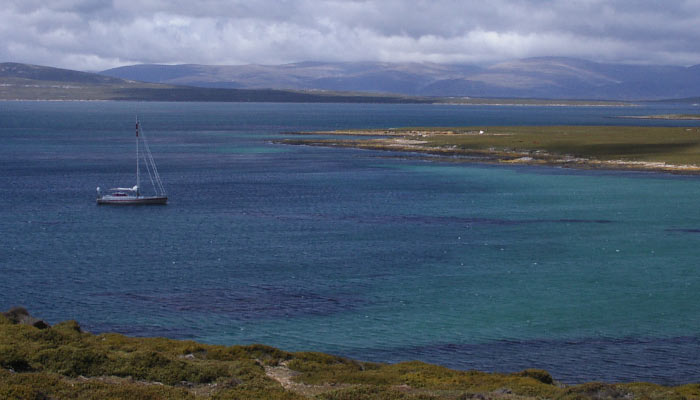 Typical Falkland Anchorage
Penguins, seals, albatross, petrels, as well as wildfowl and birds of prey are all in abundance here and relatively easy to approach. Battle sites and war memorials from the 1982 conflict with Argentina can also be visited if of interest.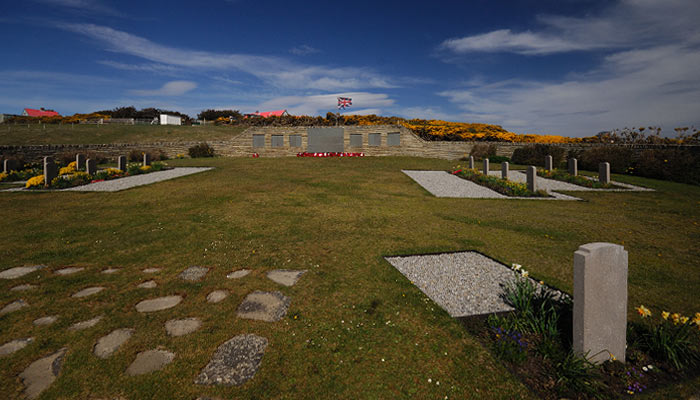 British memorial and cemetery San Carlos
We would visit many of the 'Camps' which are private sheep ranches usually run by a family. Several of
these have streams with Brown and Sea Trout and a local fee is paid to the landowner to fish. This is trout fishing at its best - unspoiled and unadvertised.
This is also a superb scuba diving location with clear water, hundreds of wrecks and prolific marine life. It has yet to be 'discovered!' See our Dive Support Services.
The itinerary would be dictated by the weather conditions. All sailing would be during the day and the evenings spent in protected anchorages. As in all our cruises, the emphasis would be to 'get ashore' and explore the countryside. We can take 8 to 10 guests on Pelagic Australis or six on Pelagic and charter times could vary from ten days to three weeks.
Climate
The Falklands are a windy place with an average wind speed 17 knots. Cool in summer with an average temperature of 15 degrees, it can be much warmer or colder depending on the weather patterns that move quickly across the archipelago from west to east. Downwind of Argentine Patagonia, it is more dry than wet, although rain and even snow flurries can occur in any month. In a word, it is variable!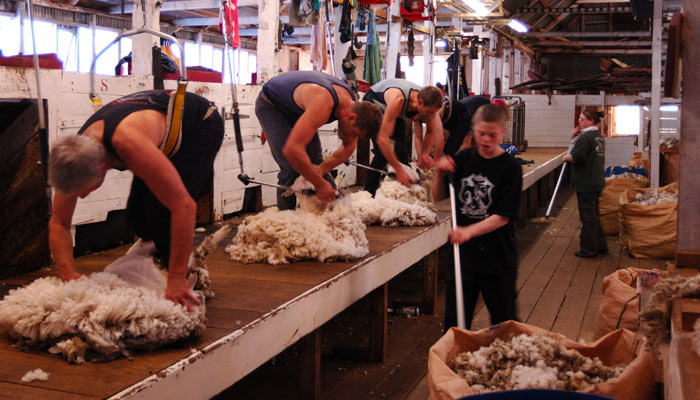 Sheep shearing Port Howard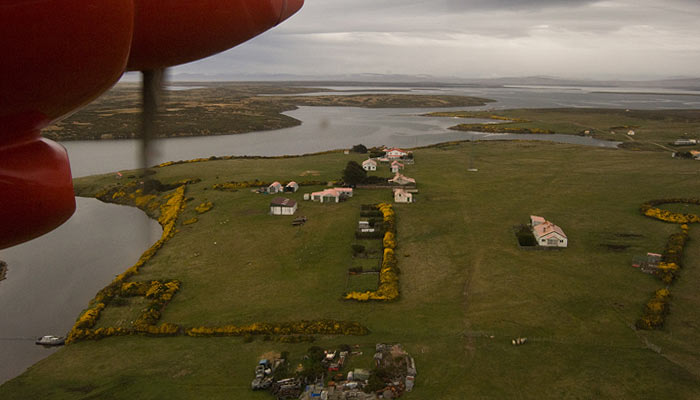 A typical settlement or Camp
Available Dates
October to April, but we can navigate here all year round. The spring and early summer is the most interesting with respect to the wildlife (October to January).
Travel Arrangements
Guests would either fly once weekly to the Mt. Pleasant Airport (MPA) on the East Falkland direct from the UK (Royal Air Force 747 from Brize Norton), or every Saturday from Punta Arenas via Santiago Chile on Lan Chile. They would be met on arrival and then take Land Rover transport either to the port of Stanley or by arrangement direct to one of the 'Camps' on East Falkland to meet either of the vessels. We strongly recommend that international return flights are fully flexible to allow for missed connections due to bad weather.
We recommend International Tours and Travel for specialist advice and arrangements (including international connections). Contact Jennie Forrest on jf.itt@horizon.co.fk
For more information on the Falkland Islands in general, see the Falkland Islands Tourist Board Website or contact: Falkland Islands Government House, 14 Broadway, Westminster, London SW1 HDB11. Tel: 44 (0)207 222 2542
For flight information in Tierra Del Fuego in particular getting to and from Puerto Williams and Punta Arenas see www.aeroviasdap.com
References
Pelagic Newsletter 05 Jan 2004
Falkland Islands Shores, SE Southby-Tailyour, Conway Maritime Ltd
Falkland Islands Tourist Board Website.