Delivery Trips and RYA Yachtmaster Offshore Shorebased Courses

Annually, Pelagic Australis sails from Punta Arenas Chile in early May and makes a 42 day delivery to Cape Town South Africa, taking in the Straits of Magellan, Cockburn, Brecknock and Beagle Channels before rounding Cape Horn and continuing on to Stanley in the Falklands for a short stop.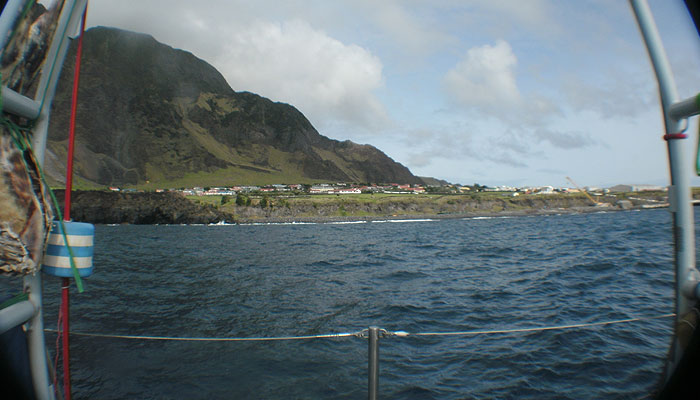 Tristan da Cunha from Pelagic Australis
From there she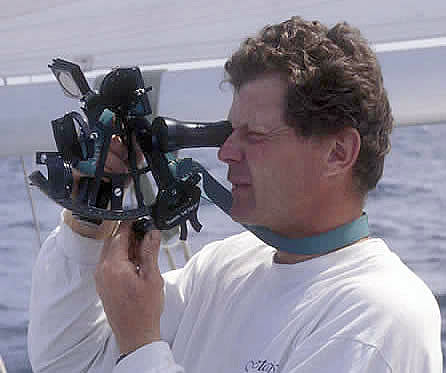 continues offshore across the South Atlantic with a hoped for landing on the remote British island of Tristan da Cunha, before making a landfall on Table Mountain above Cape Town. This is a true sailor's classic voyage.
The 5000 mile delivery caters specifically to people of all ages who are relatively experienced offshore sailors and who wish to complete the Royal Yachting Association's (RYA-UK) Yachtmaster Offshore Shore Based Course Syllabus conducted by a dedicated RYA instructor. See the details in the Programmes Menu.
See below for various accounts of previous trips: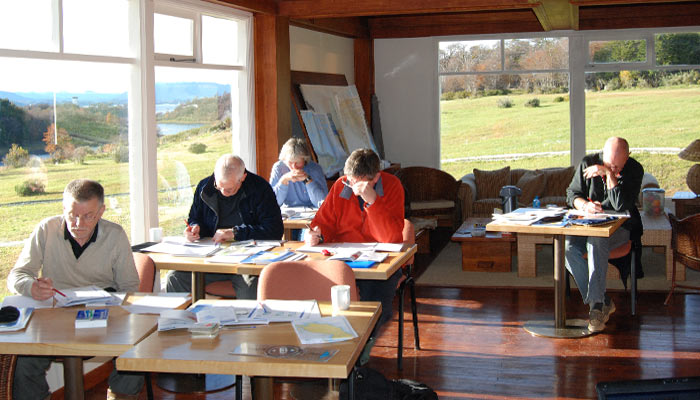 A STUDENTS VIEW ON THE 2012 TRIP TO CAPE TOWN
Download a description of the 2012 Chile to Cape Town trip by by Matt Whitehead, 19 year old gap year student and Hobie champion from Cape Town in pdf form here.

AN INSTRUCTORS PERSPECTIVE ON THE 2009 TRIP
Read an account in RYA magazine on the trip from Tierra del Fuego to Cape Town. See 2009 Delivery and RYA training trip Chile to Cape Town .
A FORMER STUDENT WRITES ON THE 2007 RYA RUN TO CAPE TOWN
I would like to take this opportunity to let you know that I thoroughly enjoyed the voyage from Punta Arenas to Cape Town. Particular thanks to Stewart and Lawrence who's experience, sailing skills and forgiving attitude made a pretty tough journey both rewarding and enjoyable. Jess needs to be congratulated on her patience and consistent good humour when faced with a number of the crew who would clearly be challenged at home if asked to find the TV remote. The journey was particularly rewarding for myself as it fulfilled a long held ambition to visit the higher southern latitudes, to sail an ocean and particularly to do some meaningful astronavigation. All of these were fulfilled and more. The Chilean fjords were magnificent, to see a string of glaciers plunging into the sea and then spend the evening moored in a hurricane hole feasting on roast lamb and good Chilean wine is the best day sailing I am ever going to experience. The route as far as Puerto Williams was a holiday in itself, chugging up the Beagle channel must bring a lump to any Englishman's or scientist throat, it conjured up a picture of Darwin miserably seasick and crammed in to less space than my berth on Pelagic turning over ideas in his mind that resonated around the thinking world to this day.
The failure to get to Cape Horn only enhanced its reputation, I am glad to have failed in a 50 knot sou'westerly than to have succeeded on a calm day in bright sunshine. I shall however take every opportunity on my future RYA courses to remind my crewmates that I passed my Yachmaster navigation paper anchored at Isla Herschel, 55 deg south, having four hours the previous night on anchor watch in a 60 knot gale gently dragging 85 metres of 16 mm chain toward Antarctica.
The journey to the Falklands gave a hint of what real winter might be like at those latitudes and our arrival in a snow squall with HMS Edinburgh proceeding on patrol into the teeth of a westerly with the back drop of the rugged East Falkland coast was about a dramatic a land fall as I am ever likely to encounter. The 5 days on the islands was a great change of routine and thanks to Russell and Ian we had a great tour of the island with images of the 1982 campaign translated from television and written images to the reality of trudging through peaty swamps or being locked up for a month in a sheep shearing shed.
The ocean passage was a completely different experience, it taught me the different disciplines needed on extended passages, the importance of provisioning and how 10 people can find things not to disagree about when confined to a limited space for 3 weeks. Sighting Tristan da Cuhna, an incredibly remote place, then watch it disappear into the night as it's cloak of clouds lifted but the suns light fading so that she kept her volcanic mid-ocean profile a secret from us.
Non of this would have been possible without out a great boat. Pelagic Australis was comfortable, warm, superbly equipped and a joy to sail. Clearly she is a distillation of your many years of experience sailing the worlds oceans and we benefitted enormously.
My one disappointment. I put on a few pounds prior to the trip expecting to quickly lose them in the austral winter and crewing the boat, however thanks to the incredibly high standard of provisioning and cooking I didn't lose and ounce.
Many thanks for a memorable trip, Best Regards,Ken Barker
27 July 2007