16.12.2017 - News Update - Season in Full Swing - Ice Coring S. Georgia - Volvo Legends Cape Town - Remaining opportunities for 2017/18 - Whats on offer in 2018/19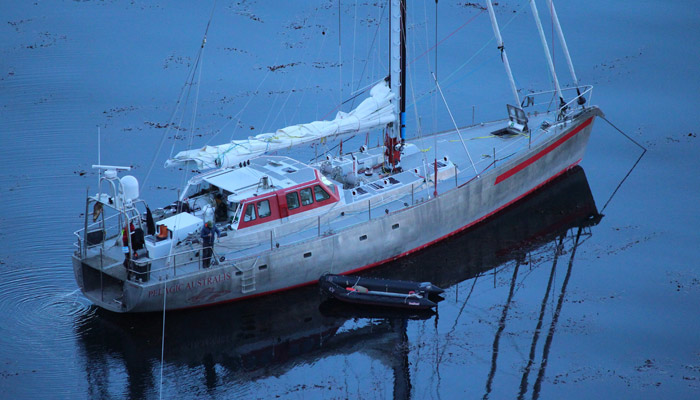 Pelagic Australis moored up in South Georgia
The season is once again in full swing. I have been back from Pelagic Australis on her combined tourist and ice coring expedition with the University of Maine Climate Change Team since mid November.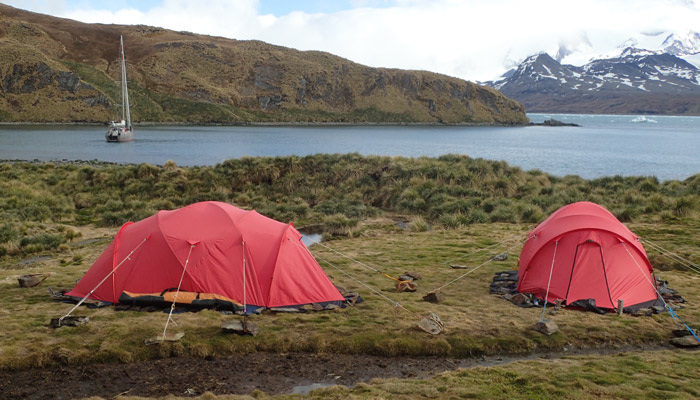 A lack of snow
Noteworthy was the lack of snow below 400/500 meters so instead of skiing and sledding our drilling equipment to the Szielasko Ice Cap on the Barff Peninsula - we had to carry it on our backs (getting old for this type of thing!!). Let's hope these last two seasons are only a blip in the island's climate and next September we will enjoy the usual meters of base on the lower slopes.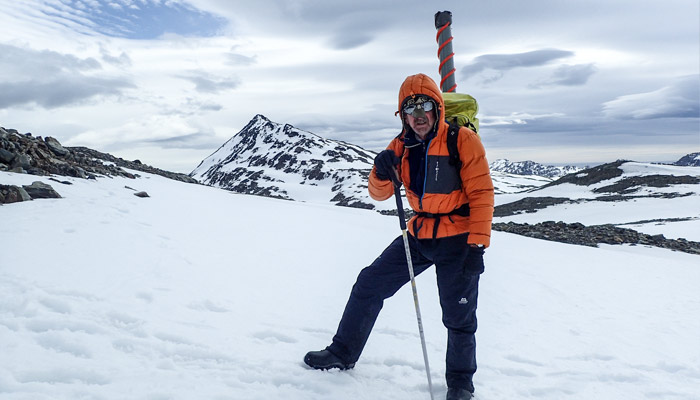 Getting too old to carry this stuff?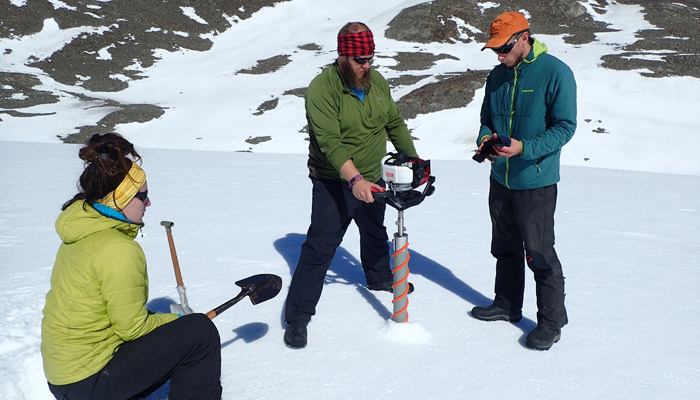 Drilling a core sample

Five minute slideshow of ice coring expedition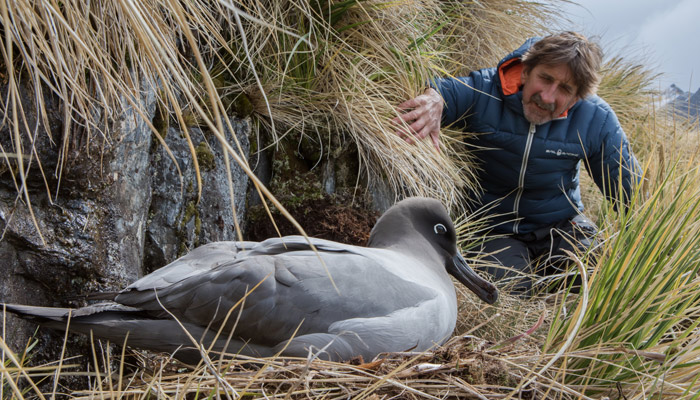 Skip with Light Mantled Albatross
Pelagic Australis with Alec and Giselle Hazell and mate Tom Geipel is already on her way back across the Drake Passage after her first of three "Ice With Everything" Antarctic Peninsula cruises. And Pelagic is about to set off for a five week filming expedition to South Georgia with Kirsten Neuschafer in charge of a National Geographic team. Google Bertie Gregory, a specialist of Nat Geo's online filming team.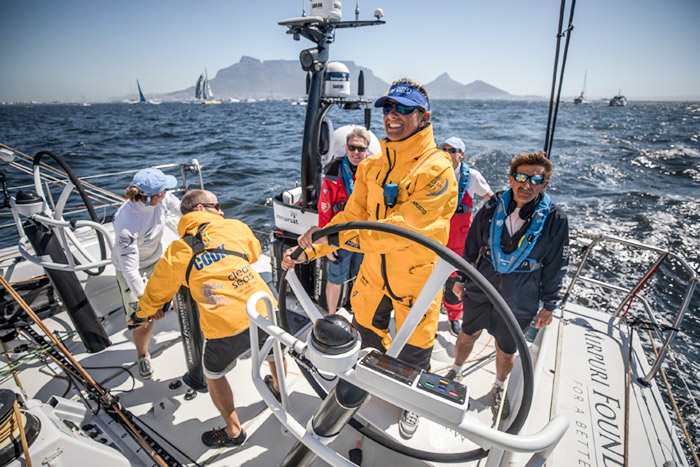 I was lucky enough to be invited as an old Whitbread/Volvo Ocean Race 'Legend' to do the inshore race on Turning the Tide on Plastics with skipper Dee Caffari during the Cape Town stopover. This was a unique experience for me - I was not allowed to do anything on board, nor to tell anyone else to do anything!! It was a wild ride though, just hanging on to the back end and experiencing these radical ocean racing machines.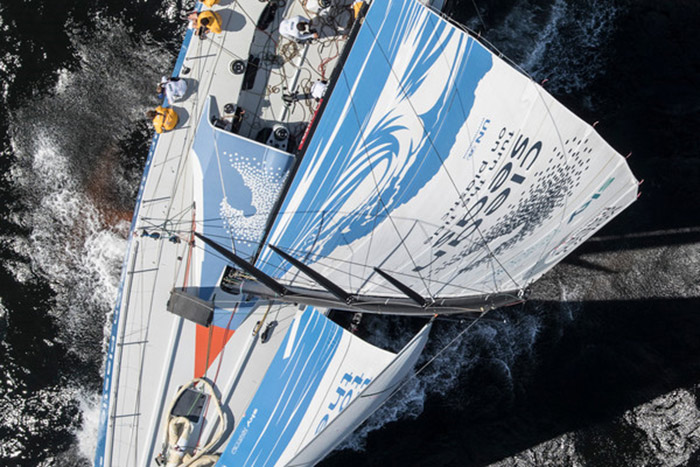 The Volvo Ocean Race is incorporating a global campaign of plastic pollution awareness in the oceans which has been a wider story all over the international news of late. Turning the Tide has a water sampling unit on board which counts the amount of micro plastics per unit of sea water as they proceed around the world – and the results so far are shocking. I would highly suggest to follow this campaign via www.volvooceanrace.org
---
TRIPS ON OFFER See programme menu for details and links >>
2017/18
Not much left except a fabulous opportunity to cruise the exotic Falkland Islands for two weeks on Pelagic Australis – start March 24th 2018 and if I can get a group we can discount heavily. See more details>>
Delivery to Cape Town incorporating the new Pelagic Syllabus, a 10 day Falkland Islands cruise and then across the pond to South Africa. Selling out fast. 4 places available. More information >>
2018/2019 SEASON
South Georgia Sept/Oct 2018 Stephen Venables and I will be again leading an ambitious ski traverse across the Salvessen Range on South Georgia. See the prospectus here >>. 5 places available. More >>
South Georgia Oct/Nov 2018 - Our four week South Georgia cruise – now booking individuals. 6 places available. More>>
Antarctic Peninsula 1 -21 Dec 2018 "Ice With Everything" Antarctic Peninsula 5 places available. More>>
Sailing to Climb Antarctic Peninsula 31 Dec 2018 -28 Jan 2019. Another Venable's ski mountaineering expedition cruise to the Peninsula. This is selling out fast. Day ski tours possibly with a night or two of camping but not obligatory! 4 places available. View prospectus here>>
Antarctica February 2019 "Ice With Everything". Wide open
Falkland Islands Mar/Apr 2019 - Two cruises wide open
Delivery to Cape Town and Pelagic Syllabus April/May 2019 Delivery to Cape Town wide open
And for something really stunning to whet your appetite see Roger Fishman's drone clip from last season. I can't wait to see his finished film as he is back again on board this February!
Skip

Roger Fishman video from Antarctica.