10.03.2023 - Pelagic Expeditions Newsletter March 2023 - Zavodovski Expedition Report - Falklands Photo Safari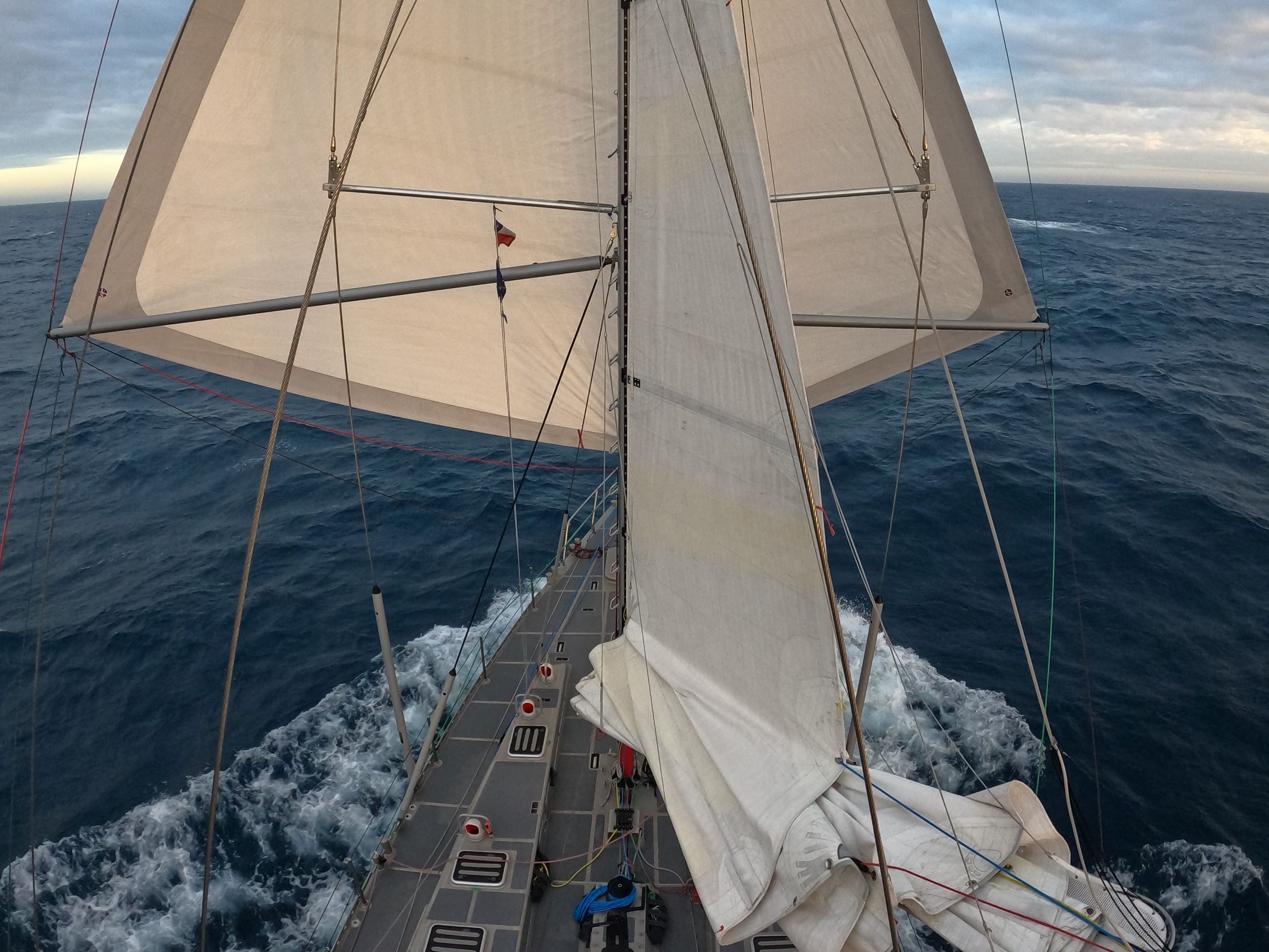 Vinson of Antarctica Wing on Wing towards Zavodovski Island

The Vinson of Antarctica wrapped up her deep south season on February 18th upon the completion of our science support role on Zavodovski Island in the South Sandwich Island chain.

Prior to that trip Skipper Alec Hazell with crew Justino Borreguero and Mariana Esperon hosted a film crew from Plimsoll Productions on South Georgia shooting for National Geographic/Disney Plus. This series, Great Migrations will be released later in this year so watch for the Southern Ocean episode.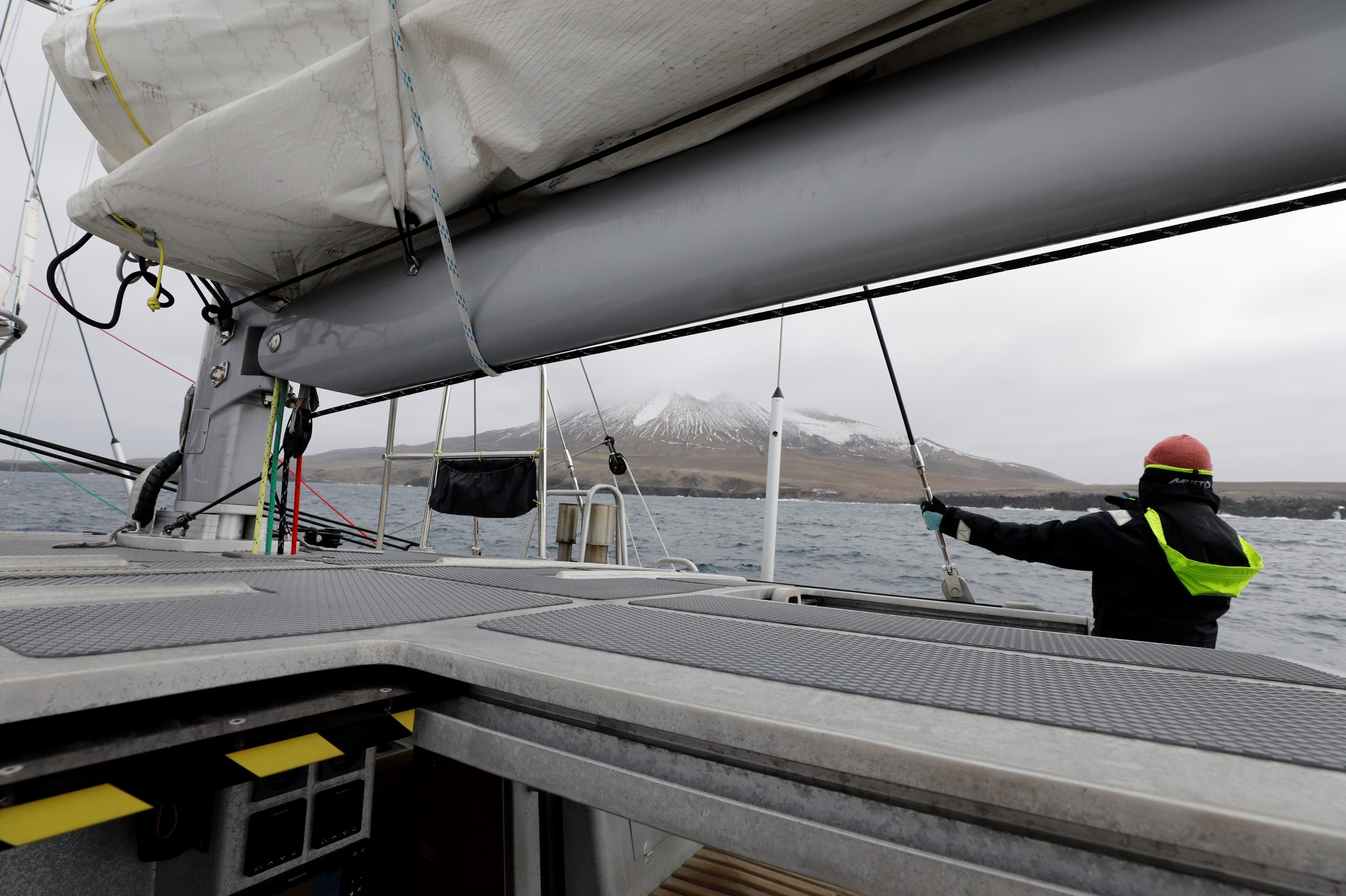 Approaching Zavodovski Island's prominent volcano cone

Back to Zavodovski, this was my second voyage to the South Sandwich, having been there on Pelagic Australis in January 2020. On that occasion we had a multi-faceted science and film team managing to land on four of these remote islands, all with difficult landings. The one we could not land on at all was Zavodovski, the most northern of the group and which is a veritable fortress with no viable beaches to land on and only one weakness in the fringing cliff face, identified by Jerome Poncet on Damien II, decades ago. On that occasion it was too rough to even contemplate a landing and Dr. Tom Hart from Oxford Univeristy managed to do four drone flights from the vessel, to census the entire colony – quite a feat! But more information was needed, hence a return this January.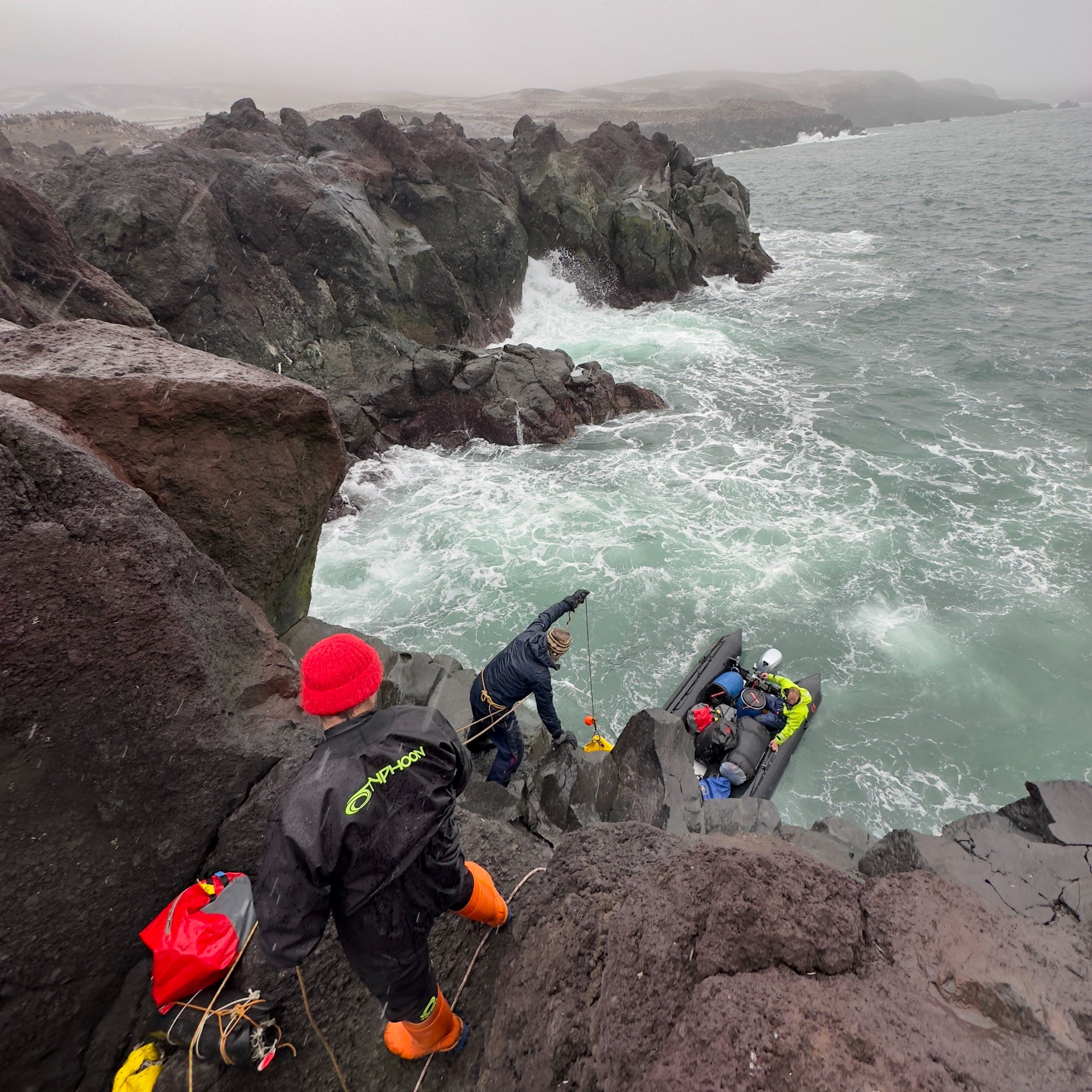 Landing on the fortress like coast

Because the island is only two and a half nautical miles from north to south, swell is ever present. At this one point the swell oddly converges and cancels the surge out, allowing a Zodiac to drive into a rock wall and on the top of the heave, can disembark the team one by one on to precarious ledge. A rope system is then rigged to haul up equipment – as we camped ashore for 10 days. This landing manoeuvre is not for the faint hearted. Dion Poncet, Jerome's son, did the critical Zodiac driving as he had been there before.

The mission once on the island was two fold; Tom censusing penguins by drone flights and attaching 'geolocator' tags to 35 penguins (to be recovered next year) and mapping the entire island by drone flights with sophisticated software that measures the terrain to centimeter accuracy to gauge movement of terrain due to volcanic or glacial dynamics.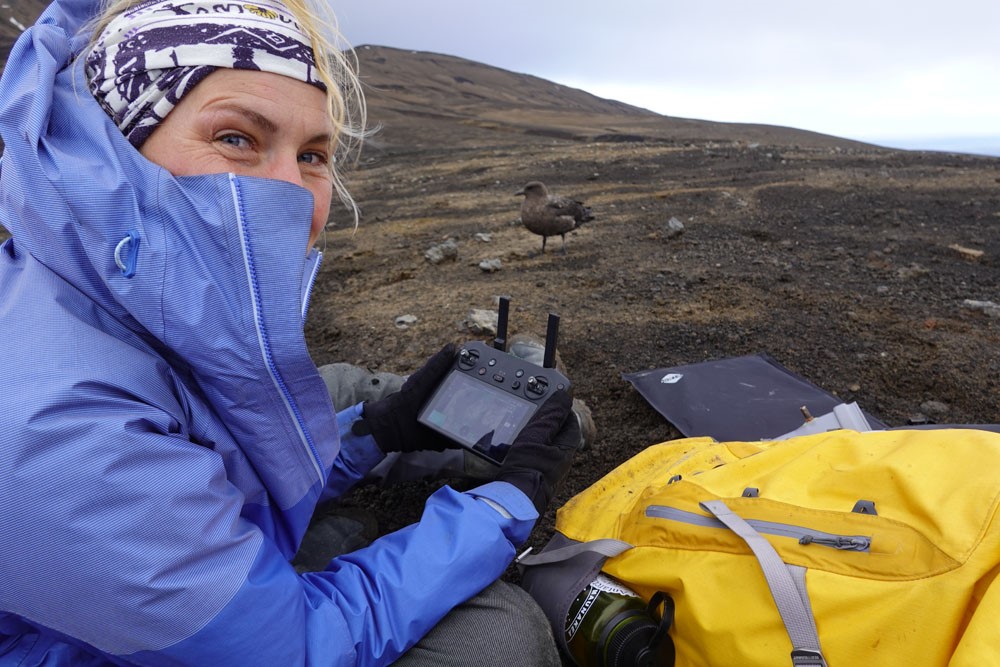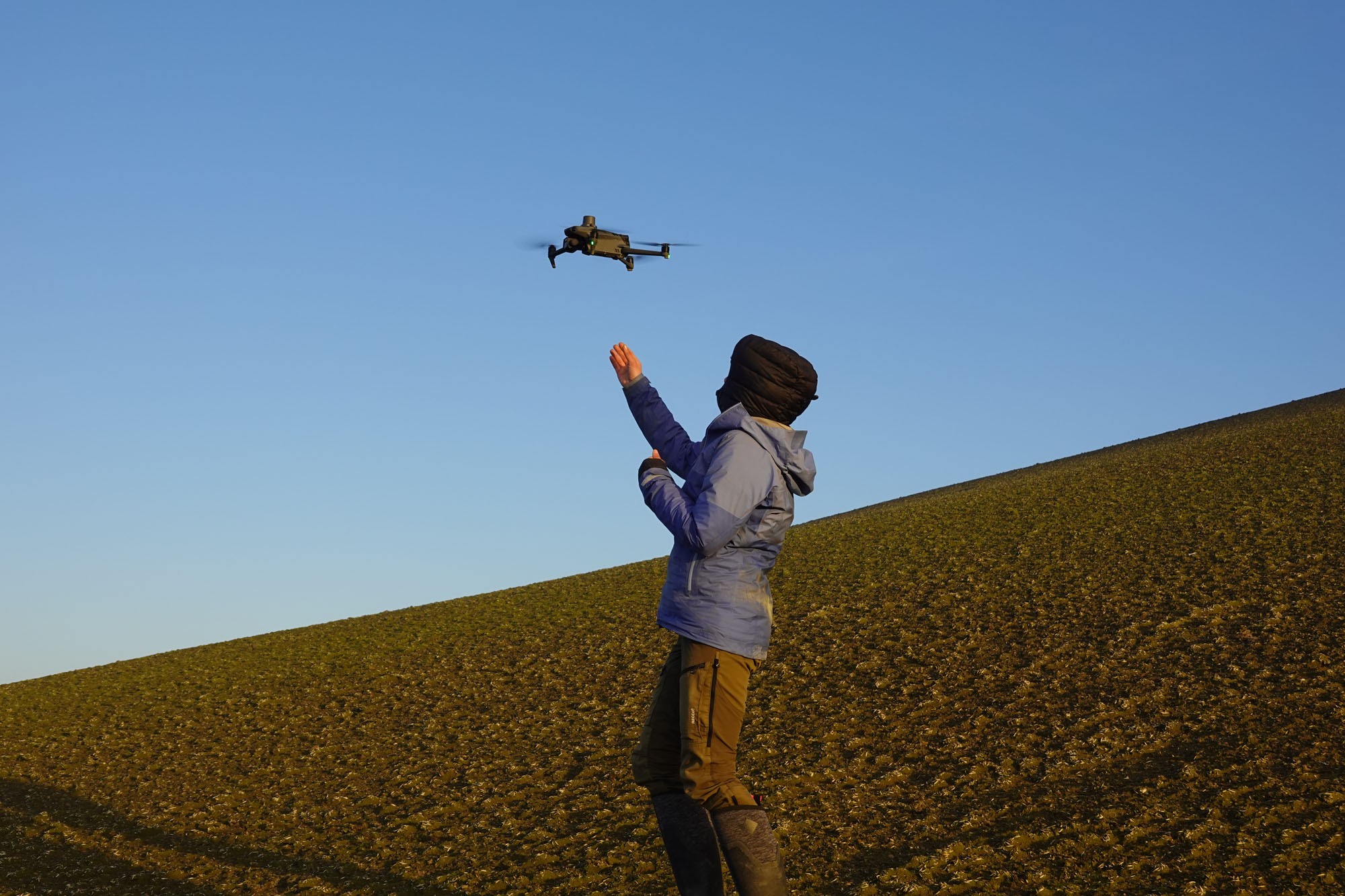 Dr Nicole Richter from the RWTH Aachen University in Germany was our expert drone pilot and also had the responsibility of safety issues with regard to this active volcano, continually degassing, so we carried gas masks, helmets and goggles de rigueur in our rucsacs.

Our boat crew of skipper Chris Kobusch, mate Justino Borreguero, plus Dion and Tor Bovim stood by at anchorage rolling their guts out, but managed to get ashore one at a time for R&R on most days.

To be able to land on this Southern Ocean outlier where only a handful of parties have come before, spend 10 days ashore under canvass while roaming around the entire island including the summit conducting some useful work, was a real privilege.
Video Slide Show of Zavodofski Expedition

Go www.vinsonofantarctica.org for the blogs.

OTHER NEWS

Vinson starts her annual RYA Ocean Yacht Master Theory course in a few week's time based from Puerto Williams. Her ETA in Cape Town is May 1st for her annual service. I am now taking bookings for this same trip for March 2024.


RICK TOMLINSON'S FALKLAND PHOTO SAFARI - NOVEMBER 2023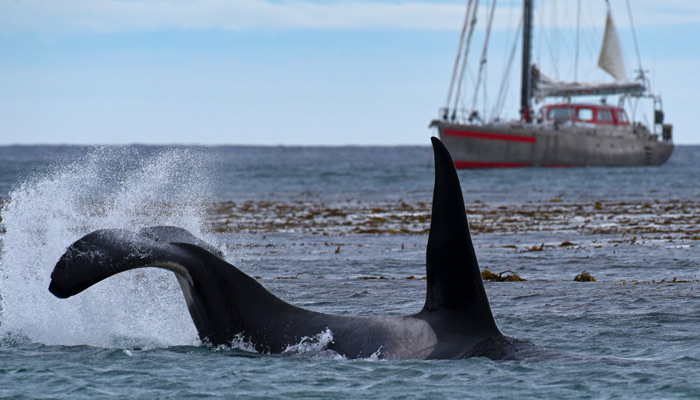 Orca hunting seals on a Falkland Islands beach

There are still three slots available for this cruise which should not be missed. Rick has been there before, the Vinson will be skippered by Alec Hazell, long standing Pelagic skipper and wife Giselle (both are Falkland residents and own an island) will be the wildlife guide. So this is a top quality cruise with people who know the island in its entirety. Go https://www.pelagic.co.uk/prog_fi2023.asp for the full details and contact Skip on skipnovak@pelagic.co.uk


Cheers, Skip