Pelagic Australis Beagle Channel and Cape Horn - 3 trips between Mar and Apr 2016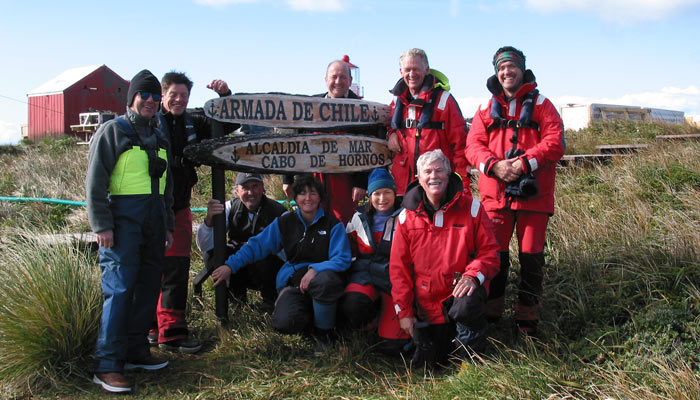 A party on shore at Cape Horn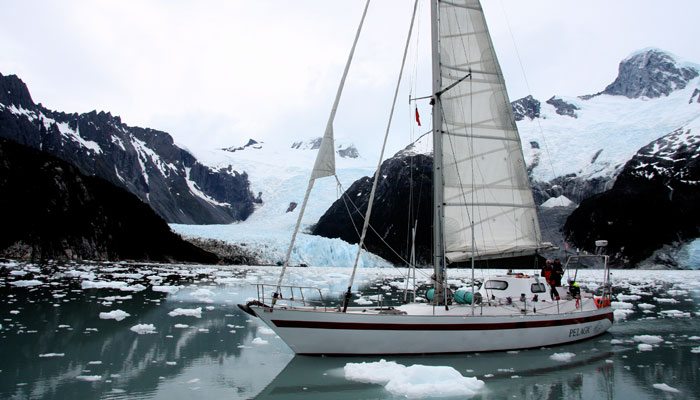 Beagle Channel Darwin Range glaciers
Pelagic Australis will be making up to three 14 day cruises through the Beagle Channel including a rounding of Cape Horn in 2016. This is a relaxing cruise in one of the most spectacular areas in the far south. All navigation is in inshore waters and every night is spent at a dramatic anchorage, although an overnight offshore cruise to Cape Horn is the first objective along the way. See below for detailed itinerary.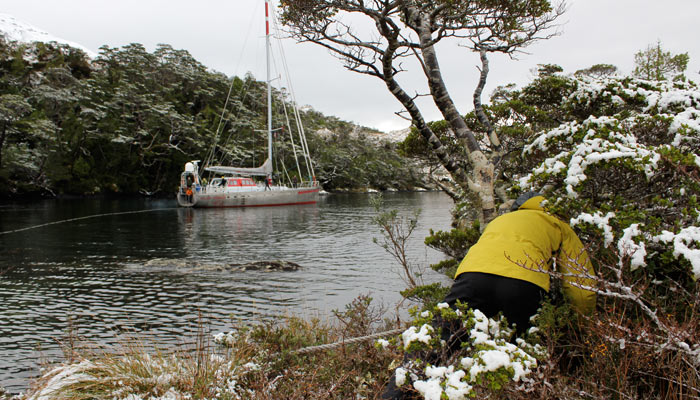 Typical Beagle Channel Anchorage
To find out more about the destination generally see destination Tierra del Fuego - Cape Horn and Beagle Channel. Please e-mail Skip Novak for more information or to make a booking. Also see Beagle Channel and Tierra del Fuego background briefing.
CRUISING GROUND OVERVIEW
Map shows general area in which the cruise takes place. Actual itinerary will be dependent on weather and cruise objectives. Click map for full screen version.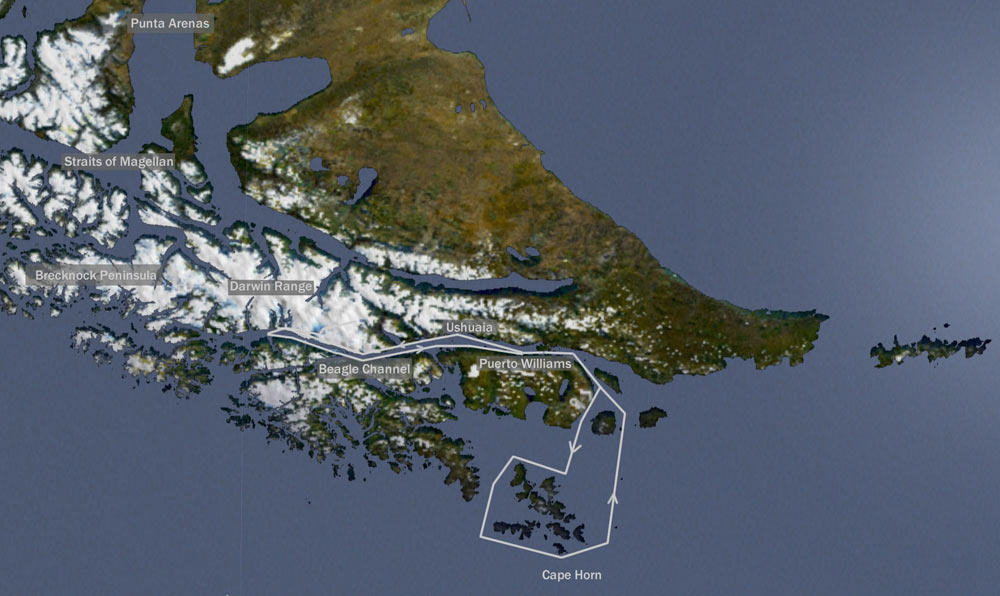 DATES
7 Mar - 20 Mar 2016 - 14 nights on board
28 Mar - 11 Apr 2016 - 14 nights on board
18 Apr - 1 May 2016 - 14 nights on board
LOGISTICS
The voyage would begin in Puerto Williams Chile which is on the south side of the Beagle Channel. The guests would fly into Puerto Williams and come immediately on board. The next day we would sail east and then turn south around Isla Navarino to take an overnight passage to Cape Horn. Allowing three days in case of bad weather, we would then reverse the route back into the Beagle Channel for the passage through the channels. The cruise would end nine days later back in Puerto Williams.
HOW TO GET TO AND FROM PUERTO WILLIAMS
This may confound your travel agent. Puerto Williams is serviced once daily by air by DAP from Punta Arenas on the Straits of Magellan, that is in turn serviced three times daily by Lan Chile from Santiago. The plane is usually a Dash 7 and you land on a runway right next to the Beagle Channel. We will be there to meet you on arrival. The boat is a five minute car ride away.
DAP Antártica Tour Operador Ltda. Phone: 56-61-616110 / 616130 / 616137 Fax: 56-61-616159 Address: O'Higgins Nº 891 Punta Arenas - Chile Sales Executive: Alejandro Lizama E-Mail: alizama@dap.cl and copy to ventas@dap.cl Website: www.dap.cl
ACCOMODATION IN PUERTO WILLIAMS
For clients spending a night in Puerto Williams either before or after the cruise, we recommend the following:
Lakutaia This is the only luxury hotel in Puerto Williams and highly recommended for a soft start to the trip.
Tel: +56 61621721,
E-mail ventas@lakutaia.cl,
Web: www.lakutaia.cl
Hostel Pusaki
Tel: +56 61621116
Fax +56 61621224
E-mail: pattypusaki@yahoo.es
COST
Per person 5,900 GBP all inclusive of food and drink once on board. A maximum of eight guests is envisaged. This cost includes the use of Sail Racing foul weather gear, all personal safety equipment for sailing (lifejacket, harness) and the use of the Inmarsat communications equipment. (note: satime is billed separately as used).
ALCOHOL CONSUMPTION POLICY ONBOARD
Pelagic Australis is run as a 'dry ship' when at sea and possibly at some anchorages when there is a real possibility of having to 'up anchor' and move off. This is at the Skippers discretion. In port reasonable amounts of alcohol can be consumed but excessive alcohol consumption that leads to situations putting people at risk, or where the harmony of life on board is disturbed to an extent that other guests are made uncomfortable will not be tolerated. If this situation arises, the Skipper reserves the right to return to port and to disembark any Charterer at an intermediary port, or disembark the entire group in a group charter if necessary.
PROPOSED ITINERARY
It must be borne in mind that this itinerary is only provisional and is an example of the type of cruising we will be doing. We cannot guarantee that we will stop at any of these locations as the schedule and weather may not render them convenient nor desirable at the time. In any case, suitable anchorage to those mentioned below are always an alternative and available. Map shows usual extent of the 14 day cruise with Cape Horn circuit and circuit up Beagle Channel. Actual itinerary will be dependent on weather and cruise objectives.
DAY 1
Guests will fly into Puerto Williams from Punta Arenas and come immediately on board. The afternoon and evening will be spent stowing gear, familiarizing the team with the vessel and having a safety briefing. We will be tied alongside the 'Micalvi,' a ruined Chilean naval vessel cum yacht club with a rustic bar.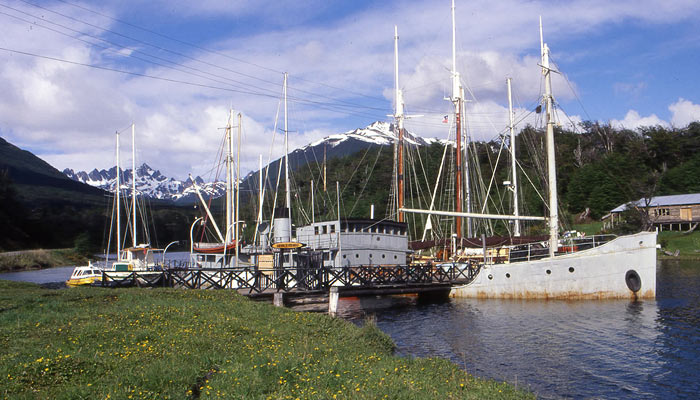 Puerto Williams yacht harbour with the Micalvi club house
DAYS 2 - 6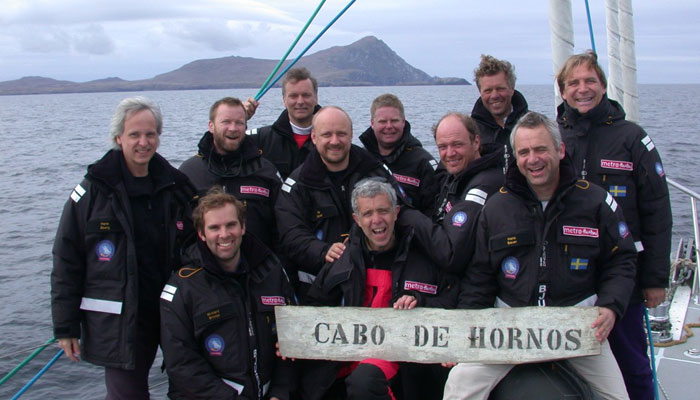 A happy crew pose at the Cape Horn monument
We would sail directly for Cape Horn and weather permitting attempt to round the Horn from west to east and then shelter for the night at Caleta Martial on Isla Herschel in the Cape Horn archipelago. Possibly, bad weather would preclude a rounding for a day or two and we would wait at various anchorages in the Wollaston archipelago for safe conditions. In any event, no more than five days would be devoted to an attempt to round with hopefully a landing on Horn Island itself. After Cape Horn we would sail directly back up into the Beagle Channel and begin the channel passage.
DAY 7
An all day sail through the Beagle Channel will bring us to Caleta Peron on Isla Hoste and a visit to Estancia Canasaka if the family Martinez is in residence. This is one of the last of the remote estancias still operating as a family enterprise. Here we can kill a sheep and have an asado (BBQ) the next day.
DAY 8
After mid-day asado (BBQ) we would continue down channel arriving in Caleta Olla late that evening. This is the real beginning of the mountainous section of the channels with the Darwin Icecap to the north and the steep sided Isla Gordon to the south. Tied with our stern to the trees, this is one of the most scenic of anchorages.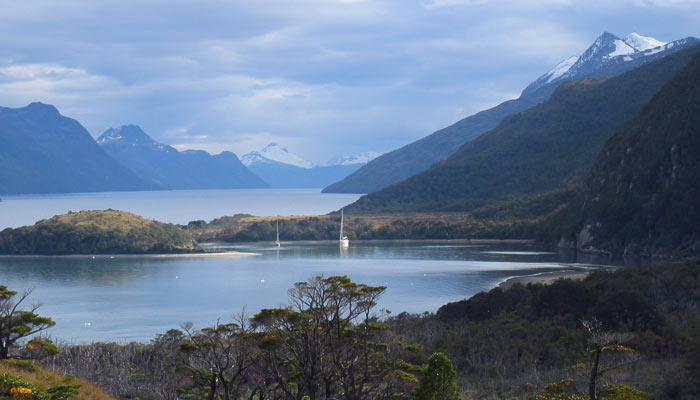 DAY 9
All day would be spent at Caleta Olla. A five hour round trip hike up to a glacier lake underneath the towering Mt. Francais is an option for the very fit, while those less inclined can hike on the lowlands around the bay and channel. This is a wooded area with large patches of mossy bogland and is a botanist's paradise. For those willing to 'go high' eye to eye encounters with Andean Condors are guaranteed.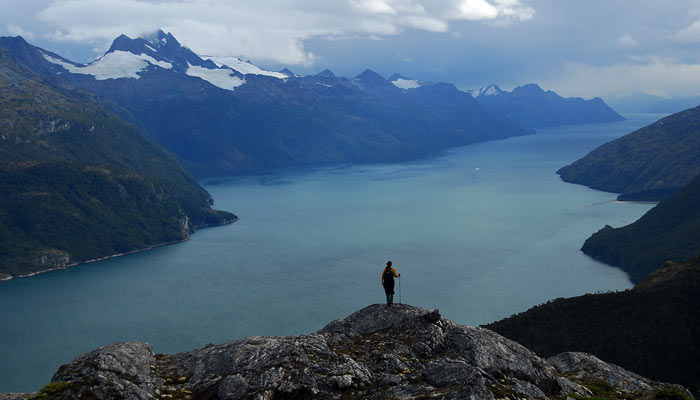 DAY 10
With an early morning start (often less wind in the channels) and a short run we would be abreast of several deep fjords that strike into the heart of the Darwin Range. We would steam to the snout of the glacier in one of them (through the brash ice) and stop for lunch if the weather is fair and watch the seracs calving off into the sea. The night would be spent at a secure anchorage inside the fjord.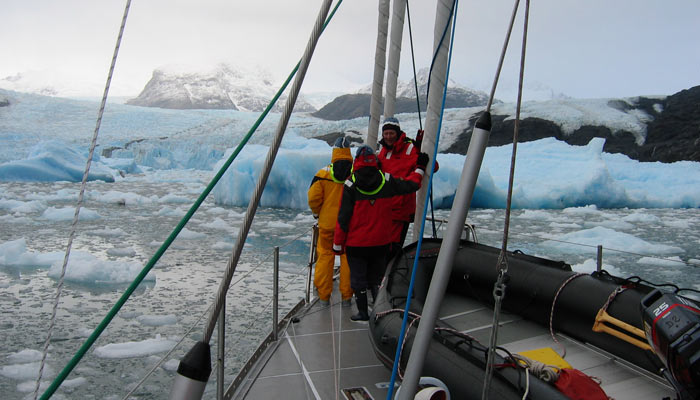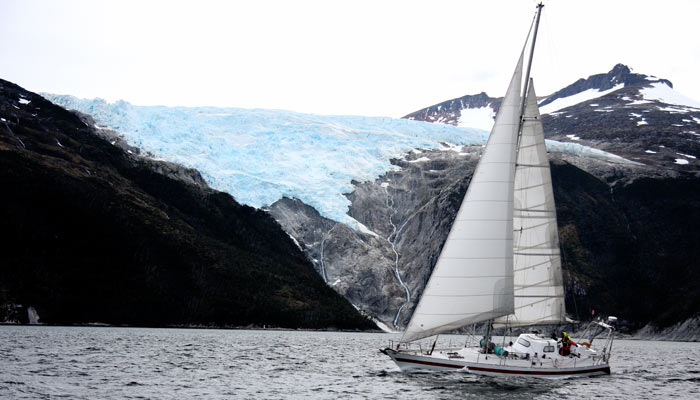 DAY 11
A half days run would see us at the end of the northwest arm of the Beagle Channel, and we would then double back through the southwest arm between Isla Gordon and Isla Hoste. That night would be spent at a picturesque anchorage at the western end of Isla Gordon. Good opportunities for hiking ashore on easy ground.
DAY 12 – 13
We would explore the Brazo Suroeste (southwest arm) of the Beagle Channel that has only recently been opened for navigation by the Chilean Navy. Two nights would be spent at anchorages either on Isla Hoste or Gordon depending on the weather conditions. We would endeavour to be anchored by midday with opportunities for treks ashore in the afternoon and evening.
DAY 14
After a long days run from there back to Puerto Williams we would spend a night at the Micalvi for a farewell party.
DAY 15
Guests would depart Puerto Williams for Punta Arenas.
Video of recent 2012 Cape Horn Trip
To watch a video of a recent Cape Horn Trip in 2012 see below
EQUIPMENT LIST
Equipment List 1 - For expedition cruises to Antarctica, South Georgia, Tierra del Fuego and all Arctic destinations.

Please e-mail Skip Novak for more information or to make a booking.