05.05.2012 - Pelagic Australis Antarctic Expeditions 2012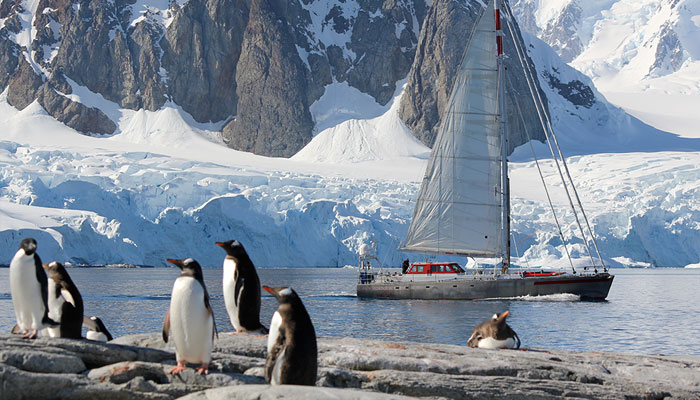 In addition to our wildlife cruise in November to South Georgia, our logistic support arm really kicked in for January and February with two back to back projects on the Antarctic Peninsula that were very different.

In January we supported an ambitious 3D film project on the Peninsula, with Giant Screen Inc. from America, maker of IMAX cinema. IMAX format, so the experts say, is phasing out due to the high cost of production, and 3D which is most effective using the same 80 foot IMAX screen is filling the void. Jon Bowermaster from Oceans Eight Productions was the director. An author, film maker, blogger and adventurer, Jon was with us in 2008 making an HD global warming film using kayaks as the mode of travel on the Antarctic Peninsula, and of course Pelagic Australis to get there. Kayak guru and Kiwi strummer Graham Charles and American legal beagle and all rounder Sean Farrell, also veterans of 2008, along with a three man 'techy' film team, Ken Corbett, Bob Cranston and Johnny Friday, from California completed the team, backed up as always by our pros Miles, Laura and Dave.

The idea this season was the same theme, but shot in 3D which required an entirely different filming technique which was not obvious before the camera was taken out of the box. The 3D rig takes two hours to set up every morning and then requires constant adjustment and alignment throughout the day. You can't just grab the camera and be filming whales within minutes for instance.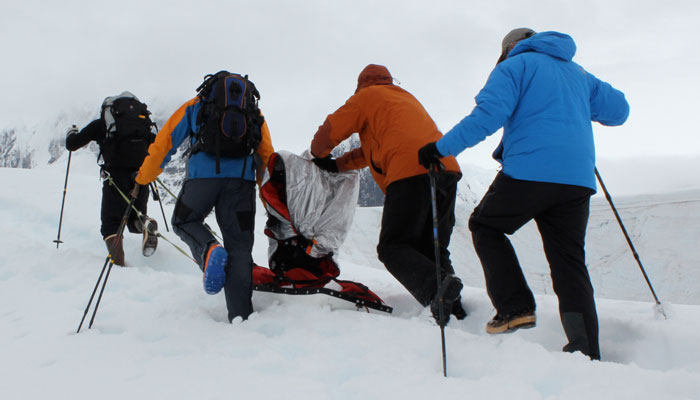 You can't just grab the 3d camera and start filming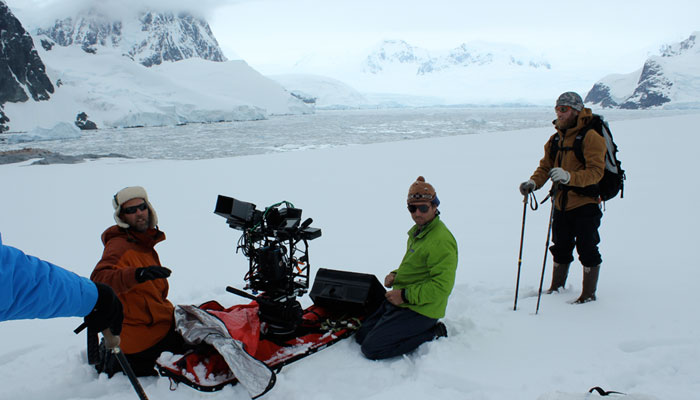 Bob, Johnny and Sean setting up the 3D rig on Pleneau Island
We left the port Ushuaia on January 4th - late, after failing to get the underwater housing for the camera which was irretrievably stuck in customs in Buenos Aires (no surprise there!) This was a blessing in disguise, as although this meant no under the water 3D filming, it freed us up to concentrate on all else above the surface which turned to be challenging enough. This housing with the camera weighed at something over 100kg!

Unfortunately though, this two day delay in crossing the Drake Passage came back to bite us – we had missed an easy ride across and now the weather was fresh south westerly making it a forward of the beam reach in big seas starting off on the continental shelf near Cape Horn. Steering a vessel as heavy as Pelagic Australis in those cross sea conditions would have been difficult to say the least, but the Raymarine 7000 autopilot handled it with ease, while we watched the waves from the comfort of the pilot house. 72 hours later we reached the eastern end of King George Island and rounded up into some sheltered waters for a long slog to Deception Island to film the Chinstrap colony at Bailey Head.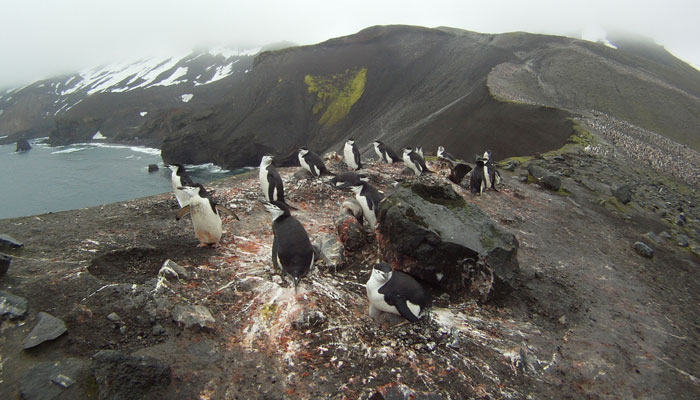 Top of the 'amphitheater' at the Bailey Head chinstrap colony
Once on the Peninsula every day of the 22 filming days was full from sun up to sun set – which is saying something as there is only a few hours of semi darkness at this time of year in those latitudes! Every day we shot ice bergs, bergy bits, growlers and sea ice - from the boat, from the Zodiac and from the shore – same for the wildlife which included Chinstrap penguins, Gentoo penguins, Crabeater seals, Weddell seals and Leopards. Kayaks, Pelagic Australis herself, and an inflatable paddle board provided some human perspective and presented our modes of travel. We had to get up close to all these objects and catch them moving across, towards or away from the screen – this is what 3D is all about, not filming distant landscapes. 'Getting close' meant getting into some tricky navigational situations including operating in unsounded waters often. The ST60 depth in the cockpit with our DSM 300 sounder on the E120 display were fundamental tools – we always had two pairs of eyes on the displays when going shallow – in spite of this we have to admit to running her aground on an uncharted moraine, which refocused everyone's attention. The lifting keel on Pelagic Australis makes this mistake somewhat forgivable . . . . Blame it on the distraction of all the beauty surrounding us!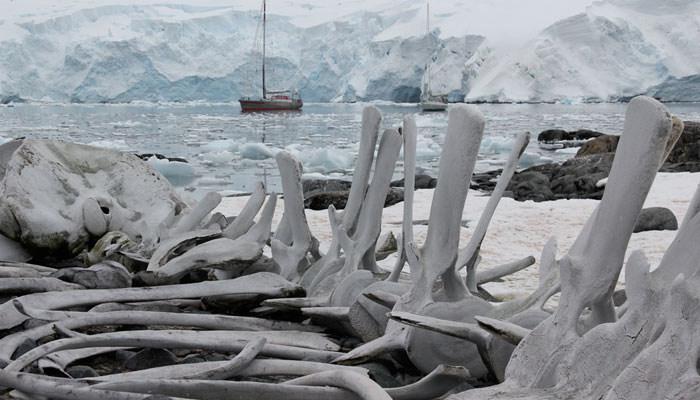 The whale bones at Port Lockroy, stitched together from several different species!
As difficult as the technical side of the filming went, the weather was also an issue with only three sunny, clear filming days in January. This is not so important, as the shots are mostly close-ups, but the stress of working in snow, rain and wind tested everyone to the limit. We hope we have enough footage! Last winter was the coldest on record in 40 years, so the data says. This meant our roaming was severely restricted, as slushy sea ice, called 'porridge ice' persisted in the Penola Straits right through to the end of January. Virtually impossible to push through because of its viscosity, it can trap big ships let alone yachts, and when we tested this in French Pass it had the consistency of wet concrete – anyone who has had to scrub out a porridge pan well after breakfast knows what I mean.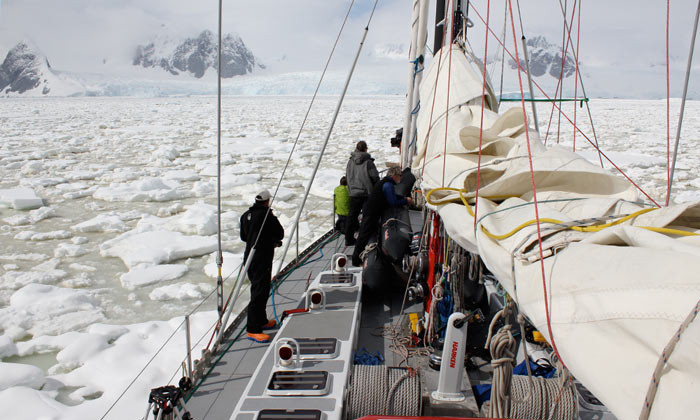 Porridge ice in the Penola Straits. The consistency is like wet concrete and can be a ship stopper.
With a week in between trips spent in Ushuaia, we geared up for my Swiss mountaineers – a group of friends from Lugano led by the well known mountaineer Romolo Nottaris.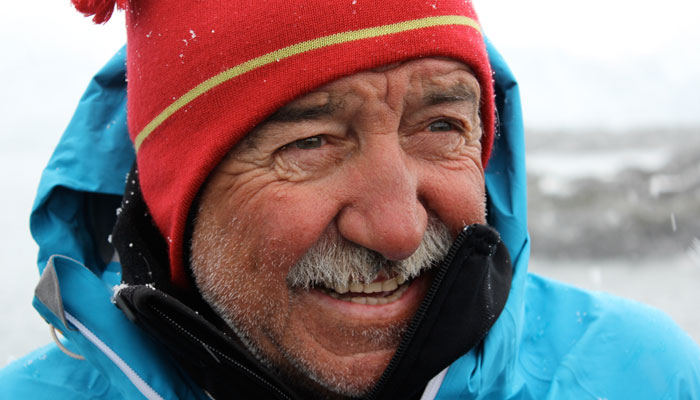 Romolo Nottaris
They were on their third Pelagic voyage and it would be Romolo's fifth – my all time best client! This was to be a more relaxed 'holiday' expedition of 30 days in February into March, but no less demanding.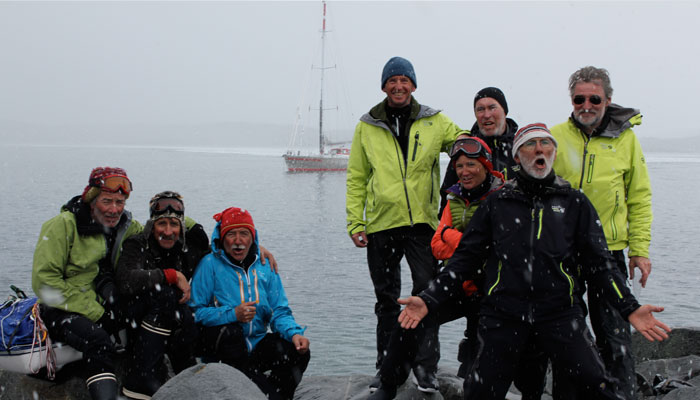 The Mt. Agamemnon team - Sergio, Skip, Romolo, Diego, Anna, Enzo, Carlo, Fabrizio
The Drake crossing was even windier! 40 to 50 knots for the first 24 hours in enormous seas, but this time we had it aft of the beam. We were shortened down to the 4th reef and our storm staysail (always rigged) sliding along at 9 to 10 knots – and feeling good about it. Pelagic Australis, weighing in at 60 tonnes fully loaded is a stable platform which always amazes the sailors who come with us. The Swiss, on the other hand, impressed as well, but a few were grounded to their bunks for the three day crossing deathly seasick. Let's face it, crossing the Drake Passage is not everyone's cup of tea.

Crossing the Drake in 45 knots of breeze
Our goals were to climb a major summit on Anvers Island, which we did right off the bat after arrival. Involving a 24 km ski in, pulling pulks (sleds) we camped at the base of Mt. Agamemnon, the second highest summit on the island at 2850 meters. After two days of recce and then two days of bad weather tent bound, six of our party of eight made it to the top, in very cold conditions. What a spectacular view with the peninsula stretched out below us.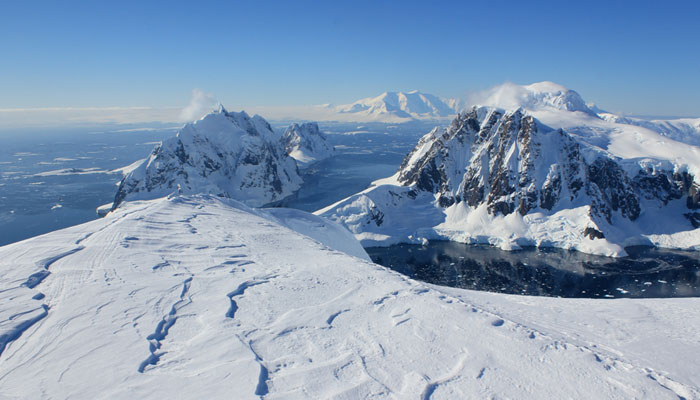 Booth Island in foreground, Mt Agamemnon and Francais on Anvers Island in the distance.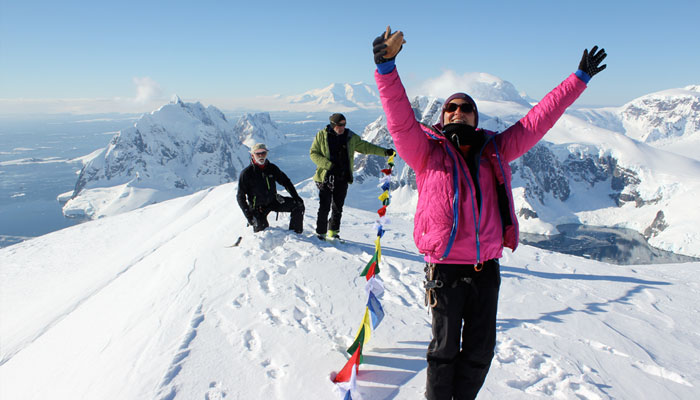 Carlo, Sergio and Anna on the summit of Mt. Scott
With the major objective in the bag, we could now relax and ski and climb lesser peaks ad hoc. And they are everywhere on the Peninsula – a mountaineer's exotic paradise. Miraculously the weather held fine for 20 days straight – sunny and windless, but with reasonably cold temperatures often staying sub zero throughout the day.

Ski descent video
Every day was a 'cracker' and by mid morning we are up high somewhere with an amazing ski descent in the offing, or paddling our two inflatable sea kayaks in mirror calm waters in amongst the penguins, seals and icebergs.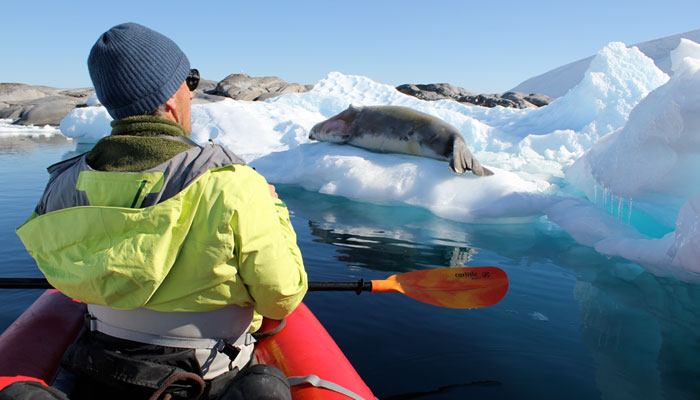 Diego and Skip getting cosy with a sleeping Crabeater seal in one of our inflatable kayaks
I had not seen conditions last this good for this long in my entire career South, over 23 years now. The weather was a gift, the Swiss were ecstatic, and so was I. It was, as always in the Antarctic, good to be there and to feel very much alive.

Skip Novak