01.10.2013 - Pre 2013/14 Season News and Opportunities
Just back from a family beach holiday on the Kwazulu Natal coastline, part of which was spent at an exclusive resort, where they 'pamper you' as described in the brochure. I must be getting old (or at least older) as I surprised myself and actually enjoyed it . . . However!
We are celebrating our tenth season on Pelagic Australis – not with a party or a reunion, but simply by getting on with what we do. I am off to South Georgia for a Shackleton Traverse and other mountaineering objectives, mid October. And so we soldier on.

Our refit in Cape Town was substantial – new engine, drive train, haul out and a new antenna gantry aft to rationalize a new suite of Raymarine electronics and our Sailor FB 500 satellite coms system. Technical expert Chris Harris who led the campaign was joined by skipper Magnus Day , Pelagic Expeditions ex skipper Alec Hazell, and our local man Tobane.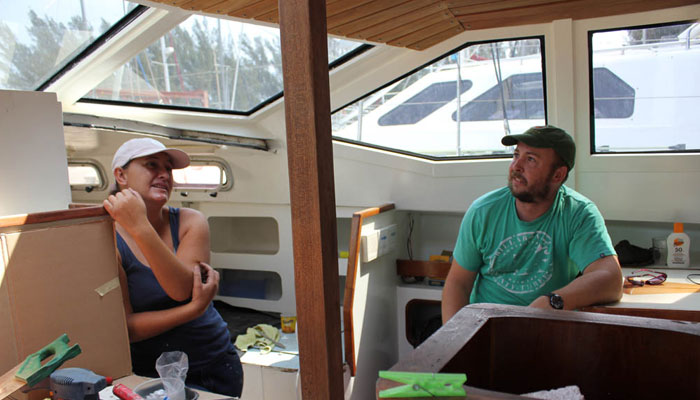 Alec and Giselle contemplate the work that needs doing before setting sail from Richards Bay
Alec, now retired from a stint of farming in the Eastern Cape and back on the water with partner Giselle on a 40 footer, is heading for the deep south in November. We visited them in Richards Bay while on holiday, and while there met Calvin Flynn who was the chief shipwright for the build of Pelagic Australis.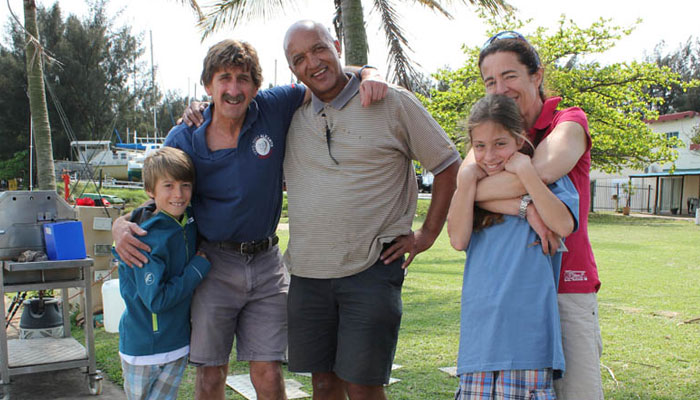 With Calvin Flynn in Richards Bay
I want to thank all our local suppliers and contractors in Cape Town for supporting us during the off season refit which includes but is not limited to Grandi Manufacturing, Southern Spars, Harken, Ullman Sails, Aleck McKirdy and in particular Manuel Mendez that hosted us superbly at his East Pier Boatyard in the V & A Waterfront.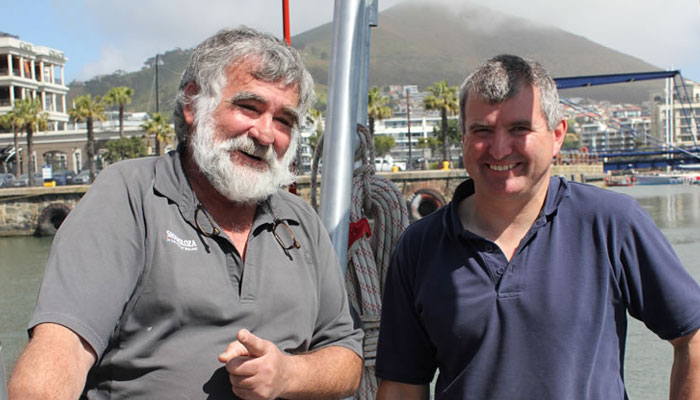 Manuel Mendez (L) our host and "can do man" in Cape Town with Chris Harris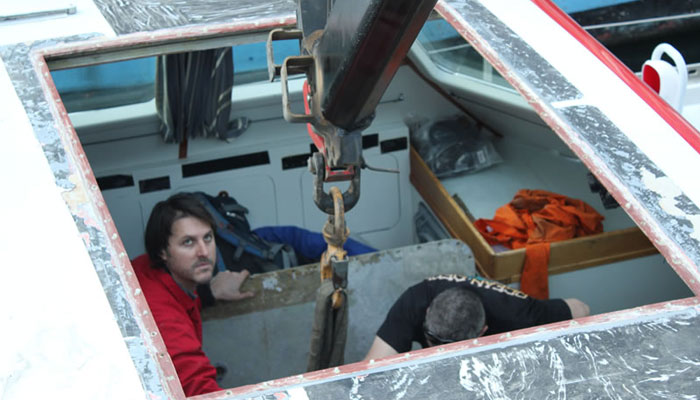 Marco Grandi organising the lift out of the engine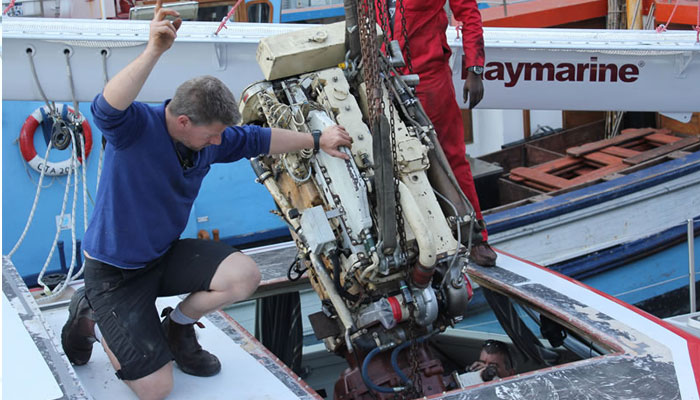 Magnus and the old donk

Tobane and the all clear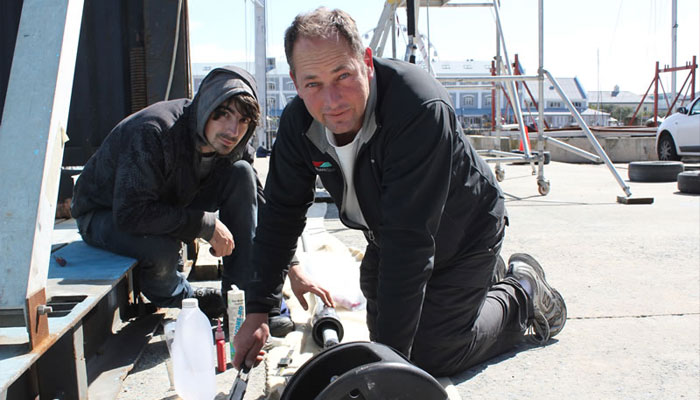 Chris from Southern Spars, the best rigger in the business servicing the furlers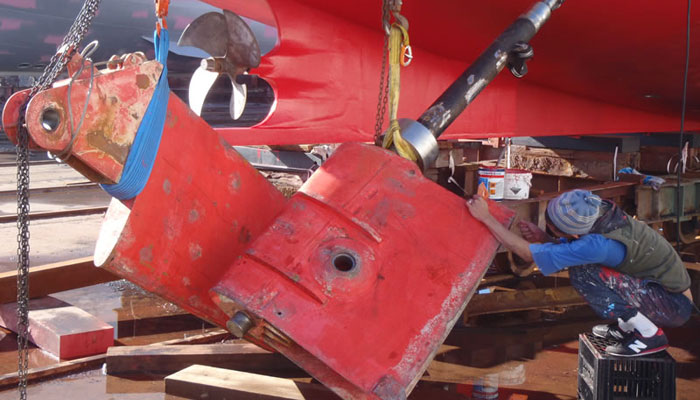 The rudder in bits for servicing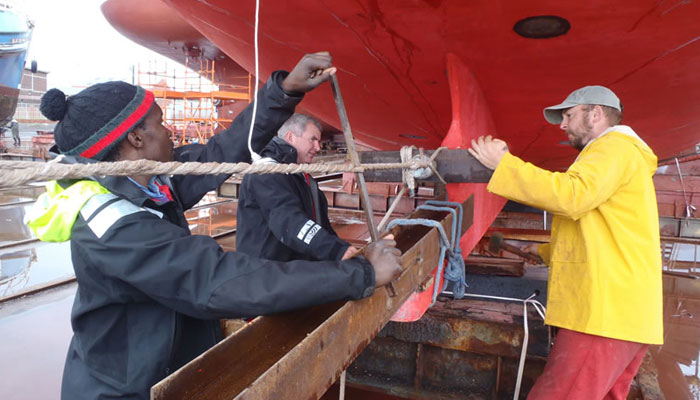 Tobane, Chris and Alec drawing the shaft with a Spanish Windlass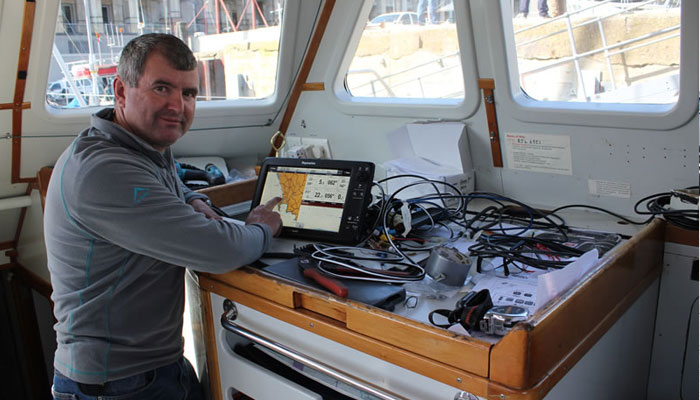 Chris Harris installing the new Raymarine gear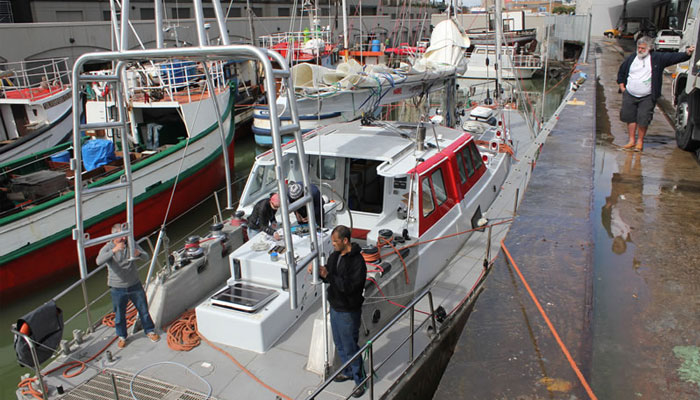 Installing the new antenna gantry made by Grandi Manufacturing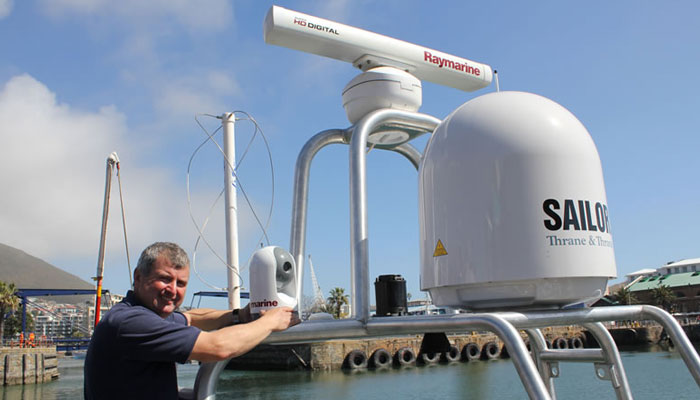 Chris Harris installs the new Raymarine thermal imaging camera
Skipper Magnus Day, mate Laura Hampton and new crewman Thomas Giepel left Cape Town on September 8th and are currently bound for Stanley. In the meantime, skipper of Pelagic Dave Roberts and mate Bertie Whitley have arrived in Stanley to re-commission the vessel for an ambitious season ahead.

MEDIA

I have just returned from the UK launching my 12 part online video and hard copy series in the October issue of Yachting World magazine - "Skip Novak's Storm Sailing Techniques." This was filmed at Cape Horn last January with the editorial team of the magazine and this first instalment also has an eight page feature on the project by editor David Glenn. View PDF of these articles here >>.
A Pelagic feast of sorts, this edition also profiles the Pelagic 82 footer and the launch of Pelagic Yachts - www.pelagicyachts.com - in view of selling a range of belt and braces cost effective designs for ambitious cruisers. Magnus Day, skipper of Pelagic Australis is also profiled in the Supersail section.
You can view the YW videos from the series "Skip Novak's Storm Sailing Techniques" online at yachtingworld.com>>

The original Pelagic meanwhile has been chartered by a British film production company via the BBC in Bristol for the entire season, filming the lifecycle of the Gentoo penguin at the British base Port Lockroy on the Antarctic Peninsula. Here, flying under the Union Jack, this penguin colony occupies the base and the base staff and numerous cruise ship tourists are allowed ashore by the Gentoos if they behave themselves. Pelagic will leave for the Peninsula in November to arrive prior to the haul out.


TRIPS ON OFFER

Tierra del Fuego Mar - Apr 2014
Although we are booked up for this season through the end of February on the Peninsula, Tierra del Fuego is still beckoning for those who can take advantage of our marvelous two week trips through the Beagle Channel and a rounding of Cape Horn.

We have space on all three of our departures, leaving and returning to Puerto Williams.

March 2nd to April 15th
March 23rd to April 5th
April 13th to April 26th

End of 2013/14 Season Delivery, change to Rio

Due to our winter expedition to South Georgia planned for August/September 2014, Pelagic Australis will be sailing up to Rio de Janeiro in May/June. In spite of being slightly shorter at 35 days, more time will be spent cruising in the Beagle Channel and the Falklands Islands, after the RYA Yachtmaster Shorebased Course conducted in Puerto Williams. This is truly our best value for money cruise we offer, and a lot of variety is packed into the schedule, including 2000 miles of offshore sailing. Trip details>>
South Georgia October 11th to November 8th 2014

Antarctic Peninsula "Ice with Everything" December 1st to 21st 2014 and February 1st to 21st 2015

Tierra del Fuego and Cape Horn 3 trips in March/April 2015

Contact Skip on skipnovak@pelagic.co.uk

The sailor and B movie actor Sterling Hayden once said, "The years thunder by. The dreams of youth grow dim; where they will lie caked in dust on shelves of patience. Before we know it, the tomb is sealed." Yes, a grim statement, but nonetheless very true.

Cheers, Skip
SEA TRIALS OFF CAPE TOWN WITH FRIENDS AND FAMILY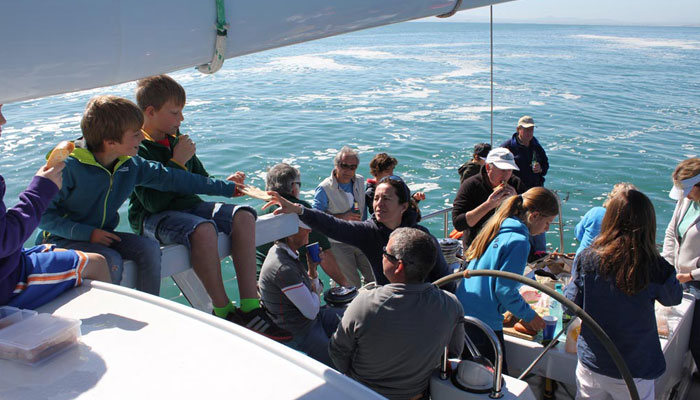 Al fresco lunch anchored off Robben Island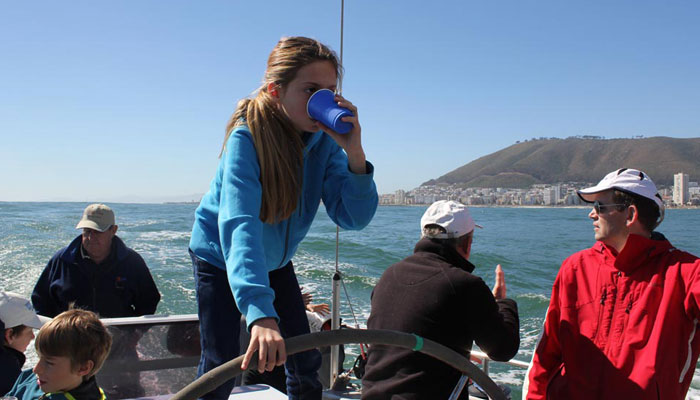 Lara multitasks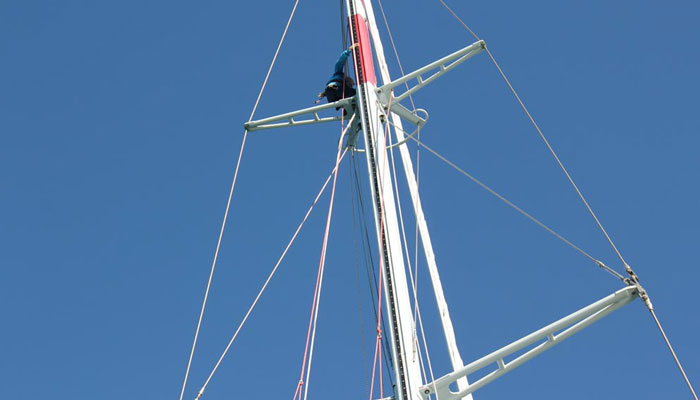 Lara aloft making a rig check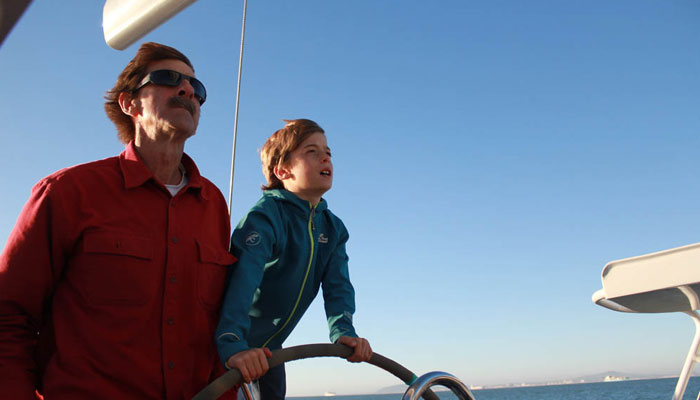 Luca brings her in