24.03.2014 - Newsletter March 2014

Square Rigger to Antarctica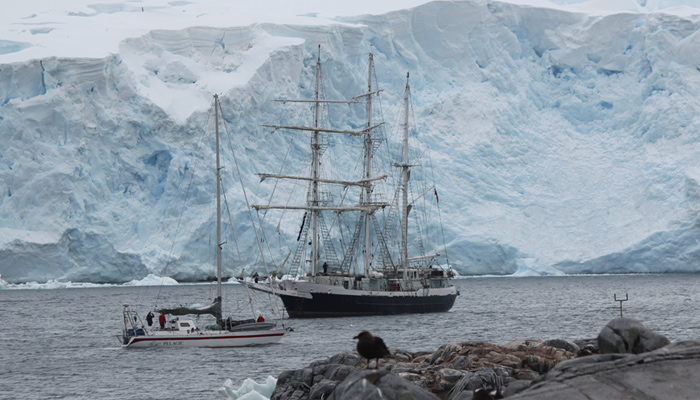 The Jubilee Sailing Trusts 55 meter sail training barque Lord Nelson arrived safely back in Ushuaia on March 11th after her historic 25 day expedition cruise to the Antarctic Peninsula. The Jubilee Sailing Trust caters for mixed crews of disabled and able bodied sailors and I was privileged to have contributed to this voyage as pilot and expedition leader via Pelagic Expeditions consultancy for one off voyages south. The picture gallery of this unique trip can be found at: http://www.pelagic.co.uk/mediaplayer_lordnelson02.asp
Yachting World will be publishing my feature about the voyage in the June or July issue – watch for it!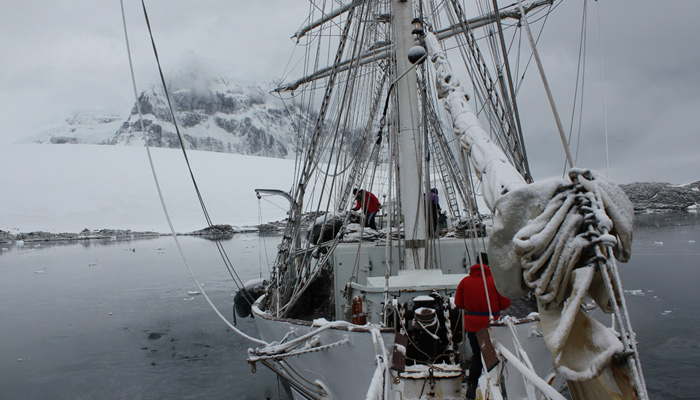 Storm Sailing App
Speaking of Yachting World, why not download our APP "Storm Sailing Techniques" the whole series for 4.95 GBP
Season Draws To A Close
We are now nearing the end of our southern season. Pelagic has arrived in Ushuaia after four and half months in the field based on the Peninsula at Port Lockroy supporting Andrew Graham-Brown's production of the Penguin Post for the BBC. Pelagic Australis is currently on South Georgia with the SG Heritage Trust baiting rats and will be making her end of season voyage to Rio during May and June.
Trips On Offer
Our attention must now focus on the future. Here are some great opportunities to join us on Pelagic Australis:
Winter expedition to South Georgia 16 Aug - 20 Sept 2014 – one place left to join the boat crew while the mountaineering team is deployed. Five weeks Stanley to Stanley. This is a custom, one-off, deep winter trip to the island. contact Skip skipnovak@pelagic.co.uk
South Georgia 11 Oct - 8 Nov 2014 – 28 days Four places available, for this season opener, the best time to visit the island. For more info see http://www.pelagic.co.uk/prog_sgeo2014.asp
Antarctic Peninsula "Ice with Everything" 1 to 21 Dec 2014 - 21 days from Puerto Williams Four places available For more info see http://www.pelagic.co.uk/prog_ant2015.asp
Cape Horn Special – a week/eight days from January 30th to February 7th for a Cape Horn rounding and a look into the Beagle Channel – a quick fix for those that still have a job to come back to! Contact Skip by e-mail skipnovak@pelagic.co.uk direct for details or see background briefing for our longer trips at http://www.pelagic.co.uk/prog_beagle2015.asp
Here are a few opportunities on Pelagic:
Available for a custom week or 10 day cruise to Cape Horn and the Beagle – perfect for two couples or a group of four to five mates. Contact Skip on skipnovak@pelagic.co.uk
An Australian kayak expedition to South Georgia is looking for two people (adventurous type) to round out the numbers on board for their six week expedition to South Georgia. Contact John Jacoby on john@rapidascent.com.au