16.12.2014 - December 2014 Newsletter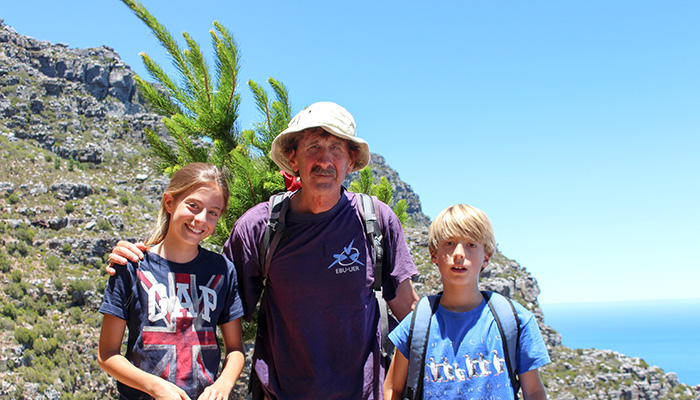 With Lara and Luca and our Christmas tree strapped to my back – an alien pine chopped down
on Table Mountain, Cape Town. We don't do plastic trees!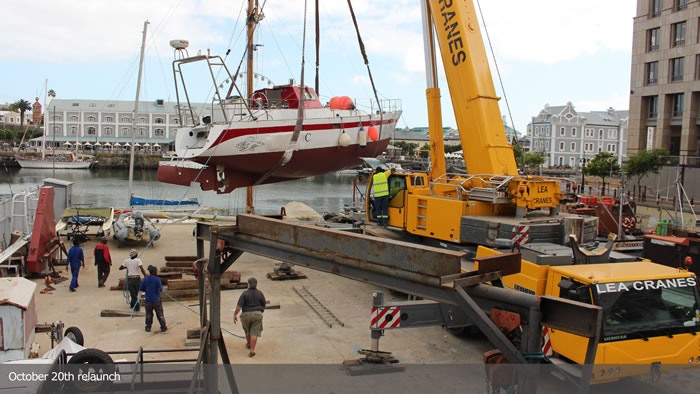 Pelagic with skipper Dave Roberts and mate Joanna Breen has arrived in the Beagle Channel after a quick passage from Cape Town via Stanley, in time for her Christmas charter in Tierra del Fuego. For the past five months she has undergone an extensive refit managed by Alec and Giselle Hazel (Pelagic veterans turned farmers turned sailors again) under the auspices of long time friend Manuel Mendez at his R & M Boatyard at the Cape Town waterfront. Manuel's team along with our stalwart assistant Gobane pulled the boat to pieces . . . . . and put it all back together with many enhancements and modifications. It has yet another 'life' after her first 26 years. See the picture gallery below.
Meanwhile Pelagic Australis under the command of Magnus Day, with mate Rupert Dixon and crew Amelia Watson are on the Peninsula for their first of three trips South. No further news, which of course is good news.
Media:
Jon Bowermaster and his Oceans Eight 3D production of "Antarctica: On the Edge 3D" has been released and will be making appearances on big screens in science and exposition centers - watch for it. http://www.blueoceanfilmfestival.org/antarctica_3d.htm
The UK children's channel CBBC (BBC) programme shot by Andrew Graham Brown (Penguin Post) about their daughters Amy and Daisy's experience of Antarctica during our Peninsula voyage last year will be aired in January in the UK – more details to follow. Lara and Luca Novak will be making cameo appearances!
Yachting World's "Skip Novak's Storm Sailing Techniques" video series has had over 600,000 views. You can still buy the APP for 4.95 GBP!

Taking the page from Robin Knox-Johnston, I am now doing a monthly column for Yachting World since October. It seems I have an opinion on just about everything!
Partnership:
Rick Tomlinson, marine photographer, Whitbread shipmate and Pelagic veteran is offering our charter guests the opportunity to record their voyages on a customized chart. With his wife Anneka, they have the rights to use all UK HO charts for:
ChartArt - A great way to remember your Pelagic expedition is an exciting new idea from photographer Rick Tomlinson, printing navigation charts on canvas. Each chart can be customized with the date of your voyage, the actual route sailed, places visited and your best photographs dropped in. The charts can be printed any size and delivered to anywhere in the world. A striking memory of your once in a lifetime adventure. See www.chartart.co.uk
Availability:
Tierra del Fuego and Cape Horn - March 7th 2015 for two weeks 1 places
Tierra del Fuego and Cape Horn - April 18th for two weeks 3 places
The Westwind Project – Ice coring expedition on South Georgia with 1 place
The Climate Change Institute, University of Maine. For more
Details go:http://www.pelagic.co.uk/pagesnews/news_022.asp
Stephen Venable's 28 day ski mountaineering on the Antarctic 4 places Peninsula including a climbing team and a shore support team. Go: http://www.stephenvenables.com/141021.asp
Check the web site Programmes Menu for availability through 2016.

It's Christmas! You deserve a present – make it a big one!
Cheers, Skip