11.02.2018 - News Update - Ski Randonnee Antarctica - Superyachts in Antarctica - 14 day Falklands at half price starting 24 Mar 2018 - One place left for Falklands to Cape Town trip - Original Pelagic just keeps going after 28 years - Whats on offer in 2018/19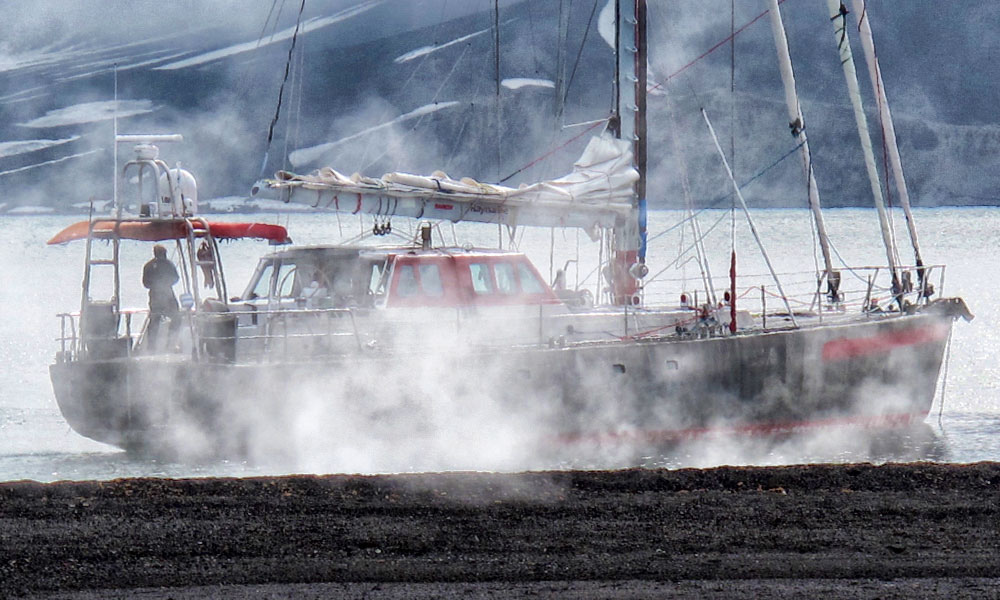 Pelagic Australis "steaming" at Deception Island, Antarctica
The Pelagic Expeditions fleet is in mid season with all things Antarctic. Alec, Giselle and Tom are just back from their second Antarctic cruise which was our usual ski/climb expedition led by our famous British mountaineer Stephen Venables. Reports back were of superb ski conditions and many ski randonee summits achieved.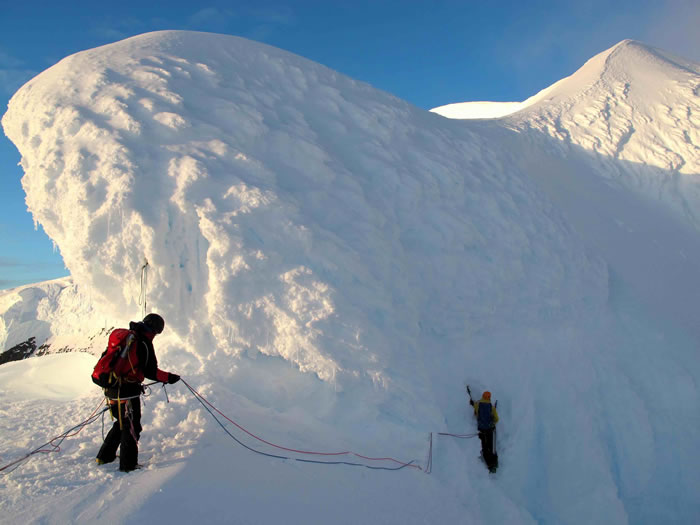 Our emphasis this year was on day outings rather than our usual multi day camping traverses with Mt Francais as the major objective. However, three of the team did spend two nights under canvass before climbing Mt Luigi di Savoia on Weincke Island. See a slide show of the trip below, photos by Stephen Venables:
Their third Antarctic cruise is a filming expedition with the film maker Roger Fishman, back again after last December to continue getting footage for his project. Here is the link to UAV/Drone footage from last season which is nothing short of spectacular:

Roger Fishman video from Antarctica.
The original Pelagic just keeps going after 28 years afloat. She just came back to Stanley after five weeks on South Georgia with Bertie Gregory's team filming for an online National Geographic series due to be released in a few months. View a couple of links to Bertie's instagram account here:
https://www.instagram.com/p/BeQRZG6DLV2/?hl=en&taken-by=natgeo
and here
https://www.instagram.com/p/BeN6hkfApxo/?taken-by=natgeotravel
Skipper Kirsten Neuschafer has now seconded Dave Roberts (former Pelagic skipper) back on board for a seven week BBC Bristol filming project on the Antarctic Peninsula. After a quick turn around in Ushuaia they are now in filming mode.
The super/mega yacht scene down south this season has been very busy. EYOS (www.eyos-expeditions.com) has managed, led and piloted five vessels including my two and half week stint on Aquijo, an 87 meter twin masted sailing mega yacht. See slide show below for more.
TRIPS ON OFFER See programme menu for details and links >>
Falklands for half price. I am now offering slots for the March 24th to April 7th Falkland Islands cruise at 3000 GBP – half price. Take up has been slow and there are five places still available. This is an exotic location with prolific wildlife (more prolific than Antarctica or Tierra del Fuego!) and deserves more attention. Go on, take a punt! See more details>>
Delivery to Cape Town incorporating the new Pelagic Syllabus, a 10 day Falkland Islands cruise and then across the pond to South Africa. Selling out fast. Last one place available. More information >>
2018/2019 SEASON
South Georgia Sept/Oct 2018 Stephen Venables and I will be again leading an ambitious ski traverse across the Salvessen Range on South Georgia. Join Venables and me for our early season ski expedition for either the big ski traverse or the on board team. See the prospectus here >>. 5 places available. More >>
Sailing to Climb Antarctic Peninsula 31 Dec 2018 -28 Jan 2019. Another Venable's ski mountaineering expedition cruise to the Peninsula. This is selling out fast. Day ski tours possibly with a night or two of camping but not obligatory! 4 places available. View prospectus here>>
Antarctica February 2019 "Ice With Everything". Wide open
Falkland Islands Mar/Apr 2019 - Two cruises. Wide open
Delivery to Cape Town and Pelagic Syllabus April/May 2019 Delivery to Cape Town wide open
Contact me on skipnovak@pelagic.co.uk
Cheers
Skip