02.05.2019 - News Update - Antarctic Season Wrap Up - Original Pelagic Goes North for Greenland Charters - Opportunities for 2020/21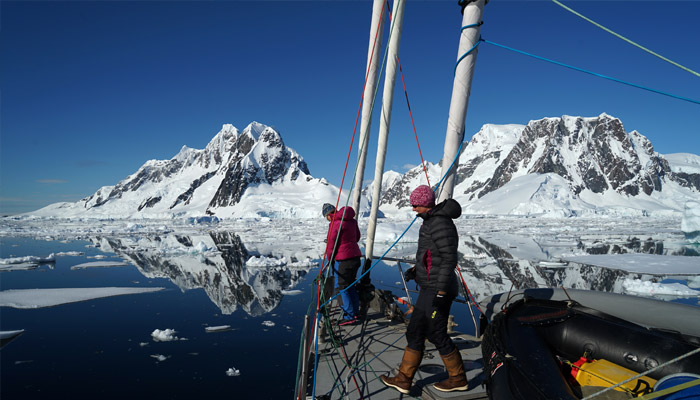 Pelagic Australis at Booth Island January 2019. Photo Stephen Venables
Pelagic Australis has completed four Antarctic cruises this season including tourism, ski mountaineering with Stephen Venables and finally a BBC support role filming whales.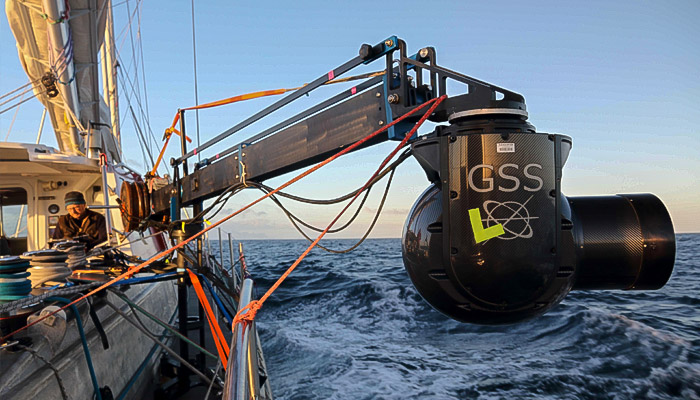 BBC camera equipment fitted to Pelagic Australis
Skipper Edd, first mate Charly and crew Simon are now cruising the Falklands with the end of season group after their five day Pelagic Syllabus under the direction of RYA instructor Alan Denham. This is one of our most popular cruises on offer and although it is a 42 day commitment it is always fully subscribed. Next week they leave to sail across the South Atlantic back to Cape Town for an extensive refit as usual. 4,000 miles of open ocean in the bag.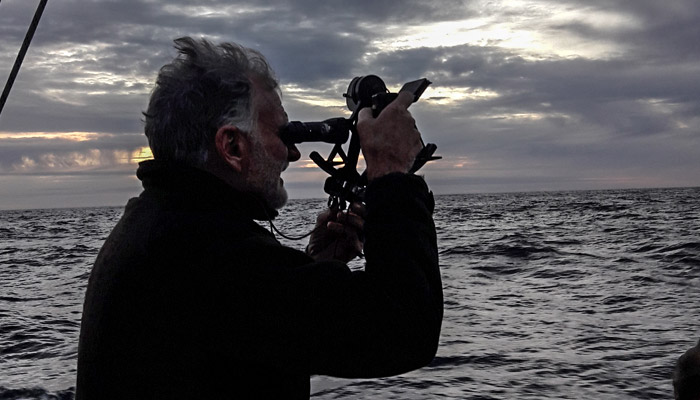 Practising sextant work on a Cape Town delivery
Meanwhile, skipper Kirsten on Pelagic with crew Darren are approaching Bermuda having gone non stop up from the Falklands to re-position for the Arctic season. As posted previously Pelagic will be spending the foreseeable future north in the high arctic on season and wintering in Maine. We are still looking for one or two 2/3 week charters in July and August either in Greenland or Baffin Island.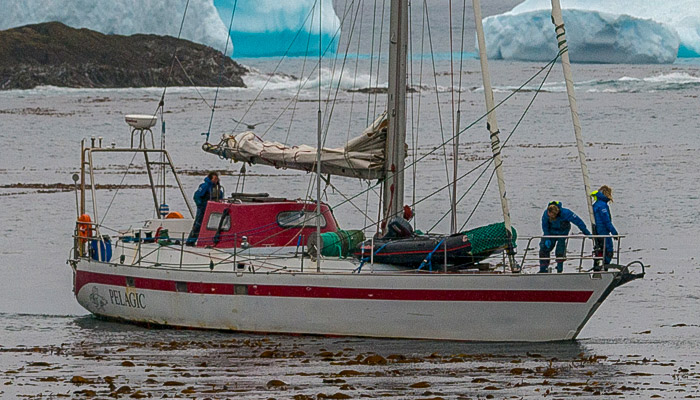 The original Pelagic goes North for Arctic Adventure. Photo Derren Fox
MEDIA
See Skip's recent feature in Yachting World on the trials and tribulations of recent South Georgia expeditions here>>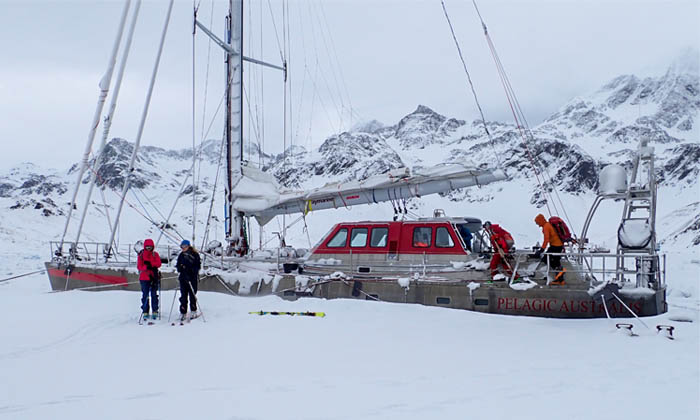 Pelagic Australis iced in at Grytviken South Georgia Oct 2018
And don't forget his Yachting World monthly column for any advice or wisdom! Found here >>
Stephen Venables alluring clip below on descending Mt Scott on skis is a must see for anyone with those aspirations. Stephen writes:
The year started with another hugely enjoyable ski-mountaineering expedition to the Antarctic Peninsula aboard Pelagic Australis, with co-leader Simen Havig-Gjelseth from Norway and other crew and team members from England, Scotland, America, Holland, Puerto Rico, Italy and Peru. We made a total of sixteen ski trips ashore, including a two day ascent of Mt Parry on Brabant Island (well ... actually the "skier's summit" which was 10 metres below the true top). The braver members of the team formed an Antarctic Swimming Club, breaking the ice when necessary for their daily pre-breakfast dip off the stern. For a glimpse of Antarctic seaside skiing at its best (and some elegant telemarking by Manuel Lugli) do have a look at this video clip from a perennial favourite – Mt Scott.
Ditto his clip below on the whales they saw in January.
Opportunities for 2019/20 and 2020/21 Seasons
Next season is filling up and only the Falklands Photo Safari in November with Rick Tomlinson, February in Antarctica with Venables and the Delivery to Cape Town have capacity.
The 2020/21 season is wide open – for now. But won't be for long.
See the programme menu for all available options>>
Cheers Skip