17.07.2019 - News Update - Pelagic Syllabus delivery completes journey using only celestial navigation for Falklands to Cape Town trip - Both boats in refit ready for coming season - Skip guides SY Aquijo in Tierra del Fuego - Opportunities for 2019/2020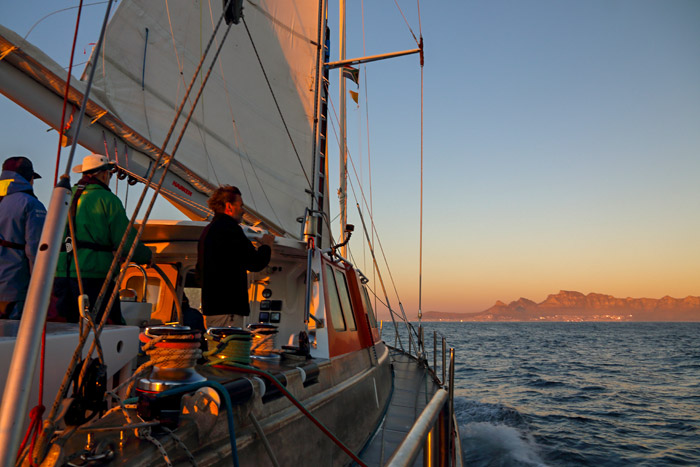 Pelagic Australis arrives at Cape Town guided by Pelagic Syllabus students celestial navigation alone. Photo: Simon Van Dam
We are in the middle of refits on both boats.
Pelagic Australis arrived in Cape Town on May 23rd with Skipper Edd Hewett, mate Charly Bainbridge and crew Simon Van Dam along with our eight ocean passage students. This delivery with our new Pelagic Syllabus conducted by RYA instructor Alan Denham has proved to be a winner. The emphasis is on celestial navigation and ocean passage planning – they decided to tape up the GPS readout and successfully found Tristan da Cunha and on into Cape Town! Read our prospectus for next year along with some comments from these mature students.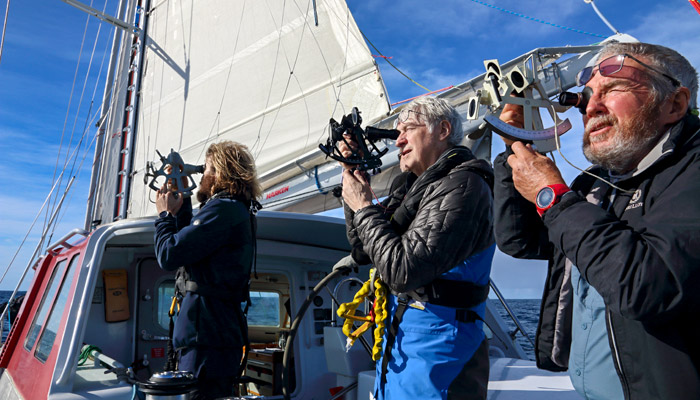 Students practise taking sights enroute Falklands to Cape Town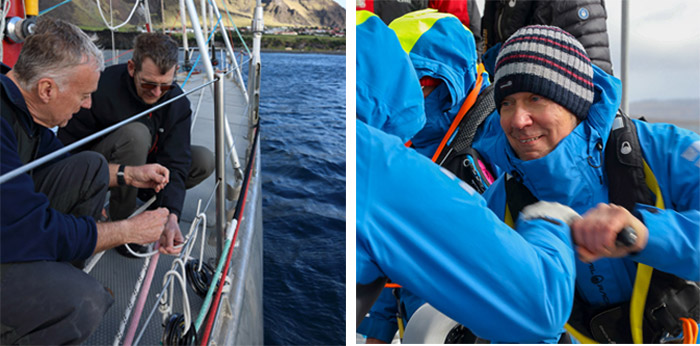 Students carry out deck maintenance Tristan da Cunha (l) and grind the main halyard (R).
Photos Simon Van Dam
Pelagic Australis Refit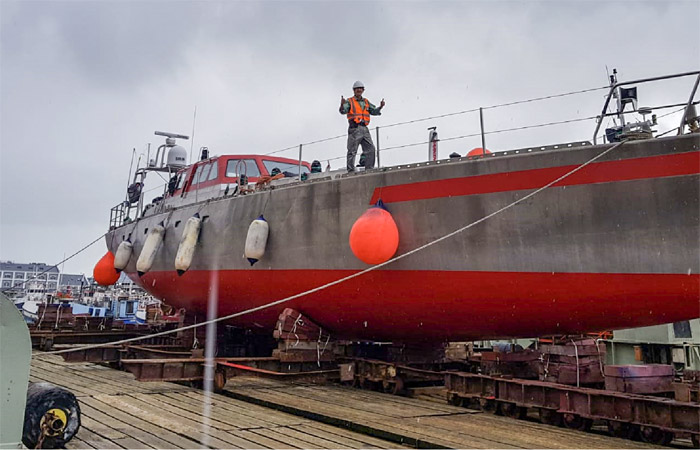 Pelagic Australis on lift out for refit in Cape Town
Pelagic Australis is now in re-assembly mode with our refit team of Manuel Mendez's team at R&M Boatbuilders, Melissa Van der Walt, Simon Van Dam and John de Wet after a five year refit including pulling the keel and rig, haul out, dropping the rudder and pulling the prop shaft for inspection.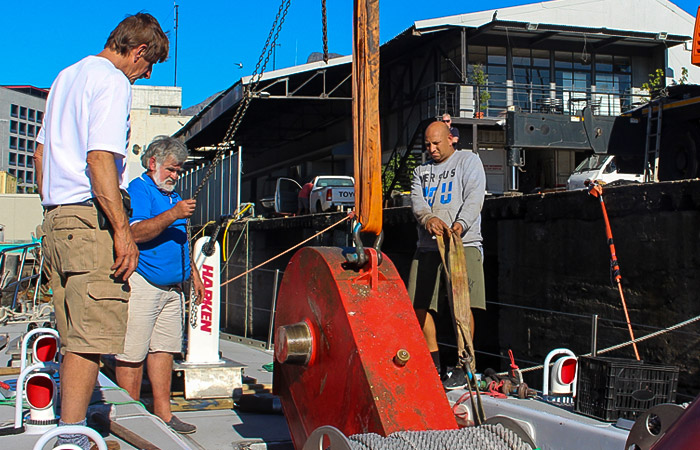 Pulling the keel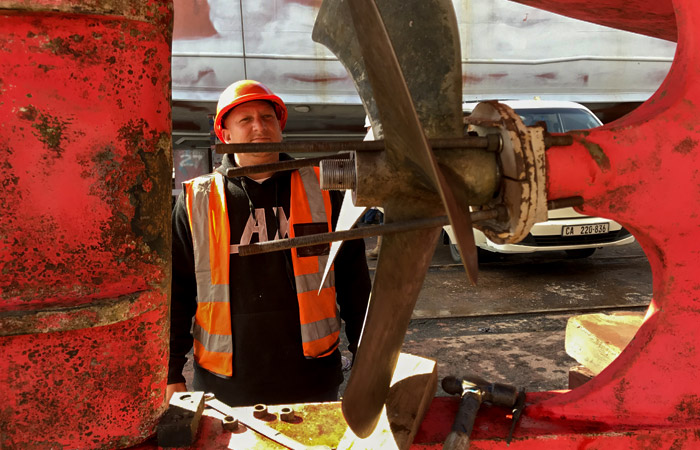 Ready to pull the shaft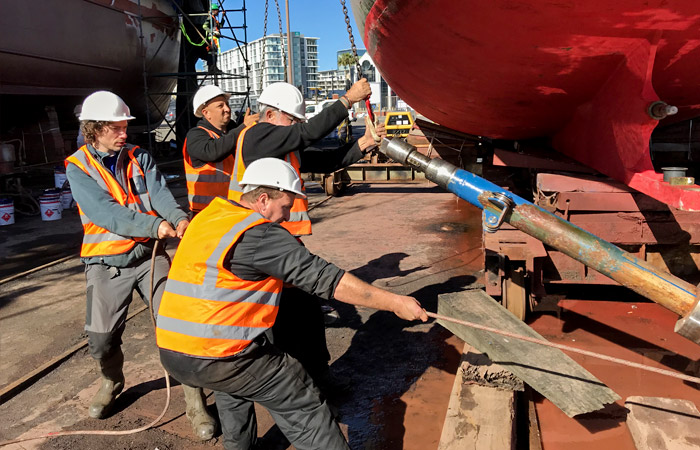 Rudder comes free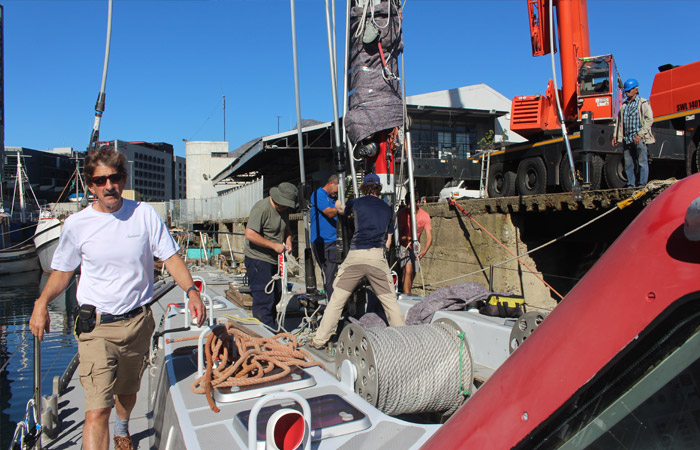 Mast ready to lift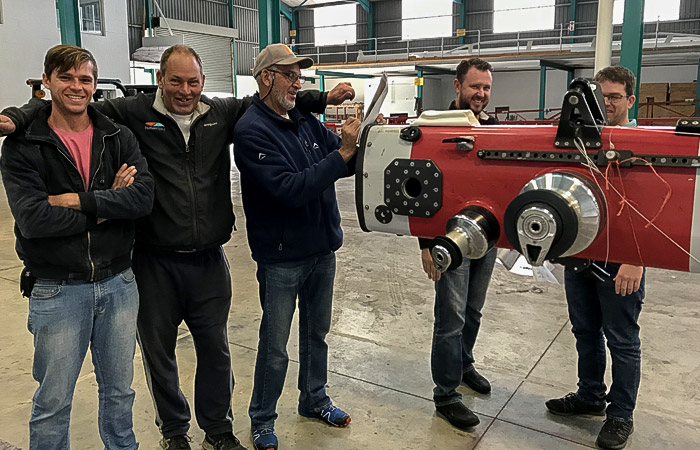 The rig team back at Sparcraft Masts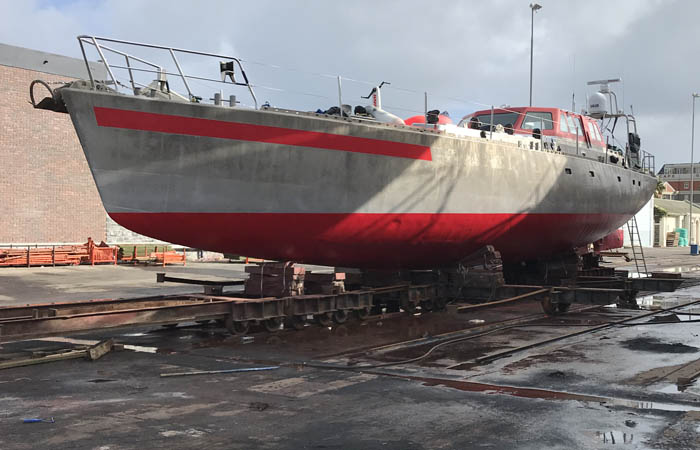 Ready to go back in
The mast and boom have been completely stripped of all fittings, new standing rigging, paint job and full service by the original builder Sparcraft in Cape Town. Not bad going after 17 years of action. Our long time suppliers of Raymarine, Ullman Sails, Harken and Sail Racing have been in support as always, as have been our usual contractors Chris Boock Rigging, Grandi Engineering and Karl at First Mate Electronics.
Refit Slide Show Video
Original Pelagic Refits in Maine
Meanwhile Pelagic is still in Maine after a work programme at Lyman Morse Boat Yard and will be sailing shortly for points north. Kirsten Neuschafer has made an epic delivery up from the Falklands and has come to grips with America, and the 110 AC volt power supply . . . . . particularly!
Worlds Largest Ketch guided by Skip round Cape Horn and Tierra del Fuego
For another side of life read my article recently published in Super Sail World on Aquijo's cruise in Tierra del Fuego last year. See pdf of the trip here >>
Future Plans
Pelagic Australis leaves on August 10th for the Falklands, once again. Her first charter is booked out with a South African photo safari group followed by Rick Tomlinson's Falklands cruise. There are still places available for this one off project that should not be missed. Click here for for details >>
OTHER OPPORTUNITIES ON OFFER See programme page for full details >>
Falkland Islands March 21st to April 4th 2020 14 day wildlife cruise open
Delivery Falklands to Cape Town with Pelagic Syllabus April 11th to May 23rd 2020 5 places available
South Georgia with Venables and Novak Sept/Oct 2020 Open
Antarctica Ice with Everything December 2020 5 available
Cheers, Skip