03.03.2020 - News Update - Pelagic Australis on final antarctic expedition of the season - International Science Expedition to South Sandwich Islands completed - Falklands Photo Safari YW Article - Pelagic prepares to go North - Carpe Diem opportunities - Still some places on Pelagic Syllabus Yachtmaster Ocean training delivery Apr/May 2020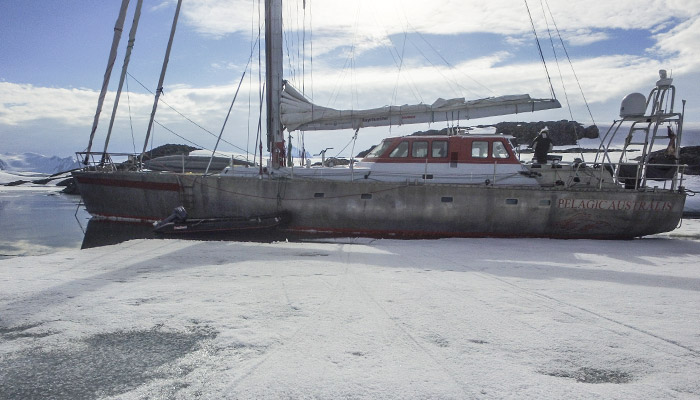 Pelagic Australis in Antarctica

Pelagic Australis is on her final Antarctic voyage of the season, this time with skiers led by Stephen Venables assisted by that well known Antarctic veteran and photographer Colin Monteath from NZ. Pelagic Australis crew Chris Kobusch and Sophie O'Neill are in good form having enjoyed a variable menu of trips on their first season south.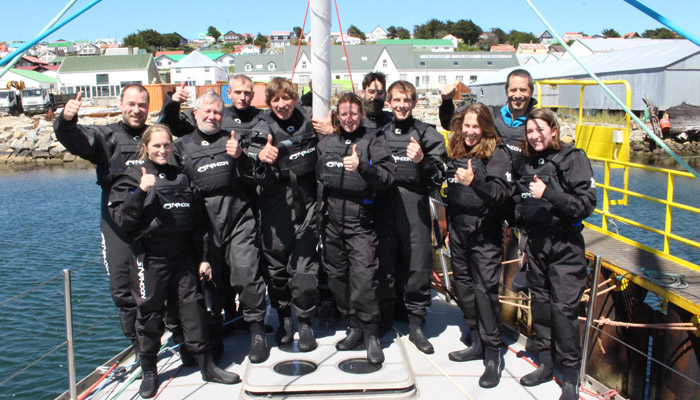 The International Science Expedition to the South Sandwich Islands - The Team
In early February we finished our five week International Science Expedition to the South Sandwich Islands. This was a multi-disciplinary project envisioned and organized by penguinologist Dr. Tom Hart from Oxford University and included collaborators from University College London, Bristol University, Cornell, The Climate Change Institute from the University of Maine and Antarctic colleague and whale expert Ted Cheeseman. This team with our sailing crew made up a full boat of 14. In fortuitously good weather, in this otherwise notoriously rough part of the Southern Ocean, we nailed 90% of the scientific objectives. Read the first of several media pieces that will be appearing on the back of this extraordinary voyage here in an article from the Penguin News >>
Also note in the Penguin News article the citizen science that is being used to collate some of the data. A film team was also along to document the science underpinned by a fair amount of adventure. We will advise on the release of this documentary later in the year.

Video above is a slide show of the trip. Cover still shows preparations for
taking gas samples with a drone from the plume on Saunders Island
OTHER NEWS
Hit this link for Rick Tomlinson's superb article/photographic tutorial on his cruise with Pelagic Australis in the Falklands last November. This will trip will be repeated possibly in 2022. Download pdf of article >>
PELAGIC NEWS: Kirsten Neuschafer is off to Maine in early March to recommission Pelagic at Lyman Morse Shipyard for the upcoming Arctic season. There are still opportunities for groups, especially two couples or a family of four/five to sail west Greenland in June/July and along the Baffin coast and Labrador in August into September. Contact me directly for more information. email Skip for more information skipnovak@pelagic.co.uk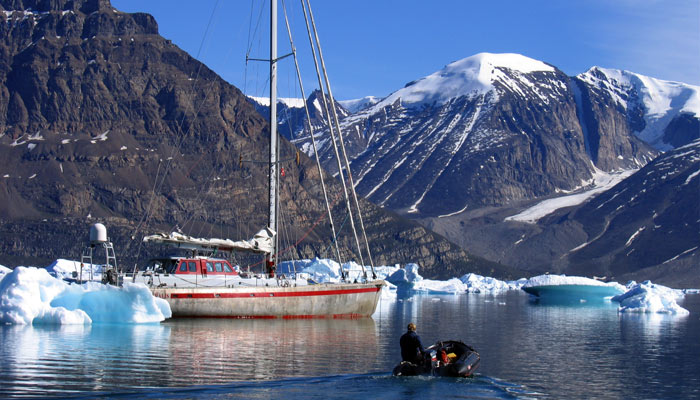 Pelagic Australis in Greenland
Other than any 11th hour, carpe diem type people who would like to join our delivery to Cape Town with the Ocean Yacht Master course that begins April 11th - that is it for this season. More on Ocean Yachtmaster Delivery >>
The front end of the 2020/21 season is sold out, but some opportunities are still out there for Antarctica in February 2021, the Falklands in March 2021 and the RYA Delivery April/May 2021 which is wide open. The schedule for 2021/2022 is now live in the Programmes Menu >>
PELAGIC 77: The new Tony Castro/Pelagic Yachts design for a private owner is on schedule for a November launch at KM Yachts in Holland. The aluminium work is now complete and fit out has begun. See more at www.pelagicyachts.com >>
Do I have a few balls in the air? Yes I do!

Cheers, Skip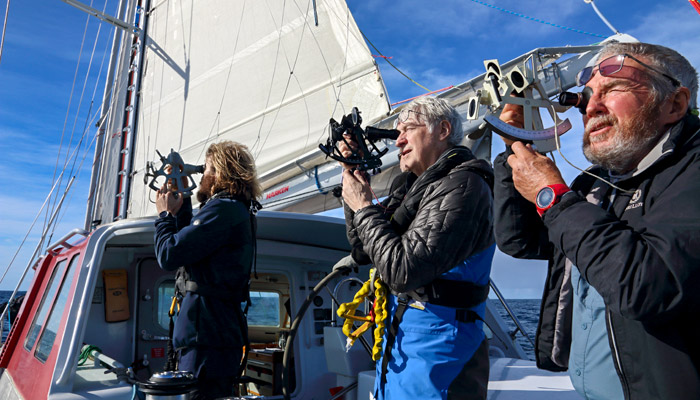 Students practise taking sights enroute Falklands to Cape Town. Simon Van Dam