26.10.2020 - Pelagic Expeditions Newsletter November 2020

Apart from Covid the news is mainly about Penguins!
Although I have been updating our booked clients for this season, it is now time to give everyone on the Newsletter list the big picture for 2020/2021, which will be no surprise to anyone.

Because of the continued uncertainty in travel and health considerations due to the Covid pandemic, Pelagic Expeditions has decided to scrub the entire season operating from the southern South American sector (Falklands and Chile).  Almost without exception, our charter guests we had for this season have agreed to postpone their trips for the same dates, more or less, in the 2021/2022 season.   

Pelagic Australis was delivered back to Cape Town by Chris and Sophie in August and she is now based in Cape Town, but currently on a 70 day wildlife film charter to Marion Island in the South Indian Ocean.  Check the tracker here>>

We were very fortunate to be able to accommodate this project and it was a case of being in the right place at the right time with the right contacts.  This involved work permit issues, visa problems, a quarantine for all the team for two weeks, multiple Covid testing and an enormous amount of logistic gymnastics. 

As far as I know, currently we are the only IAATO operator (ships or yachts) that is in the field.  We will update you with more news on the Marion project and what we have in store for the rest of the season, based from Cape Town.

If you have an hour to spare, click on Dr. Tom Hart's informative Zoom lecture now on Youtube for the Polar Tour Guides Association. Tom is a Pelagic veteran and was the science coordinator for our South Sandwich Science Expedition last January. See https://www.youtube.com/watch?v=a8CdVycKIh8&feature=youtu.be

Tom explains his work at Oxford University along with many collaborators in monitoring the health of the penguin populations in the Antarctic region.  See www.penguinwatch.org

The Rick Tomlinson 2021 wall calendar is now available.  As always, stunning pictures from Rick and a few from son James.  Check out the December 2021 shot of an orca in front of Pelagic Australis, in case you have had doubts about joining us on one of our Falkland cruises.  Might make you think a bit harder.  See  www.rick-tomlinson.com ....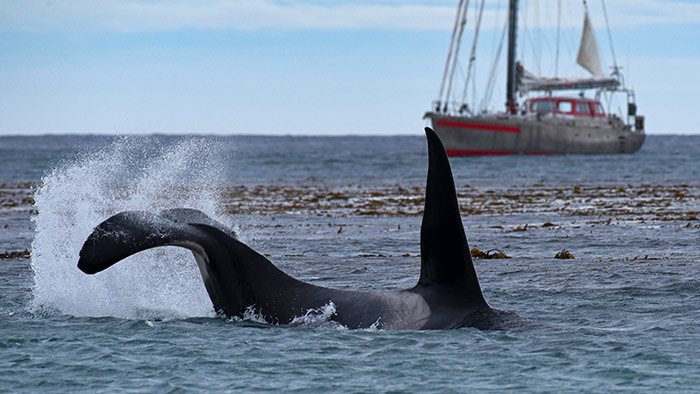 Availability for the 2021/2022 seasaon:.  See http://www.pelagic.co.uk/programme.asp for full details

4 Sept to 2 Oct 2021 - South Georgia led by Skip and Stephen Venables. 1 vacancy.

16 Oct to 13 Nov 2021 - South Georgia.  4 vacancies.

01 Dec - 21 Dec 2021 - Antarctica - Ice with Everything.  Sold out.

3 - 30th Jan 2022 - Antarctica - Ice with Everything.  Sold out


7  Feb - 7 Mar 2022 - Antarctica with Stephen Venables Join this expedition led by Stephen Venables to ski, climb and see the sights in Antarctica. 3 vacancies.


19 March - 2 April 2022 - Falkland Islands Photo Safari/Diving - Cruise. 8 Vacancies


9 April - 21 May 2022 - Delivery Falklands  to Cape Town  circa 40 days. 5 Vacancies


We always knew operating a charter vessel in the far south was never going to be easy, . . . . .then it got a whole lot harder.

Cheers, Skip