19.05.2021 Pelagic Expeditions Newsletter - Pelagic Australis is sold to Greenpeace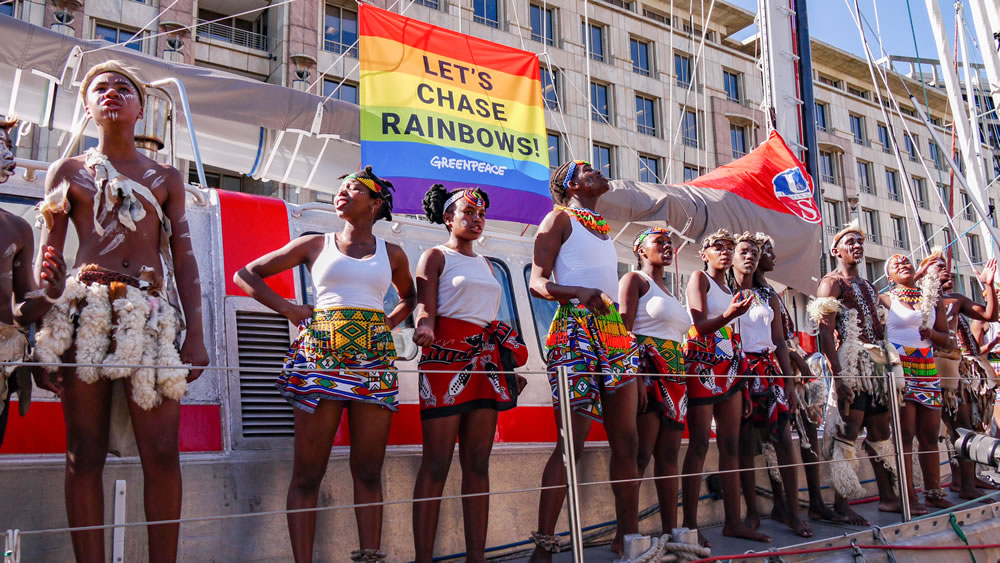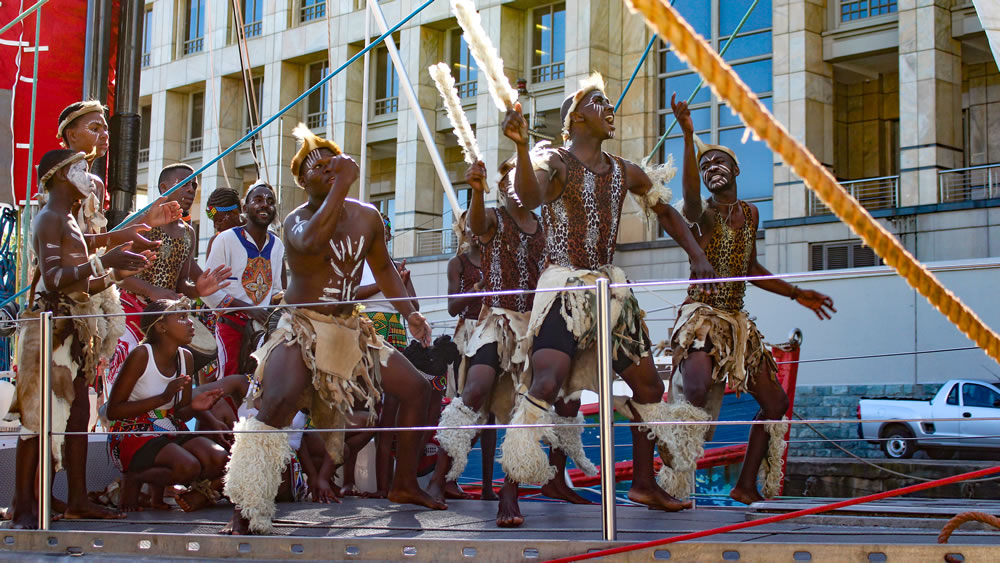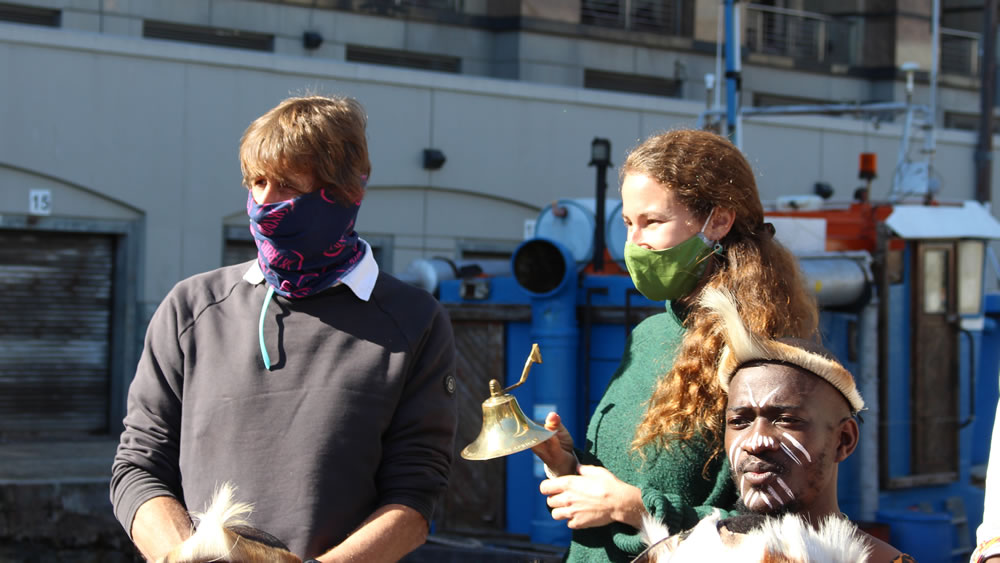 Handing over the ship's bell to Maria Rami, Greenpeace skipper
You read that right. On May 17th Pelagic Australis was handed over to Greenpeace International in Cape Town and is currently on her way to the Netherlands with Chris and Sophie and a Greenpeace crew.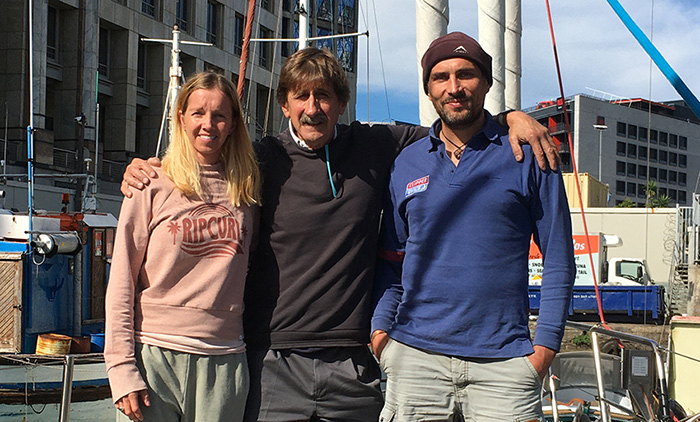 Skip with Sophie and Chris on handover day

She will be undergoing a refit, 'green-tech' modifications and a re-naming before going into service. See my impression of the late White Zulu Johnny Clegg at the handover ceremony below.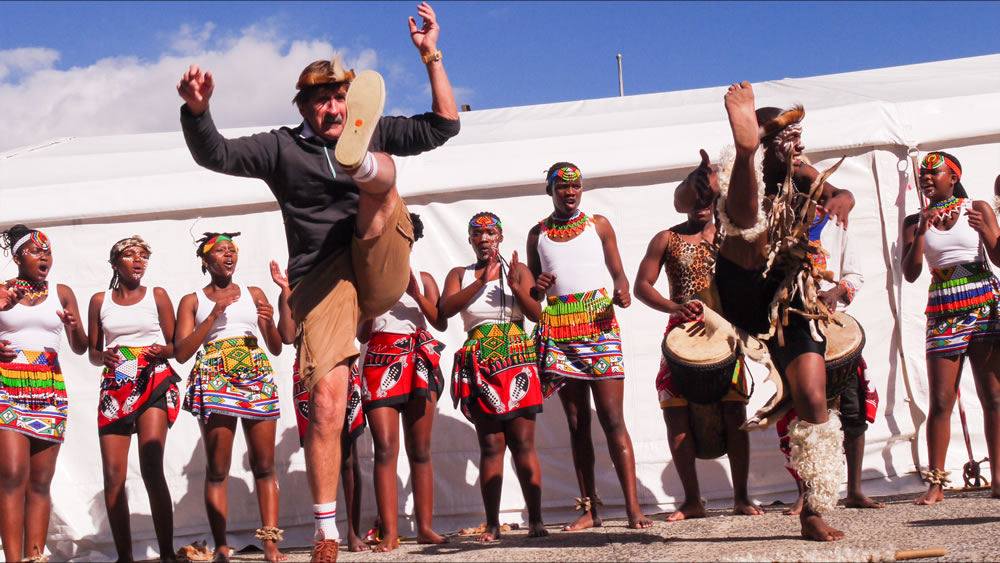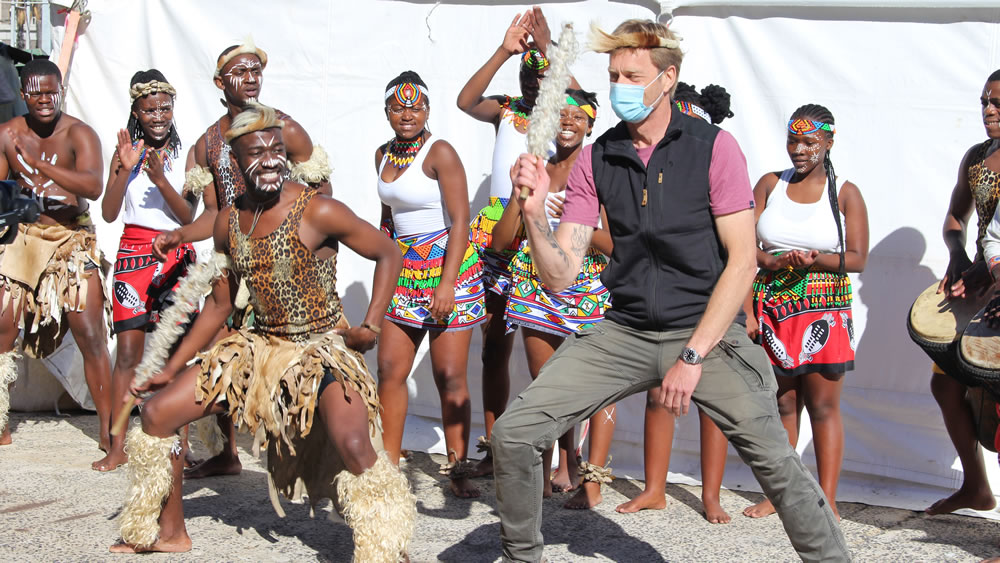 Dim Gerritse from Greenpeace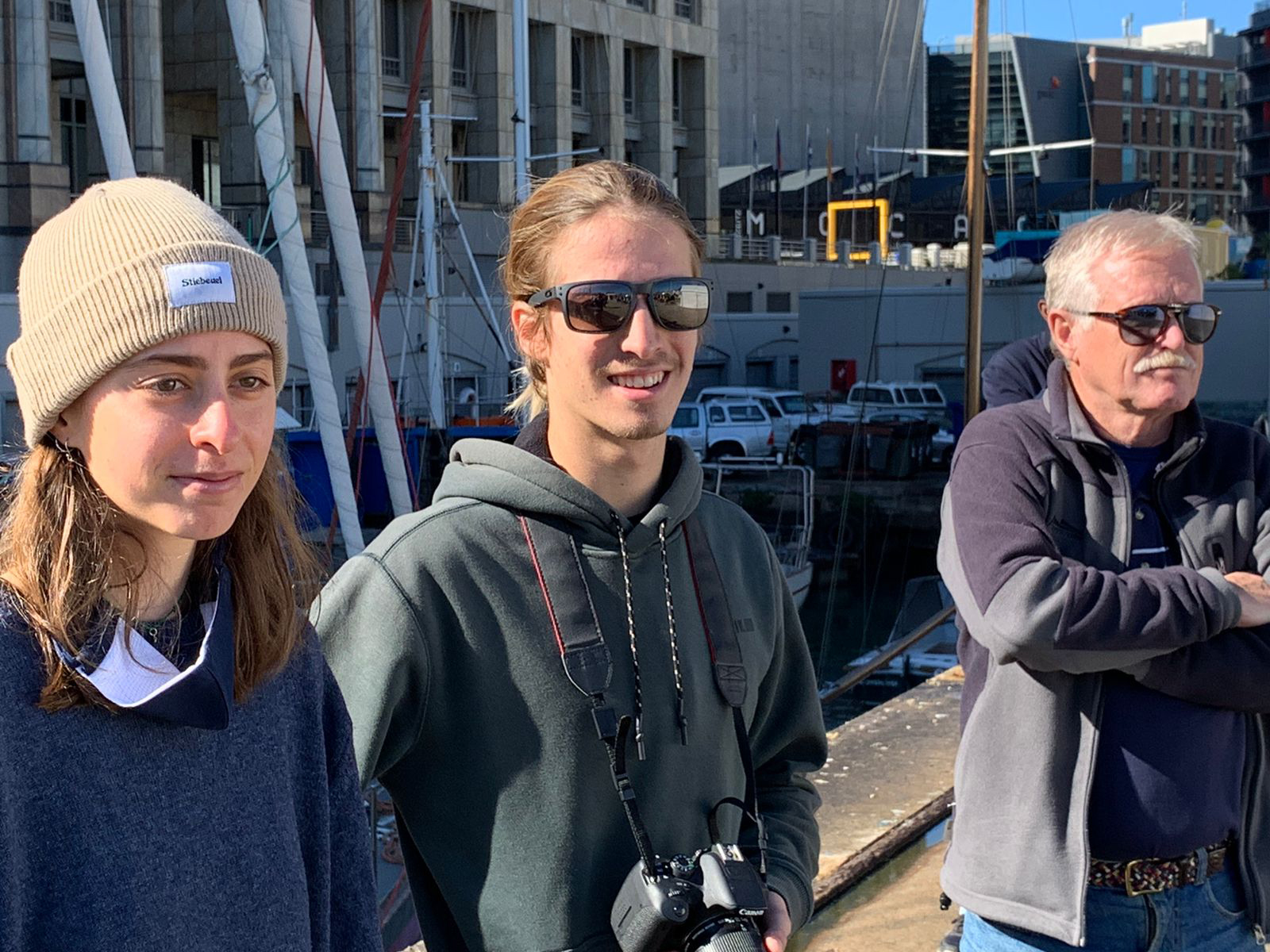 Lara, Luca and old shipmate Bob

This was of course a major decision, but not a difficult one. In short, given my age, the vessel's age and not least of all the ongoing Covid story where uncertainty continues through 2021 and on into 2022, it is the right thing to do.
See full slide show of the celebrations below


After 20 years filled with memories and the casts of characters we have hosted, the timing was right to pass her on to begin a new chapter – and what better home for this venerable expedition vessel. Many people have asked, "Was this difficult emotionally to part with PA?" "Aren't you sentimentally attached?" You might make a case in this regard for the original Pelagic, which launched a dream. But for PA, not at all. She is metal, wood and fibre (mostly metal). The memories I have well filed. To steal a phrase, she was a "taxi to the snowline" for me.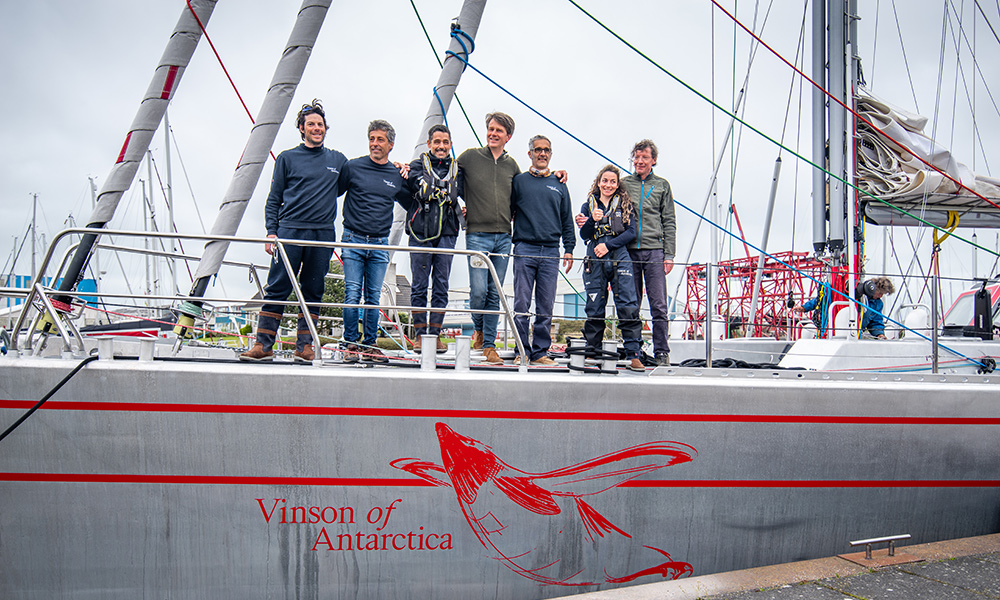 Tony Castro designed Pelagic 77 Vinson of Antarctica prepares to leave KM Yachts Makkum for delivery trip to Hamble. Photo Guy Fleury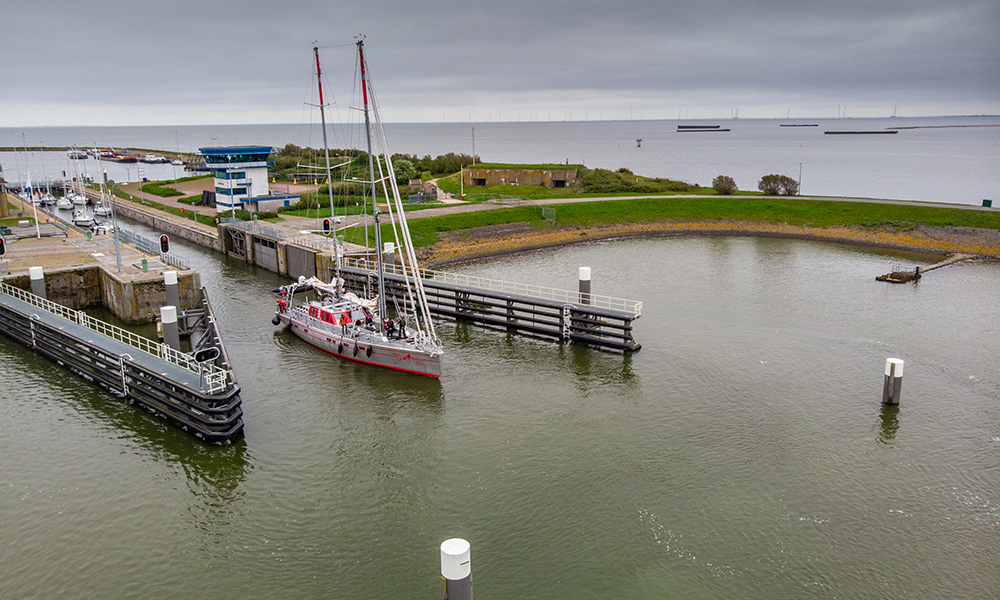 Exiting the lock from the Ijsselmeer. Photo Guy Fleury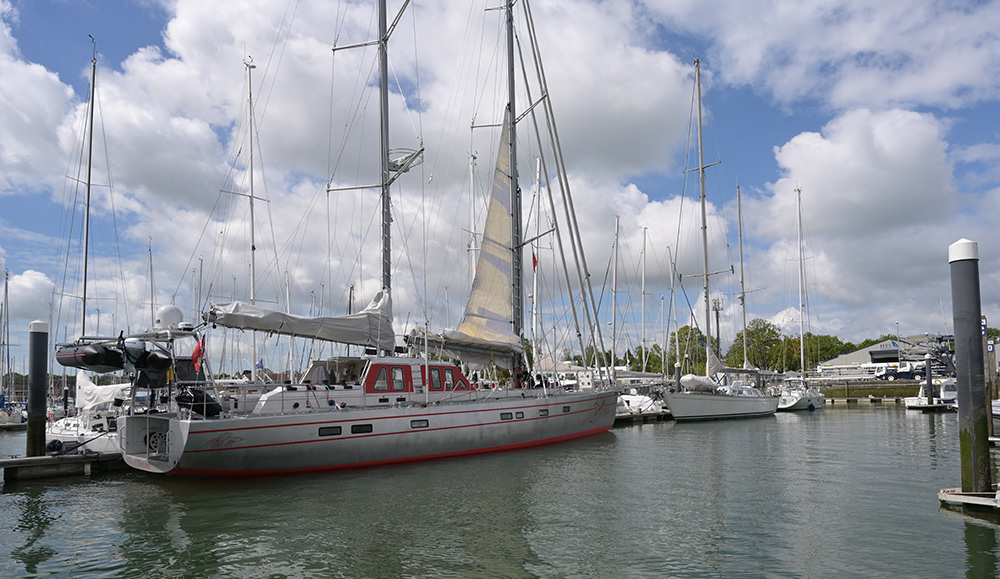 Tied up in Hamble at HYS.
The good news though is I am on the way to the UK to join the new Tony Castro designed Pelagic 77, Vinson of Antarctica. I have not seen her since October on my last visit to KM Yachts in Holland and have been collaborating with our team on the fit out and sea trials on Whatsap and Zoom – frustrating? For sure, but soon we will be heading high north for a science charter in Svalbard.
Vinson of Antarctica is a collaboration with my Chilean colleague Nicolas Ibanez and will take up where Pelagic Australis left off. Our focus will be more weighted to science, film and educational projects of high value, but will also be accommodating our usual guests wishing to visit places of high latitudes. More news on our schedule forthcoming, but again, a lot depends on Covid and travel restrictions going forward for the short term. To learn more about the Pelagic 77 Vinson of Antarctica see the Pelagic 77 page on the Pelagic Yachts website
On behalf of myself and the Pelagic Australis teams throughout the last two decades I would like to thank my sponsors; Ullman Sails, Raymarine, Harken and Sail Racing. Also my suppliers and service people in Cape Town, principally at Grandi Engineering, 1st Mate Yacht Services, Sparcraft and Chris Boock Rigging.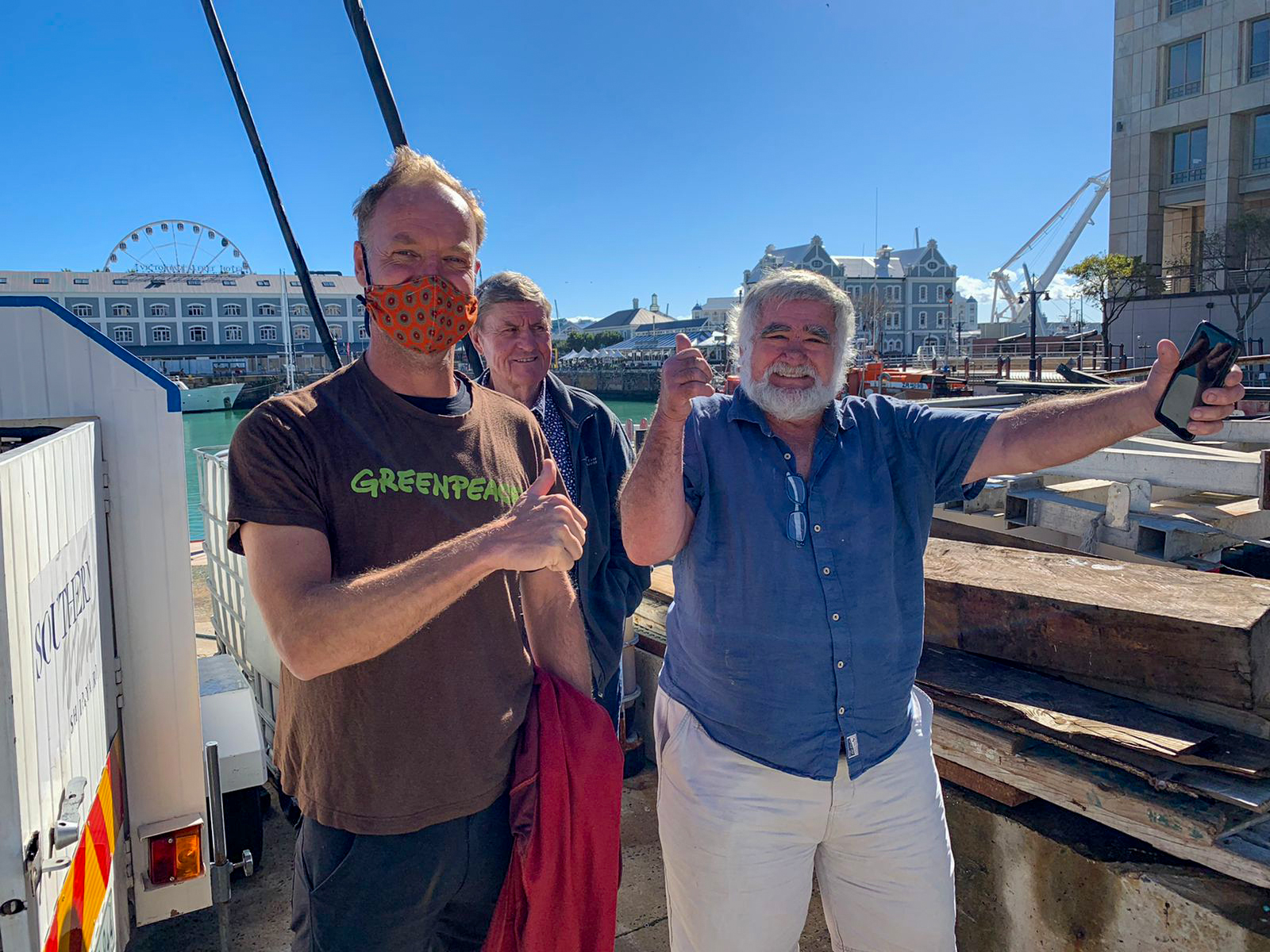 Erik Mekenkamp from Greenpeace with Manuel Mendez
I would also like to offer the biggest thanks to Manuel Mendez from R&M Boatbuilders in Cape Town, globally known to visiting yachtsmen to the Cape. I met Manuel in Greece in 1977 . . . Without his friendship and support through all the refits in Cape Town it has been, instead of a painful experience (which refits usually are), rather an enjoyable and often amusing journey that I looked forward to - and you can't get a situation any better than that.
Click on video to see the photo gallery of the last voyage of Pelagic Australis to Marion Island and back.
Cheers Skip
Cape Town