10.12.2022 - Pelagic Expeditions and Vinson Team Christmas Newsletter December 2022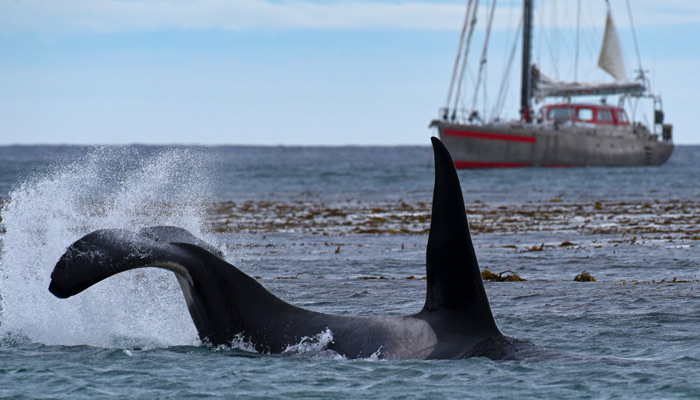 Orca plays in front of Pelagic Australis on a previous photo safari. Rick Tomlinson.
PHOTO SAFARI IN THE FALKLANDS
The celebrated marine photographer Rick Tomlinson will lead a two week photo safari cruise aboard the Vinson in the Falkland Islands in November 2023. Rick has been there before on Pelagic Australis and came back with the stunning photographs seen here. You don't have to be a photographer to enjoy this cruise, but for those wishing to hone their skills this is a great opportunity where you can't fail to come back with the goods. Crew will join the Vinson in Port San Carlos to avoid the sea time in getting to the West Falklands where the action is.
Dates: November 4th to 18th
Cost: 9,000 GBP all-inclusive from the Falklands.
Travel: Via Santiago on the Saturday flight into Mount Pleasant Airport, Falklands, or via Brise Norton twice weekly with the RAF
Contact Skip for further details, as this cruise will fill up fast. skipnovak@pelagic.co.uk or see Photo Safari briefing here >>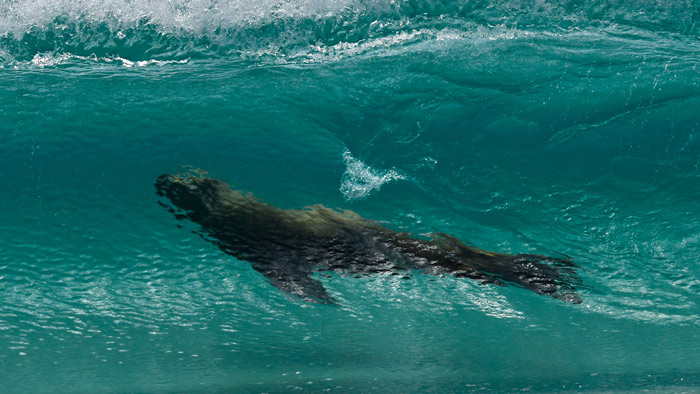 Leopard seal hunting penguins in the Falklands surf. Rick Tomlinson.

PELAGIC 77 HULL NO. 2 ROLLS OVER
On schedule, a milestone was reached on November 28th when the hull of the Pelagic 77, the sistership to Vinson of Antarctica, was righted at KM Yachts, with typical Dutch efficiency. See the video here: www.pelagicyachts.com

SCHEDULE GOING FORWARD
Vinson Skipper Kenneth Perdigon, crew Mariana Esperon and Justino Borreguero, along with South Georgia expert and Expedition Leader Alec Hazell are currently on South Georgia to support a film shoot project for Disney/Nat Geo's series called the Great Migrations, due to air middle of 2023.
I fly down to the Falklands early January. With Pelagic skipper Chris Kobusch, crew Dion Poncet, Justino Borre and Tor Bovim we are off for a Netflix film support project in the South Sandwich Islands. More news to follow.
In late March eight students (of various ages) will be joining Vinson for her end of season RYA Ocean Yachtmasters Theory Course in Puerto Williams followed by a 10 day cruise in the Beagle Channel, a rounding of Cape Horn and then a 3,500 miles voyage across the pond to Cape Town – navigating on celestial only.
We are now taking names for this same voyage of opportunity in March of 2024. See 2023 prospectus for a flavour of this trip >>

Cheers, Skip