17.05.2023 Vinson of Antarctica in Cape Town Undergoing Refit & Modifications - 2023/2024 Season Plans -Trips On Offer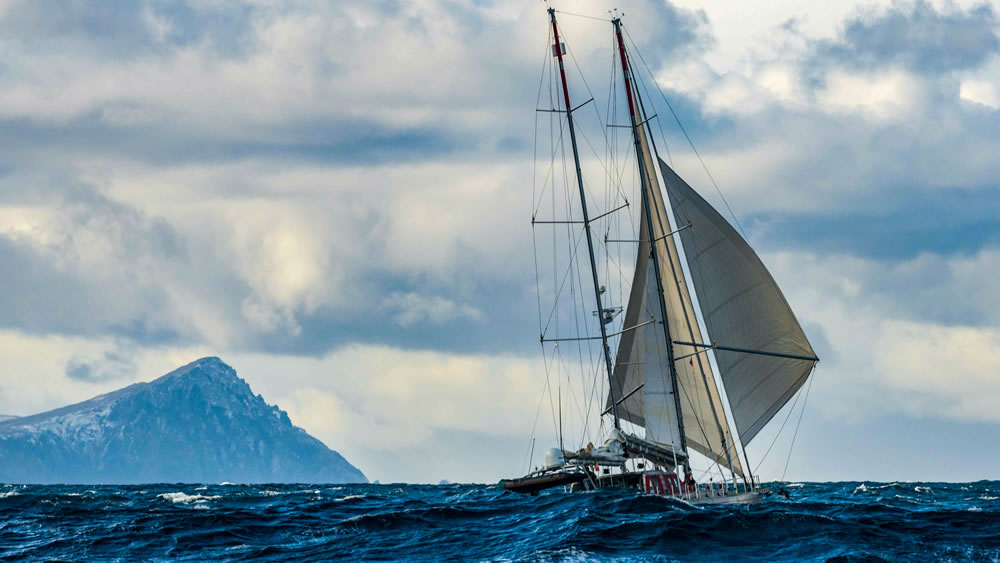 Vinson of Antarctica rounds The Horn before setting off for the delivery to Cape Town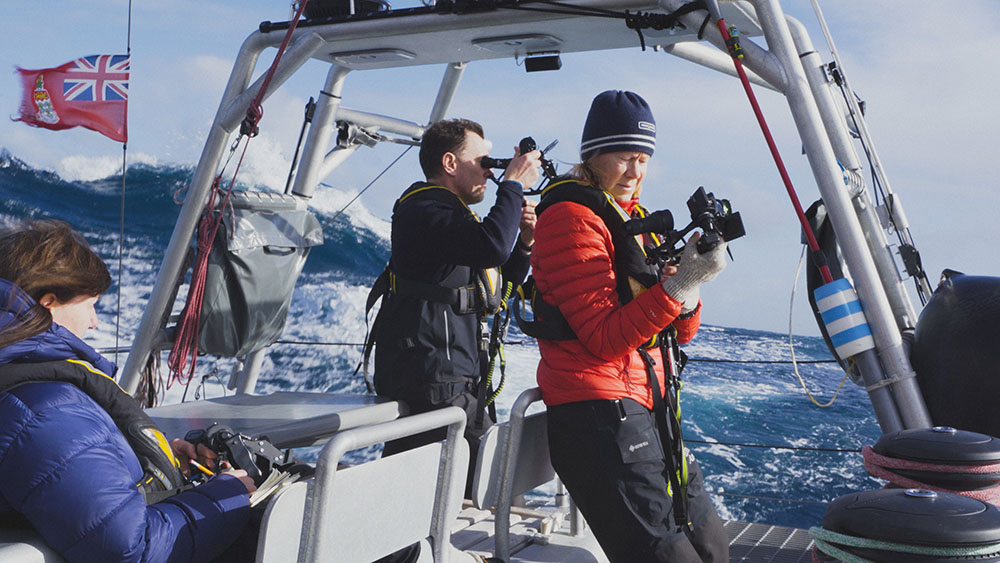 Taking sights in the open ocean en route to Cape Town. Photo Domingo Abelli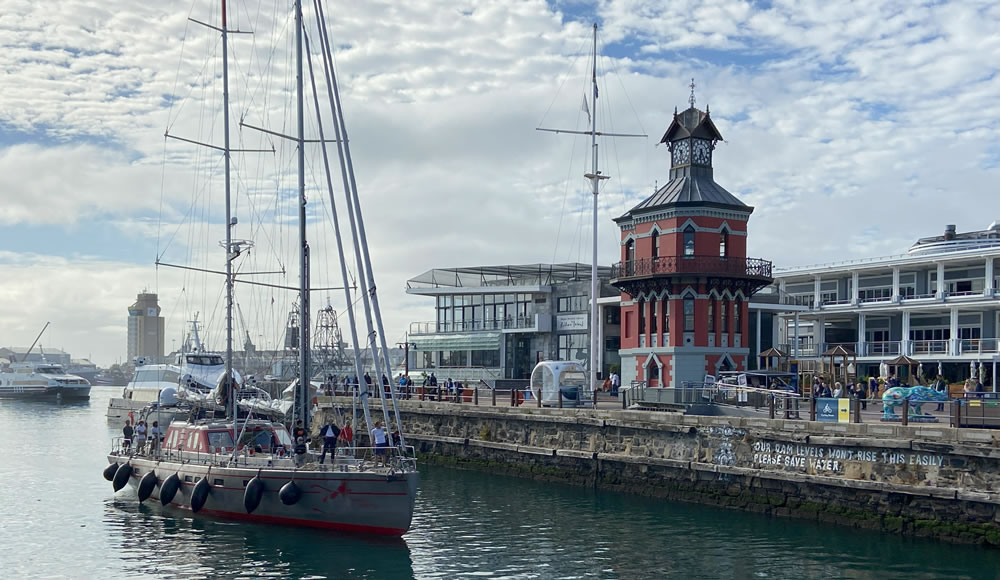 Vinson of Antarctica arrives Cape Town for her annual refit
On May 2nd skipper Kenneth Perdigon and crew arrived into Cape Town after her delivery across the South Atlantic from Cape Horn. We had eight 'mature' students on our annual RYA Ocean Yacht Master programme which is always a satisfying way to end the southern season. See slide show of the voyage below:
After two years in operation, many thousands of miles and several headline projects under our belt, it was time for some substantial checking, making modifications and improvements. In Cape Town we are based at Manuel Mendez's R&M Boatbuilders on the East Quay, right in the heart of the docks and the V&A Waterfront complex – a great place to berth and pleasant besides. Manuel is the anchor down for visiting yachtsmen both racers and cruisers who pass the Cape – many needing his help! We go back a long way . . .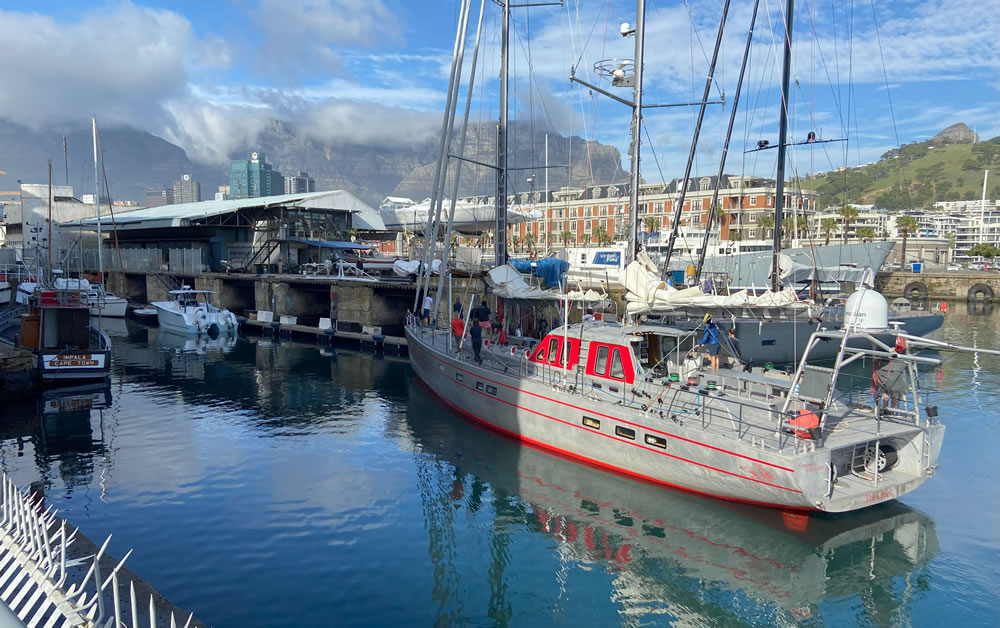 Our Cape Town home Manuel Mendez's dock
Without a Travel Lift in Cape Town, the only method to get Vinson out of the water is on the government Syncrolift, which is an adventure in itself. This facility is used for small to medium sized commercial vessels and the occasional yacht – but not suitable for anything precious! As soon as we were out of the water and side slipped into our spot, next day they put a 70m steel hulk alongside to be cut up for scrap. You need steady nerves in this situation see below.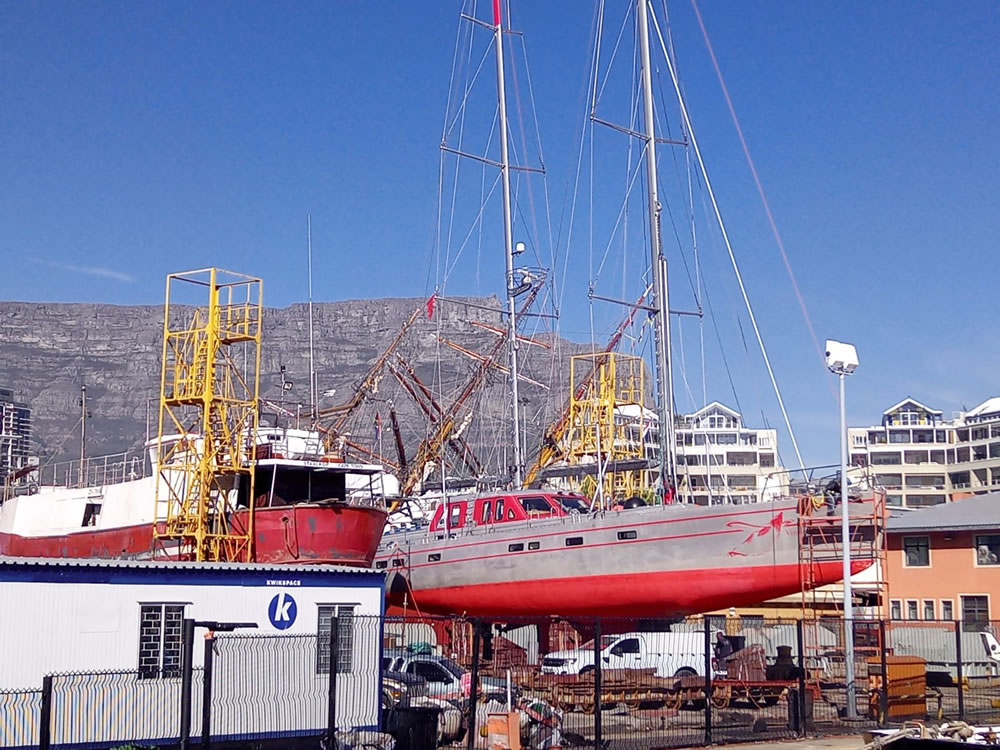 Syncrollift needs steady nerves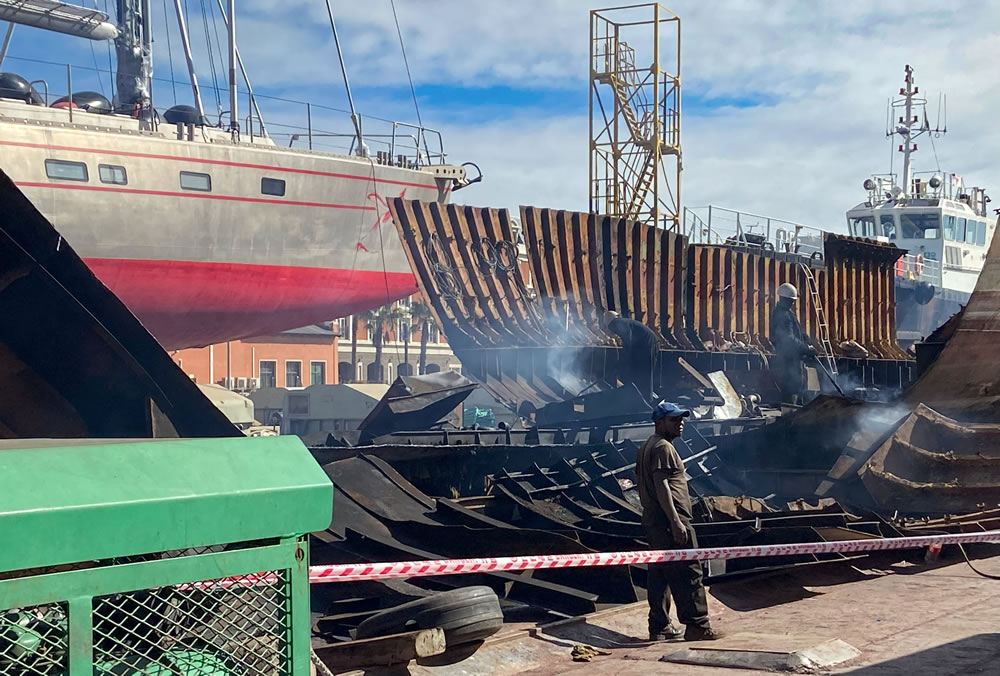 We had to install a heavier anchor (110kg Rocna), heavier chain and bigger windless going to hydraulic. This meant a complete anchor bracket modification coordinated by KM Yachts with the Jacobs Bros shipyard who, like KM Yachts, specialize in building small to medium size yachts, bare aluminium in the 'expedition style.'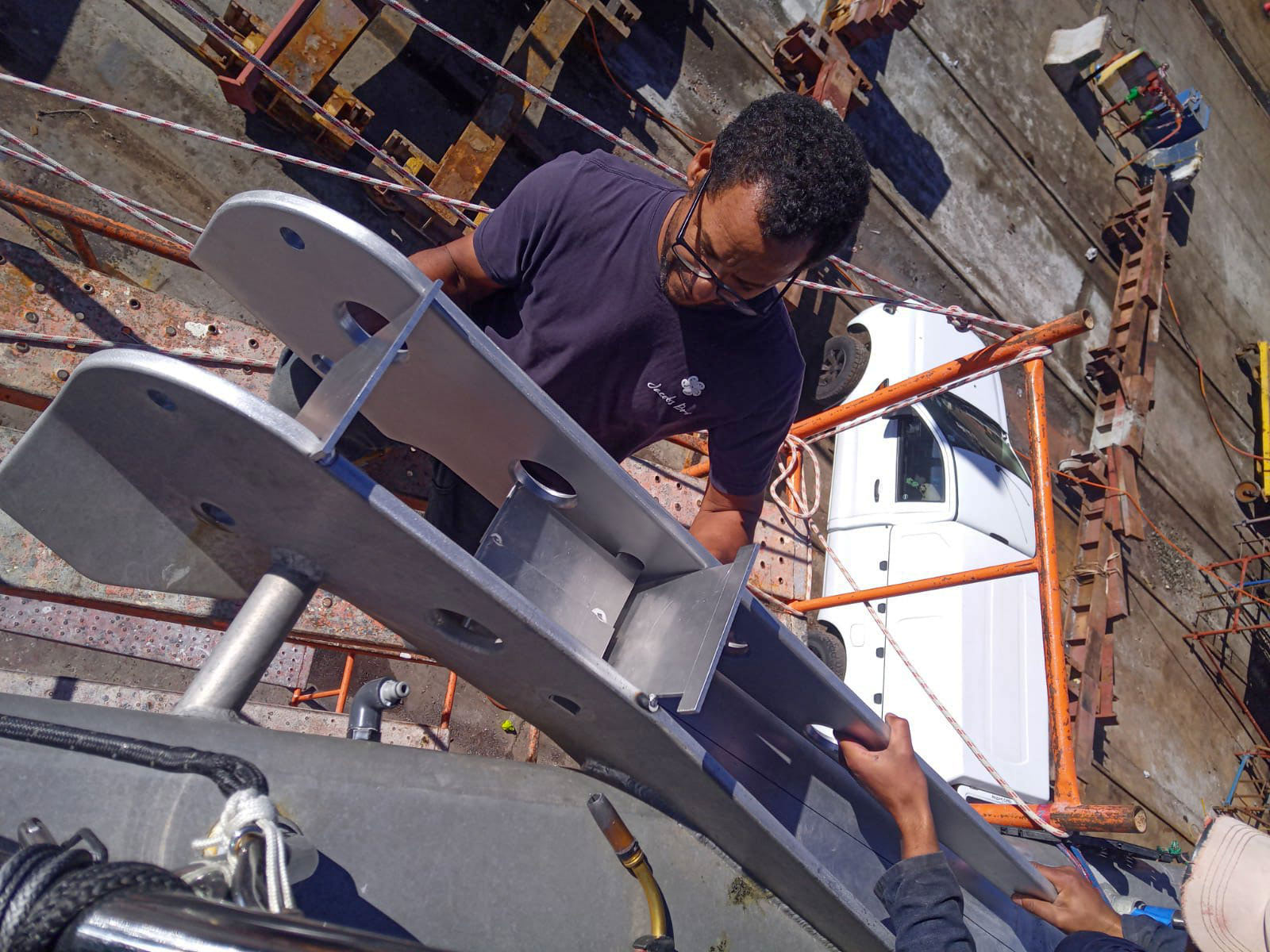 Serage Jacobs fitting the new anchor brackets
This is a multi-generational family company and has global recognition. I highly recommend them for a cost effective build in that far side of the world. They are highly skilled, fast and efficient and are a joy to work with.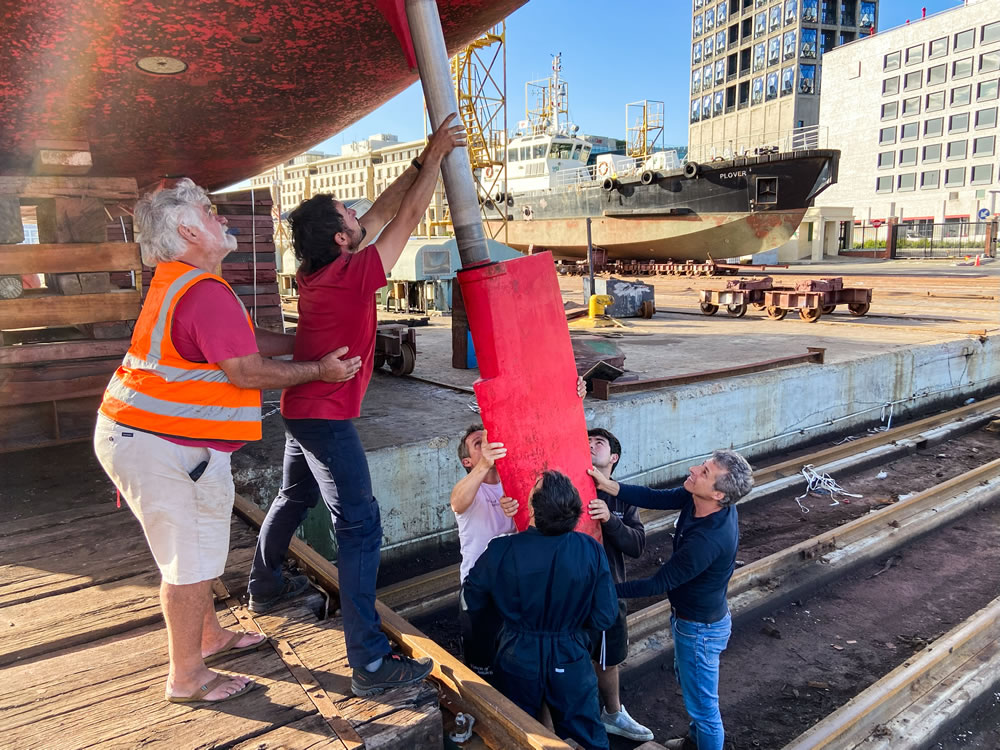 Manuel Mendez supervises dropping the rudder for modification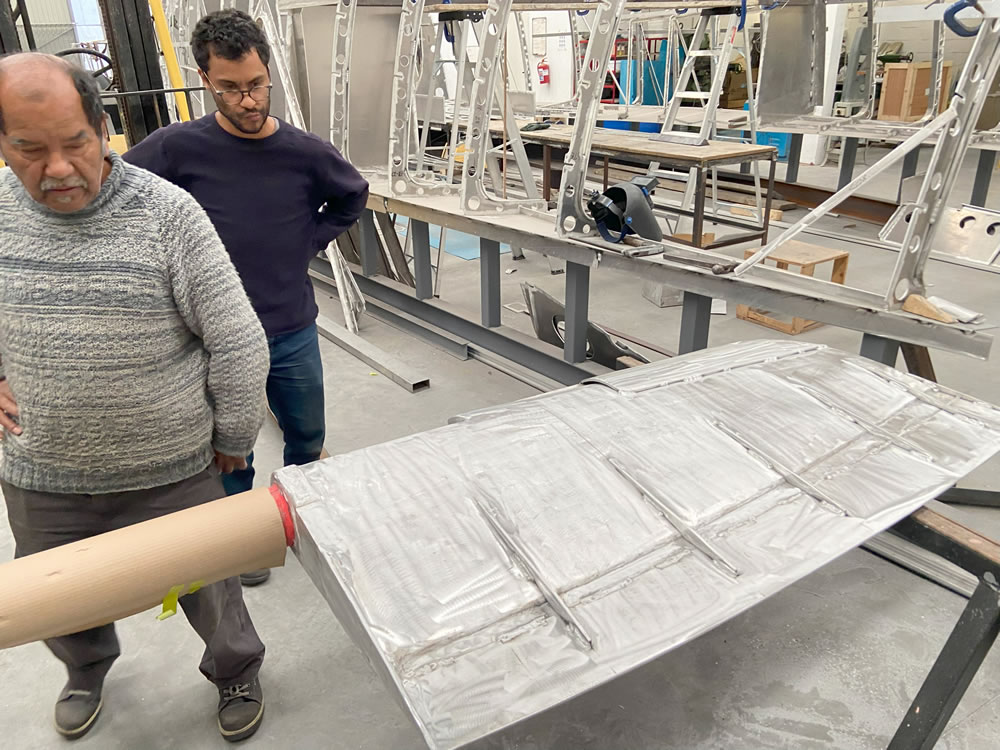 Fuad and Taariq Jacobs, generations of experience, inspect the new rudder configuration
The other major job was increasing the blade area of the rudders. This necessity only became apparent after the boat had experienced winds in excess of 50 knots when reaching and steering became problematic. The Jacobs Bros, in conjunction with Tony Castro made the modifications. Other jobs were tidying up issues with transducer surrounds, swapping out one of our autopilots for a heavier duty hydraulic system and various bracketry that needed doing.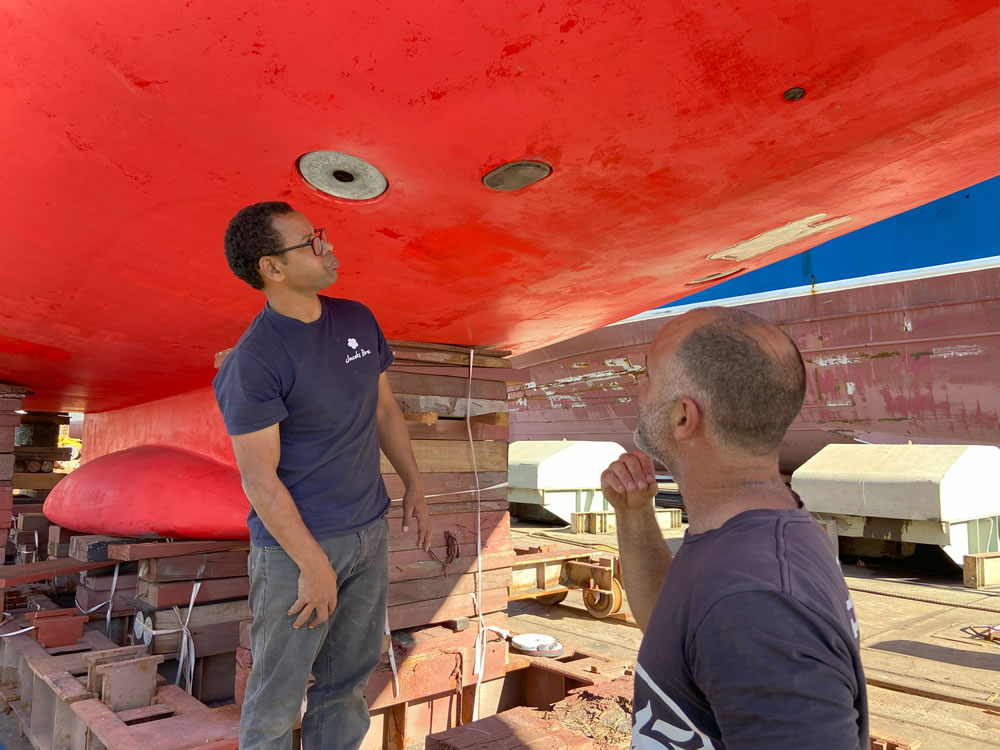 Serage Jacobs and Karl about to attack a change of transducer. Karl Martin's 1st Mate electronics is our man for all things electrical and electronic.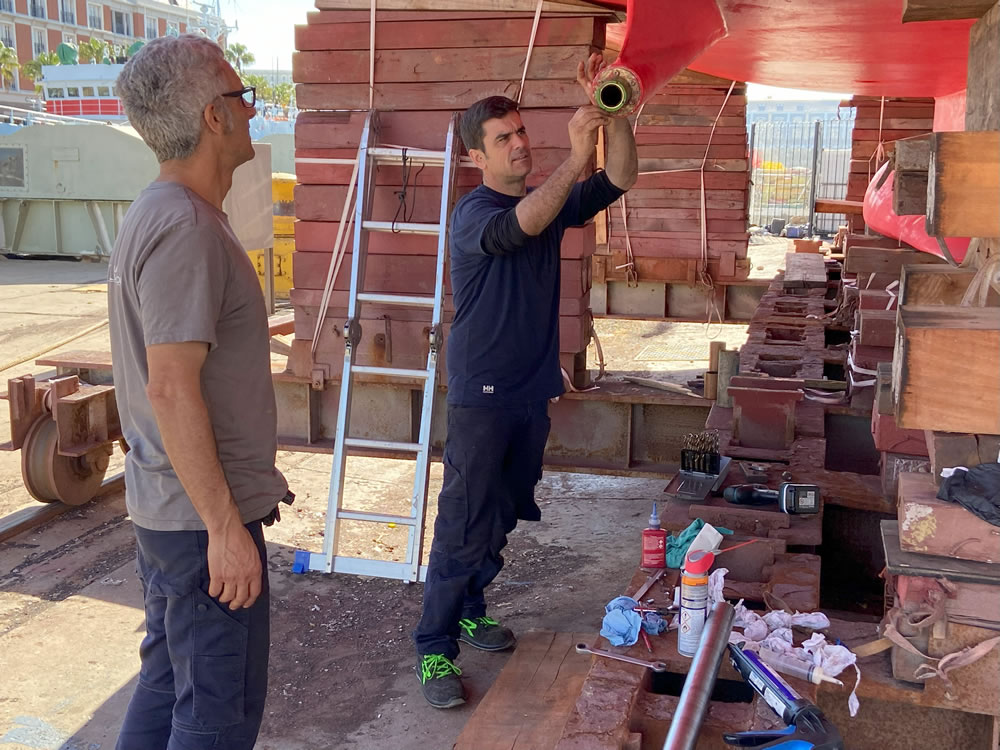 Vinson refit team Victor and Jose pulling the shaft tubes

Chris Boock, world renowned rigging expert is completely rebuilding our furlers with customized foil joints (working joints is always a problem with wire rigging). Meanwhile Ullman Sails has the inventory in the loft for annual checking, but not much to do which is an accolade for them.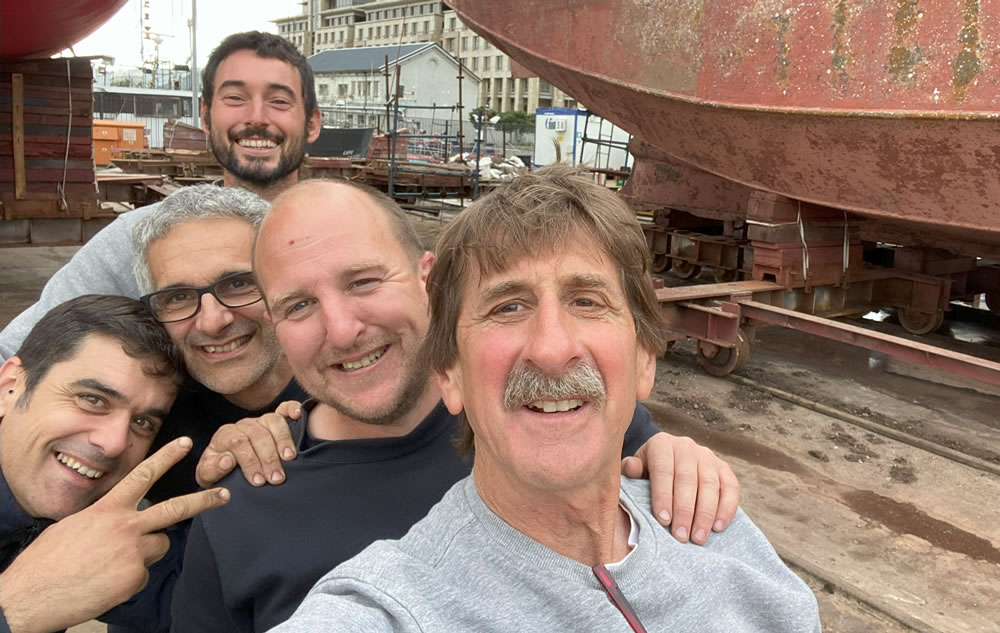 Jose, Victor, Adrian and John after lunch with Manuel


The Cape Town refit team 
COMING SEASON
On July 24th Vinson sets sail for the Falklands to begin another southern season. Back to the mountains for South Georgia in September with a Shackleton Traverse led by Stephen Venables; photo safari in the Falklands with Rick Tomlinson in November; back to Zavodovski Island in the South Sandwich with a British Antarctic Survey team of scientists and in January and February a six week project censusing the entire population of Great Wandering Albatross on South Georgia led by Sally Poncet, on behalf of the South Georgia Government. We finish up with our annual RYA Programme that starts end of March. A great season ahead!
TRIPS ON OFFER
Falklands Photo Safari 4 to 18 November 2023
Photo safari (or just cruising) on the Falkland Islands with Rick Tomlinson 4 places available 
See https://www.pelagic.co.uk/prog_fi2023.asp
why not tack on an extra week and visit the Torres del Paine National Park?
Delivery Puerto Williams to Cape Town March/April 2024
Shore based and Oceanic training for RYA Yacht master Ocean syllabus and much more 4 places available
see https://www.pelagic.co.uk/prog_del2024.asp
Email skip on skipnovak@pelagic.co.uk, copy to info@pelagic.co.uk, to book a place or find out more.
Cheers Skip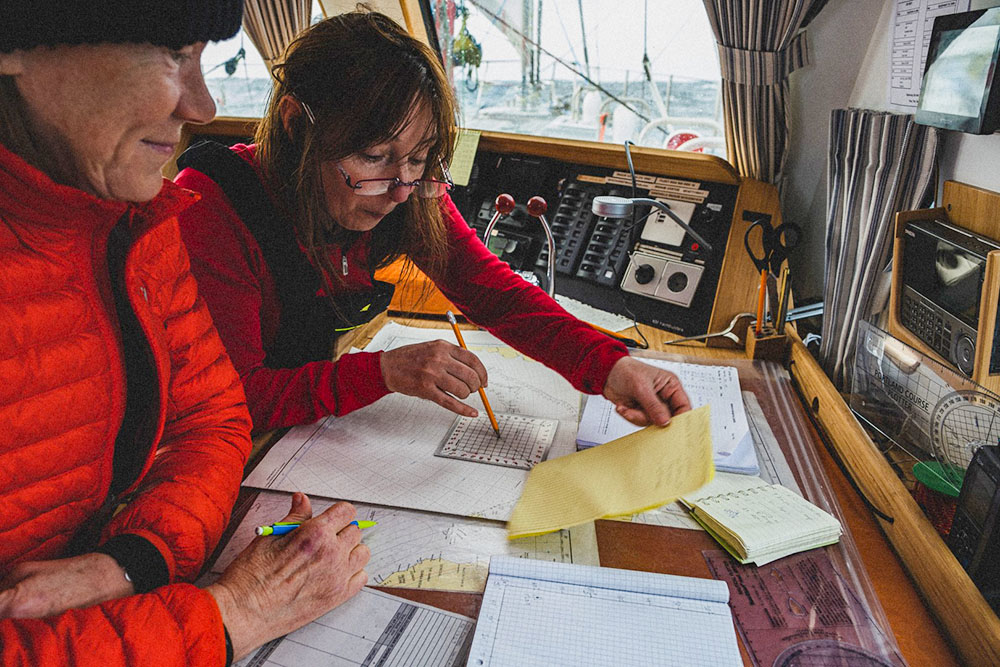 Ocean Navigation in practice