01.11.2012 - Pelagic news for start of 2012/13 season
The Pelagic southern season is in full swing. Take advantage of cost effective voyaging on the original Pelagic, running a bit lean this season, while the big boat's schedule is almost done and dusted. Pelagic is available for Antarctica, South Georgia, the Falklands or Tierra del Fuego at short notice, fully flexible, but for set groups only.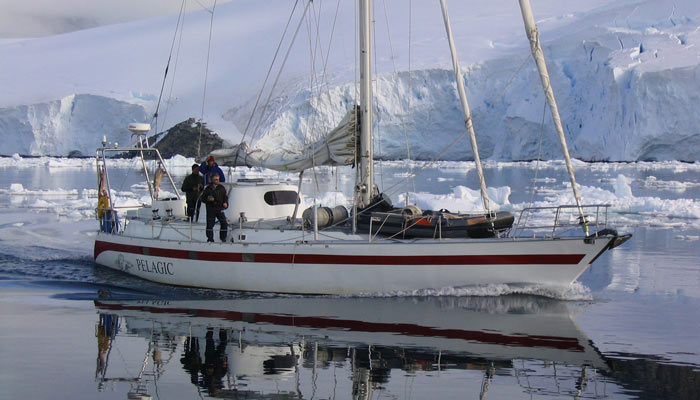 The tried and tested Pelagic is available for cost effective group charter

NEWS – and there is a lot!
Pelagic Australis returns from first S. Georgia trip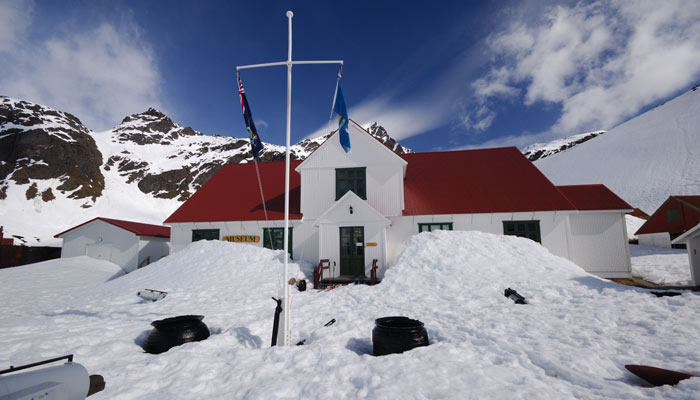 South Georgia Museum in snowy weather
Pelagic Australis is on her way back from South Georgia after supporting a University of Maine, Climate Change Institute project taking ice cores at team ashore. See these links: <http://climatechange.umaine.edu/people/profile/paul_andrew_mayewski> and Director, Climate Change Institute <http://climatechange.umaine.edu/about/overview>
Skipper Magnus Day, mate Kali Kahn and crew Edd Hewett on their maiden voyage are already anxious to be back on the island for the November trip.
Skip signs on as expedition leader and pilot for JST Antarctic voyage
I have signed on as pilot and Expedition Leader on the Jubilee Sailing Trust's Antarctic leg, February 2014, as part of their world tour on the three masted barque the Lord Nelson, manned by able and disabled crew. See these links for details of the voyage and the Lord Nelson's departure from Southampton on October 21st. http://www.jst.org.uk/news/general-news/ice-veteran-skip-novak-to-pilot-lord-nelson-in-antarctica-1625.aspx and http://www.itv.com/news/meridian/story/2012-10-22/tall-ship-sails-round-the-world/
Deception Chinstrap census results in
Results from last year's Chinstrap penguin census on Deception Island conducted by the Oceanites Foundation, supported by the Pelagic have now been published: http://oceanitesfeed.wordpress.com/2012/08/29/researchers-confirm-decline-in-breeding-chinstrap-penguins-in-antarctic-peninsula/
Pelagic artist Bruce Pearson book launch and exhibition 26 Nov - 1Dec
For those of you in the UK, a must see is artist and author Bruce Pearson's art exhibition and book launch, "Troubled Waters" in London from November 26th to December 1rst. Bruce, ex British Antarctic Survey biologist was on our 2010 cruise to South Georgia for the specific purpose of producing material from the Southern Ocean in aid of the Save the Albatross Campaign. See this link for details: http://www.brucepearson.net/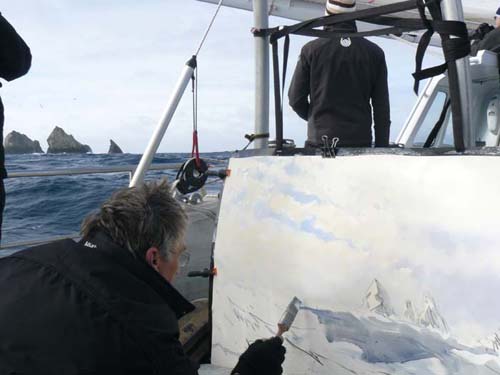 Bruce Pearson paints the Shag Rocks on board Pelagic Australis en route to S. Georgia
Skip voted onto IATO executive committee
At the IAATO (International Association of Antarctic Tour Operators) AGM in Providence Rhode Island last May, I was voted on to the Executive Committee. Given the work load of this exciting position, excuse me if I am replying a bit later than normal to your mails!
Everest Anniversary to be celebrated in Antarctica
Looking ahead, always with a plan and a carrot in store, Stephen Venables and I will be leading a team of ten for a 30 day Antarctic Peninsula climbing expedition this February. 2013 is not only the 60th anniversary of the first ascent of Mt Everest but also Stephen's 25th anniversary of the first British ascent of Everest without oxygen via the difficult Kangshung Face. Sorry, this offer was sold out only weeks after the announcement last January. On his return, on March 14th he will be celebrating the anniversary in aid of the Brainstrust charity. See these links for details: http://www.stephenvenables.com/expedition_2013_antarctic.asp and http://www.stephenvenables.com/120705.asp
New Sail Racing Website
Check out my partner Sail Racing's new web site design showing great images of the Test Team wearing some great gear! http://www.sailracing.com/
Trips on offer
Now to the main point, trips on offer for Pelagic Australis

Places available for both the March 30th and April 20th Tierra del Fuego and Cape Horn two week cruises. http://www.pelagic.co.uk/prog_beagle2013.asp

One place available for the end of season delivery from Chile to Cape Town via the Beagle Channel, Cape Horn, the Falklands and Tristan da Cunha – 5000 sea miles., plus the five day RYA Yachtmaster Shorebased Course. http://www.pelagic.co.uk/prog_del2013.asp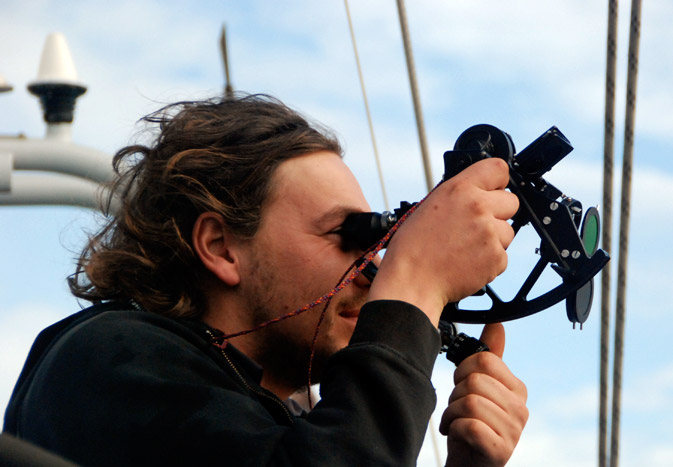 Sextant work on 2012 delivery to Cape Town
Then it's the 2013/2014 season – check the Programmes Menu! http://www.pelagic.co.uk/programme.asp or contact Skip on skipnovak@pelagic.co.uk for more details


Cheers, Skip
Cape Town
More News:
See a report on a short interlude Skip spent in the Welsh mountains with Stephen Venables and members of our Feb Antarctic expedition here>>

L to R David, Crag, Nick, Stephen, Skip, Rob in Wales